By Neil Carver
|
Updated:
April 30, 2023 |
Surfskates
A designer's job is born from a kind of dissatisfaction, where instead of adapting to the way things are, we seek to adapt things to how we wish they could be.
It's a basic human drive to make the better spear, the sharper flint, the "pumpier" skateboard. Ever the optimists, designers believe things can and will get better, and we hang in there and work on it until they do.
Sometimes, though, a simple question can open up a big can of worms.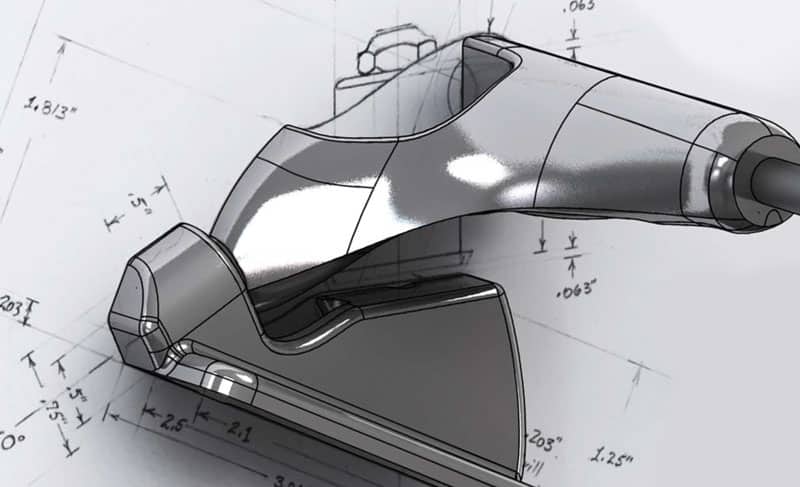 Saturday, Feb. 2, 2008
It takes the quiet of a weekend to allow enough space to be able to dive into something new. I pad downstairs early, the sun just starting to warm up my studio, and lay out the ruler, the eraser shield, a French curve and an adjustable protractor on a newly emptied desk.
I was awakened by an idea for a truck design and just had to come downstairs and draw it out, capture it like a snapshot before it evaporates into the chatter of a busy life. Drawing is all freedom, a line erased and redrawn as easily as a changing mood. Any idea can be sketched out, good or not; the line doesn't know, so a lot of ground can be covered. It's a pensive stage, where new ideas become real on the page, even if only like a shadow, hardly substantial proof of anything – more like a reminder to try it out in the real world, because the geometry of a skateboard truck is a sensitive thing, where any small change will affect several aspects of performance at once.
I only want to improve one little thing: soften the transition from center to deep turn a bit. Now, I feel the standard reverse kingpin truck is a bit too tight at the rails, so we end up loosening the truck too much, leaving the center position a little loose and wobbly. We're all starting to use very soft barrel bushings to help with this, but what if it could be fixed in the geometry, so instead we could use stiffer bushings with more rebound and a firmer center?
This would improve pushing characteristics while at the same time improving rail range. Should be pretty simple.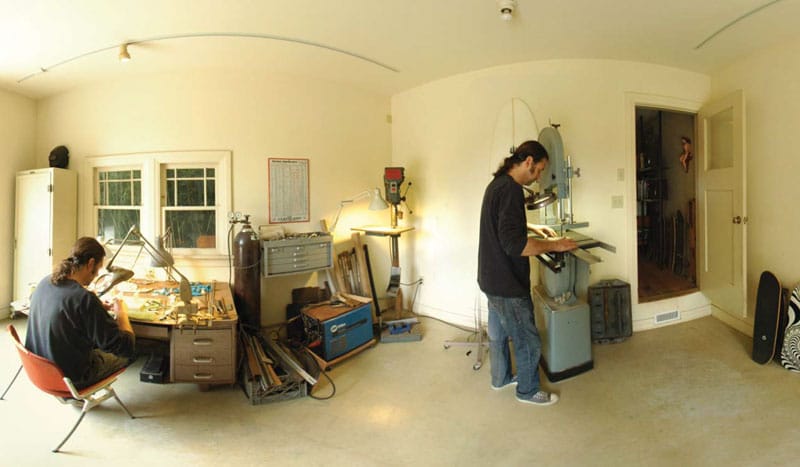 Tuesday, March 4, 2008:
I'm excited to make this new truck, and I think I'll save time by changing my typical prototyping method. I usually weld together a pair of steel-plate trucks for testing, but because I've done this so many times I know how my design modifications will turn out and I just go right to the master, killing two birds with one stone.
Thursday, May 15, 2008
It always takes longer to finish something than we first think, and I always seem to forget this. Perhaps it's necessary in order to allow us the nerve to begin anything, rather than be daunted at the outset by the steepness of the hill ahead. Bits of wood, plastic, steel, putty and paint are coaxed into a shape that looks just like a skateboard truck, and today we're going to the foundry to cast a few loose parts in aluminum to ride. It's almost done!
Friday, May 16, 2008
I spend the morning machining the holes in a few sets and assemble them. New trucks in hand, I hurriedly mount them to a deck, attach wheels and bolt out the door. In five rolling seconds my heart sinks. I haven't made enough of an adjustment to the kingpin angle, and so the rail is still too stiff. My expectations are usually too high, and I'm often disappointed with my first tests, but still, this is a big hitch and a blow to my enthusiasm. Had I just made a quick steel prototype, the failure would not have stung as much. At least it was the best-looking failure I'd ever made.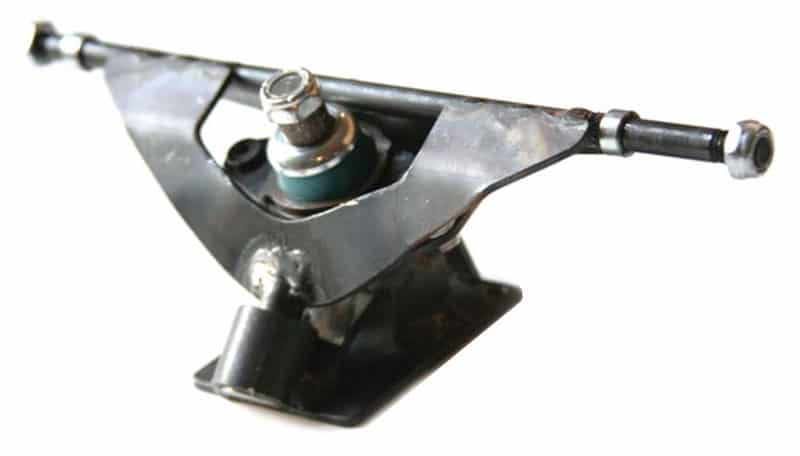 Sunday, June 15, 2008
After nearly 10 years our manufacturing partner has been struggling more than usual, but up until now we didn't realize the full extent of our problems. We've just discovered that we're heading for bankruptcy fast, and if things don't change in a few months we'll be too behind to recover and we'll have to shut down the company, leaving us hundreds of thousands of dollars in debt. Greg, Jen, my wife, and I realize that we have to take over the company and start it over from scratch in order to save it. We hear the rumblings of the coming recession so we pull all our equity cash out of one bank and deposit it into another to finance this daunting undertaking. It's a risky move, because if we fail we'll not only lose our business but now our homes, too.
Wednesday, June 25, 2008
A week after we pulled out the dough our equity accounts are frozen and our credit limit reduced. The recession is on.
Monday, July 14, 2008
Jen and I cruise around El Segundo looking for a warehouse, weaving up and down the streets, knocking on doors and asking around. We see a small rental sign and an open door and discover a radio-controlled glider factory moving out. We sign the lease a week later, and a couple of surfers (re)start their truck and skateboard factory and learn how to run a machine shop, a business and a brand.
Friday, Aug. 15, 2008
Don and Pablo from Loaded come by for a factory visit and they jump on a board with the good-looking cast CV prototypes and immediately comment on the extra rebound in the rails. Oh, yeah, that truck! I start thinking about it again, and I want to finish it.
Saturday, Oct. 25, 2008
It's interesting to note how many drawings are made on the weekends. As I type this it's a beautiful Venice Saturday afternoon; the bamboo in my garden is hissing with the surging onshore winds. A large part of the day involves riding a quiver of different trucks, comparing notes on performance and deciding what to draw next. I adjust the kingpin angle more.
Tuesday, Nov. 4, 2008
I've spent the week immersed in cutting steel plate and TIG welding, and today I'm ready to test the CV2 prototype. I actually finished the truck yesterday, but I've learned not to test it the same day I complete it, when I'm tired from welding and machining. I'm always cranky and hate what I've made, so these days I wait until the next morning when I'm fresh and optimistic. So after a little morning yoga I hop on this new truck set. At first I'm pretty stoked, because the trucks pump really well. But as the day progresses and I compare it against previous prototypes and an array of other production trucks, I realize I may have made this one a bit too lively. A quick test ride with the Loaded guys confirms my suspicion. Back to the drawing board.
Saturday, July 24, 2010
Where did the time go? A busy company, several other trucks later and I've already forgotten everything I knew about the CV truck. The factory is running beautifully now with Greg at the helm, so I can spend a little time in the shop, hunting down that elusive tweak – not too much, not too little – that will complete the CV. Today I build eight boards, each with the same deck, wheels and bushings, but different truck sets, and I set out to remember what it was that I wanted to feel.
I take notes on the performance comparisons, charting nine key characteristics:
Centering
Early Turn Control
Deep Rail Range
Wheelbite Prevention
Pump, Traction
Turn Rate
Short Game
Fun Factor
These totally made-up qualities are intended to measure what I think are the performance building blocks of the 0-30 mph truck. I use micro wedges to tweak the various geometries.
Wednesday, Oct. 27, 2010
If I'm not sure about something I'll wait and act on some other thing I'm more sure about, as there's always plenty to do. Things seem to take longer, but there tends to be less backtracking. It can be tedious but fun if I rally for it. Having spent weeks riding, testing and charting, the next round of improvements has become clear. I make the prototype drawing for the CV3.
Tuesday, Nov. 9, 2010
I dream about trucks and awake obsessed. I'm acutely aware of minute details and how they will all fit together. I complete the CV3 prototype in 10 days and begin testing. Our team rider Ricky is here too, and we begin another measured dissection of what each of the many CV3 variables feels like compared to the eight other control sample boards.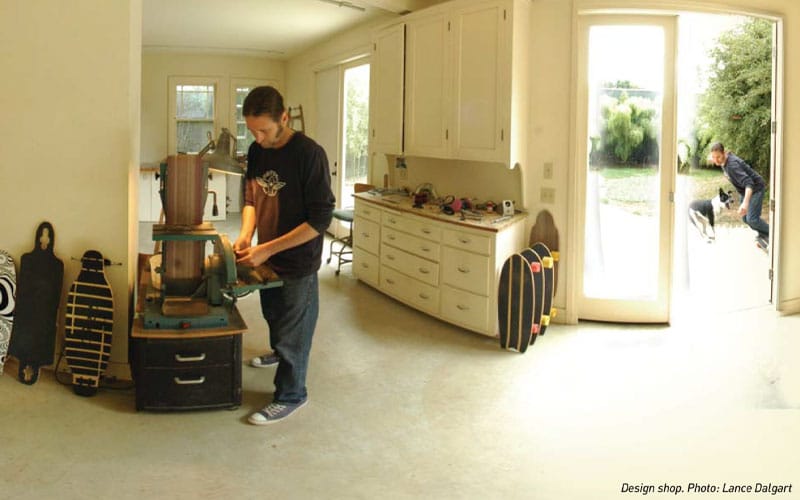 Saturday, Dec. 11, 2010
The past few weeks have been spent in a flurry of riding, comparing, note taking and drawing. Ricky and I, along with some input from the Loaded crew, have been riding every configuration of board on various Venice terrains, from the streets to the park, and we can feel what's rising to the top. There are some subtle dimensions that turn out to be incredibly influential, so I make a new drawing for the CV4 this afternoon, still sweating from the test ride.
Wednesday, Dec. 22, 2010
It's been days of steady rain since I finished the adjustable CV4 proto in record time. Today there was a momentary break in the deluge, just long enough for the passing cars to dry out a little strip down the middle of the road. Just as I stepped onto my board a light drizzle started coming down. I got in almost 15 minutes before it started pouring again, but in those 15 minutes I finally got to feel the hard-won fruits of my labors. The bushing cup was still a tad restrictive and some wedge testing still needed to be fine tuned, but overall I felt the deep, rebounding rail, the snappy pump and the firm center. I can tell this is it. But to be sure we'll put it in rotation and ride it on an entire quiver of boards, from a mini to a dropthrough, and drop in with the Loaded crew again, who now have some perspective on the evolution and can give us super-targeted feedback. I'm consciously trying to avoid the cost of hubris again.
Monday, Apr. 11, 2011
After a weekend of surfing and camping on the streets of Ventura with Jen in our '71 VW van, I'm refreshed and ready. I feel like we've narrowed the performance down to one favorite configuration, and the continuous feedback message has been "OK, make it." I wake up early, my studio still dark, and turn up the heat; Ricky, who lives in the attached studio apartment, will appreciate the coziness too, as it's a chilly morning. I finish the drawing for the final master in just a few hours, summing up months of questions and answers.
Sunday, Apr. 17, 2011
There's a swell hitting the Venice Breakwater just right and Greg and I paddle out around 11:00, just before the winds pick up. I'm stressing about time, because this article has already been put into motion, and having heard talk of its development, a bunch of our customers are asking if they can order the CV yet, and summer is nearly here. It needs to be done ASAP, but I can't just disappear into the shop like I used to, a month MIA, covered in dust and paint. So we're out in the water talking about how I need to find a CAD guy and use rapid prototyping for the masters instead of my usual built-from-scratch approach. The surfer next to us overhears our discussion and chimes in. Turns out he's a professor of industrial design at Art Center College of Design and Chris, one of his recent grads, would be perfect to help render the design for us.
Thursday, Apr. 21, 2011
Chris comes over and I give him drawings and samples of the new CX model to use as reference. Tonight he'll begin blocking in the forms and defining the curves, but we don't expect to complete it in the program. There are always some adjustments to be made, because once you hold a part in your hand you really see it and what it needs, so we're mostly just blocking it in to save time on the build. I'll finish it the rest of the way by hand.
Thursday, May 12, 2011
After numerous meetings and emails we get close enough with the modeling to make a 3D print, so we send it off to the rapid-prototyping house. It should be ready in a day. A day! Twenty years ago the idea that we could just press "print" and a little black box would pop out a part was the stuff of sci-fi, and now you can buy a desktop version of it like a cheap copier. One day soon my chisels, saws and files will be in a junk store and some kid with a tiny computer embedded under his skin will wonder why we would ever need such barbarities. But not today.
Monday, May 16, 2011
The parts arrived this morning! I open the box and pull out the grey plastic SLAs and inspect them under the light. A little rougher than I would have hoped for, and the forms look quite different after the jump off the computer screen – and several areas are downright wrong! No worries, though – I had planned to work out the finer points by hand anyway, so I'll just have to resculpt a few areas. It's still easier than making it from scratch.
Wednesday, May 25, 2011
I've been shadow sanding for days. I work the part next to a bright light bulb to see the subtleties of form as the light glances off the shapes. The shadows, rather than obscuring, actually reveal the form. It's like the surfboard shaping room, where the glancing low lights allow the shaper to see subtle shapes of rail and contour and feather them just right.
Thursday, June 2, 2011
At a certain point the form is done, but the perfect shiny surface of the painted master shows every bump and dimple. Days have been consumed just polishing paint. Under the magnifying lens the part looks huge, and every detail is exaggerated. The smallest of scratches look like deep gouges, and every imperfection jumps out. I imagine it is instead a big part, and work on the form as if it were a building and each detail were in fact large, like some Gulliver's travel along the surface. It seriously slows me down, and each cranny gets its due. But today the parts are ready to go to the pattern shop, where we'll make the foundry tooling for production parts.
I can hardly believe they're done – as if a guest who had seriously overstayed their visit has finally left, but instead of being relived I kind of miss them.
Next: Diary of a Truck Part 2 – Fabrication and Manufacture. Follow Carver on its journey from the design shop to the factory and into production. and we'll take a look into more of the challenges and rewards of manufacturing an American-made skateboard truck.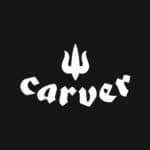 Neil Carver