Thinking about getting the Landyachtz Tugboat?
Let's take a look at the parts and compare it to others.
Who Is It Best For?
If you want a high-quality, portable cruiser, I would recommend the Tugboat.
Gotta give it to Landyachtz, they do such a solid job at putting together cruisers for a solid price.
It's kind of crazy, I really don't have any critiques about it. I will say that it'd be awesome if they had a 3d view of their decks on their website so that you could get a better feel for the deck shape.
Parts Breakdown
At the time of recording this, Landyachtz offers five different variations of the Tugboat. All of them except the Flippy have the same deck specs – 30 inches long, 9 inches wide with a 15-inch wheelbase. The Flippy has a width of 9.24 inches instead of 9 flat.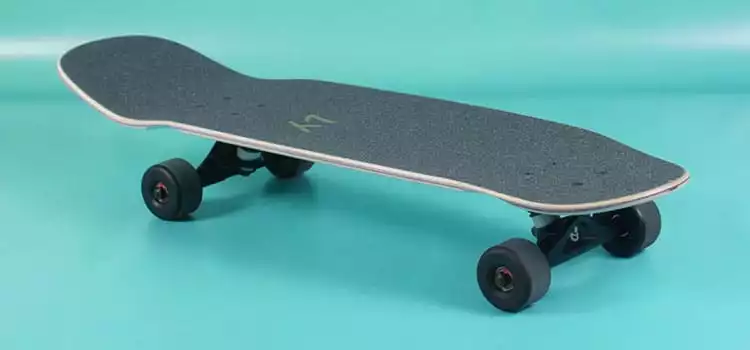 From what I can tell by looking on their website, the concave, kicktail and nose are all the same, but I could be wrong there, let me know in the comments.
The concave is lowkey – enough to ride longer distances without it being annoying in my opinion.
The kicktail feels comfortable while riding and gives you enough pop to throw some mellow ollies or if you wanna do flip tricks, you can since there's a lowkey nose to catch the front foot, but it's definitely not something you're gonna wanna learn flip tricks with. Stick to a traditional skateboard if that's the case.
Pretty much the deck shape is the same as the Landyachtz Dinghy, it's just beefier – a little longer and wider.
The trucks are Polar Bear 155mm, which is a wider truck compared to what you find on the Dinghy models. Depending on the model, the Dinghy's come with 105 or 130mm trucks, so basically you're just getting more stability with the Tugboat. With a beefier build, you're gonna want a beefier truck.
Polar Bear trucks are top-notch, from the geometry to the lightweight material that they use, you can't really go wrong.
Paired with a standard riser pad in the back and an angled riser pad in the front, it's super agile and in my opinion a solid cruiser if you live in a city environment and need to make quick carves.
The bushings are 90a barrel and cone, which I weigh 165lbs and they feel pretty responsive, I don't feel the need to swap them out or anything like that. But you can always swap them out if it doesn't fit your preference.
For this specific Tugboat model, they came with 60mm 78a wheels. Just front testing different type of Hawgs, the urethane always feels solid. Although if I'm gonna be real, I'll probably end up swapping out these wheels for something a little wider like the 63mm Fatty Hawgs.
For my preference, these wheels felt a little too easy to slide out while carving because they're thinner, and there's less of a contact patch, but it really comes down to what you want.
And finally, the bearings are Bear Spaceballs, which have built-in washers and spacers. I did notice that they ended up even putting additional washers, which I don't think is necessary but just goes to show their attention to detail.
Overall, the build quality of the Tugboat is top-notch. There's a reason why Landyachtz cruisers are so popular and now you know why – for the price, you're getting a really solid setup.
Tugboat Surfskate?
I'm not sure how many people are wondering about slappy a surfskate setup on a tugboat, like a waterborne adapter for example.
And I would recommend it over the Dinghy since you want as much deck space as possible.
I wouldn't say it's ideal, especially since the wheelbase seems a little too short for a surfskate, but it would work.
I can see Carver trucks being really fun paired with a Tugboat deck.
Landyachtz Tugboat vs Dinghy
Compared to the Dinghy, the Tugboat is just a beefed-up version. It depends on what Landyachtz Dinghy model you have, but overall the Tugboat is longer and wider. Now that I've tested both, I honestly would probably recommend the Tugboat over the Dinghy for most people.
The exception being is if portability is the most important factor.
From a riding feel perspective, they both ride fairly similar, which is why I'd say the deciding factor for most of you is probably gonna be portability.
But there's not a massive difference in size, so that's why I'll probably end up going for the Tugboat over the Dinghy 99% of the time.
Quality Components
There's no denying that Landyachtz always has quality parts. There's a reason why they have such a strong brand. For the price, you really can't beat the quality you get with any complete.
Deck Shape
The deck shape of the Landyachtz Tugboat is perfect in my opinion. I love that the concave is lowkey but enough to lock you in for carves. The width is really nice, especially if you have larger feet. And the kicktail is a great width.
Bearing Caps
If I'm being super nit-picky, I'd love to see them double cap the bearings similar to how Loaded's Jehu bearings are. I'm not sure how much this will make a difference but it would be nice for peace of mind.
60mm Hawgs
I'm a fan of wider wheels, which you obviously can't go too crazy on the Tugboat. But the 60mm is a little too thin for my liking. I will probably end up swapping them out with 63mm Hawgs.