By Rick Tetz
|
Updated:
February 17, 2023 |
History
Rick Tetz has spent almost five decades surrounded by skateboards. Hailing from Cranbrook, British Columbia, Rick's journey from amateur to pro rider to skateboard retailer is filled with a tremendous number of incredible memories. In the 1980's Rick founded CalStreets and it became one of Vancouver's most cherished skateshops. In 2013, he decided to re-enter the world of skateboard retailing and joined forces with Graham Peat to establish Boarder Labs. The following are some of the many memories I asked Rick to share with our readership.
Van Life – 1976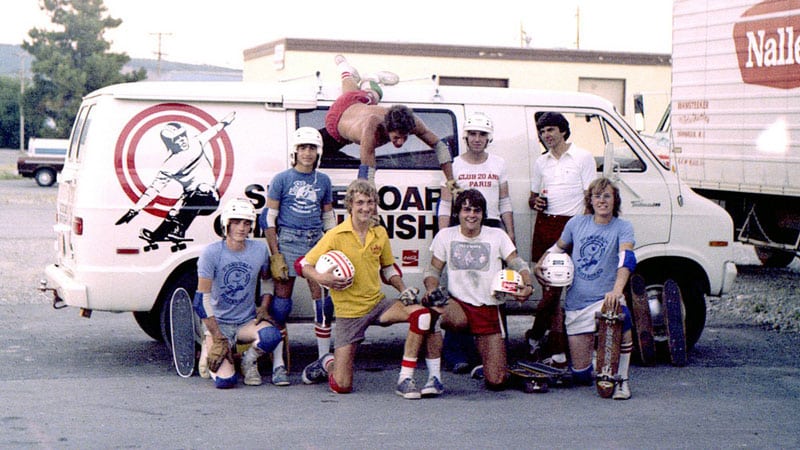 In this photo, I had only been skateboarding for about five months. One of the key people involved with Canadian west coast skateboarding was a man by the name of Monty Little. He came into town and we took him to some of our secret skate spots. At the time I was working for a grocery store and managed to get free soda for our crew. That's Monty on the right with the white shirt holding a bottle of Coca-Cola. I'm the guy on the bottom right side in the blue t-shirt and blue elbow pads. The rest of the guys are from the KaDe skate team.
Kade Amateur Skateboard Tamarack Shopping Center – 1976
While working at KA De I would personally sponsor skateboard contests at the local mall. They allowed us to freestyle in the empty shops inside! Small-town support – thank you Tamarack Mall Cranbrook. This ad was in our local newspaper.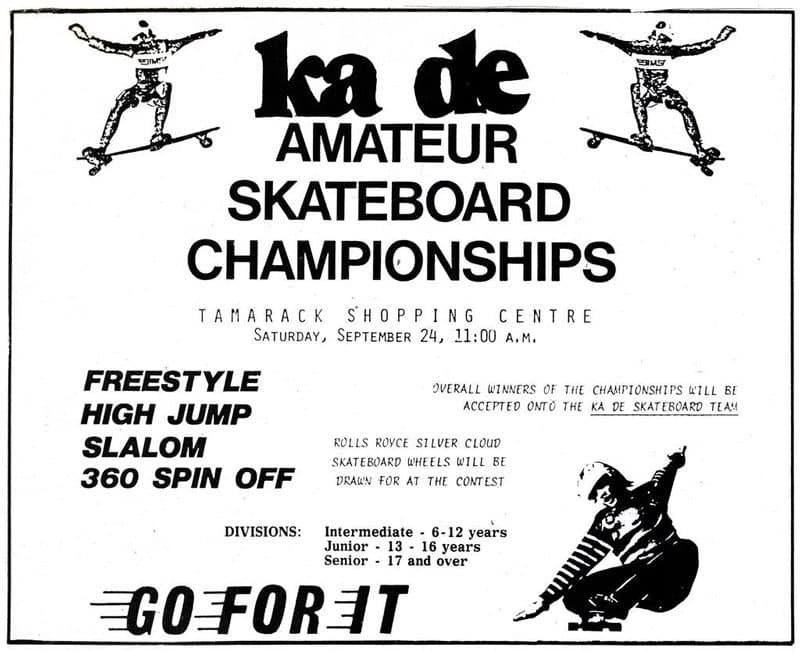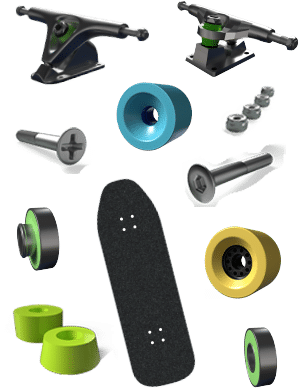 Skate Setup Guide
Dial in your skate setup with our free guide that covers decks, trucks, wheels, and more.
By entering your email address you agree to receive emails from Concrete Waves. We'll respect your privacy and you can unsubscribe at any time.
Kade Road Riders
My first real experience selling skateboards started at a bike shop called KaDe Cycle. I worked there and over time, I managed to convince the owner to start carrying skateboards. It was here that I started to place orders with a distributor called Northwest Skateboards. The guy who created the logo for these team shirts was a local graphic artist named ManWoman. He was definitely a very different individual but that's a whole other story.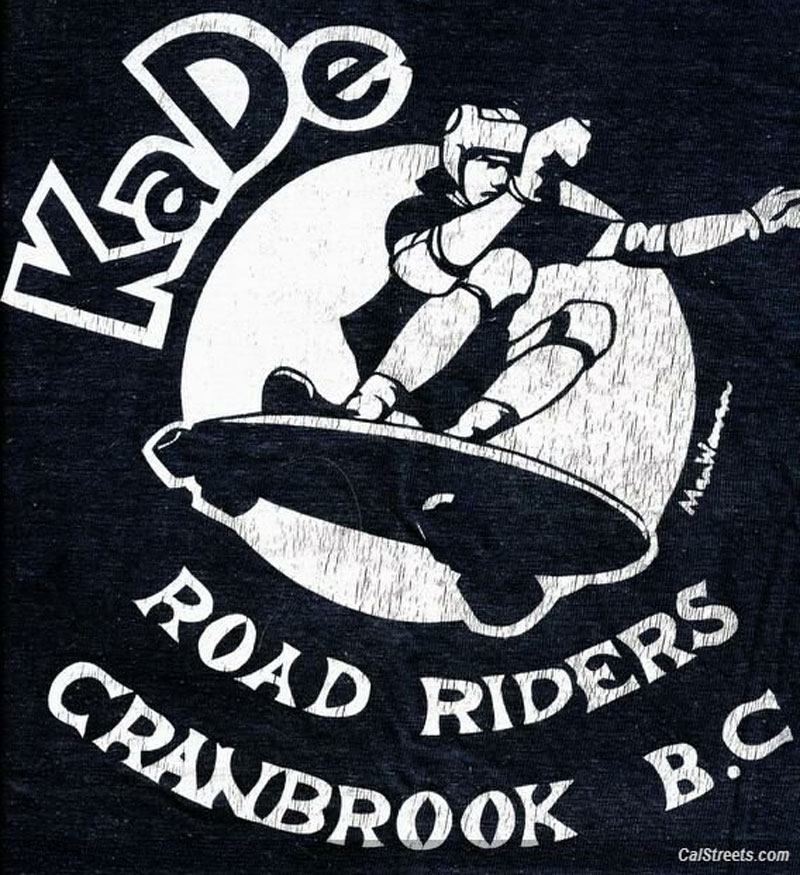 Rick Climbs Cranbrook Spillway
As skaters, we were deeply committed to finding new and challenging places to skate. At the time, there were very few skateboard parks. We found this spillway but it required that you repel down a 30-foot wall in order to ride it. We'd hop on our loose ball-bearing boards and our friends would stand at the end of the spillway to catch us. We just thought it was normal to have people ensure that we wouldn't plunge to our deaths! We would wear motorcycle helmets for protection.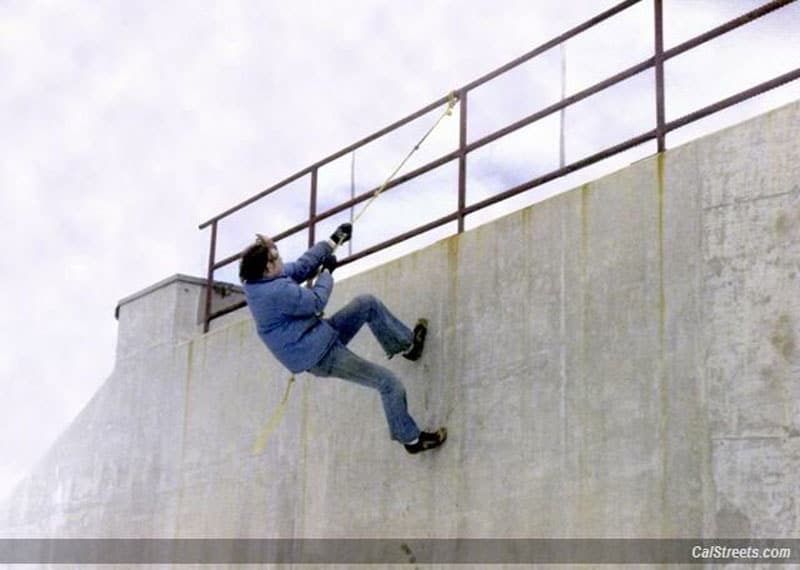 2nd Annual BC Skateboard Contest 1976
At the end of this event, it turned out that all the skaters were tied. So the judges decided to do a 360 spin-off. I managed to win and got myself a chance to compete in Vancouver at the Nationals. In what is surely quite an unusual coincidence, one of the judges at this event was a guy named Rob Leshgold. Over forty years after this event, Rob would become my landlord for the new Boarder Labs/Cal Streets skate shop.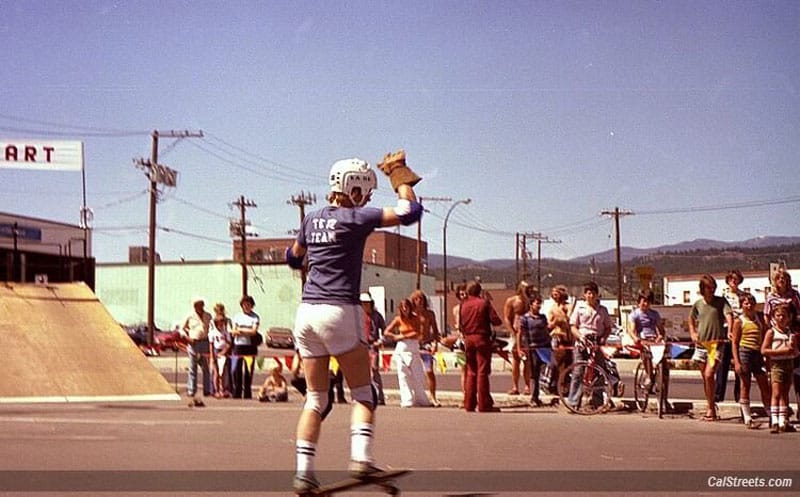 I was really nervous about competing but it turned out I had other issues to deal with. On our flight to Vancouver, the plane hit some Canadian Geese and we were forced to make an emergency landing in Penticton. We had to put our heads between our legs and it was quite terrifying. I thought "well, I've won a skateboard contest, but now I get to die on a plane ride."
We eventually made it to Vancouver and I got to the contest. Unfortunately, I didn't do so great at the event. I was competing with the best, including freestylers like Kevin Harris and Alan Harrison. I realized I had to get creative. So I decided to incorporate my martial arts weaponry skills into my routine. My friend threw a sword which I caught while I was doing endovers. It shocked many in the audience and helped diminish my lack of skills. Four years later, I did win 1st place in Canada at the 1980 Nationals Contest.
Cake And Kade Team Cleanup 1976
As I mentioned, I worked at a supermarket and was friendly with the baker who created this cake for our team. The KaDe team actually swept the podium and this is what the baker made to celebrate our achievement.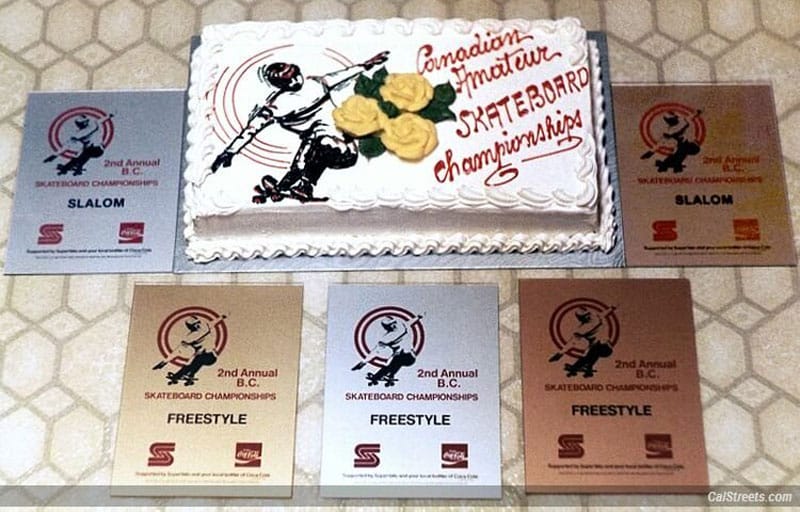 Cranbrook Ramp
This was our ramp and everyone chipped in to make it something special. Like many ramps of the time, it just kept growing organically. We just lived and breathed this ramp. Skaters and their friends would spend countless hours just hanging around and enjoying the experience.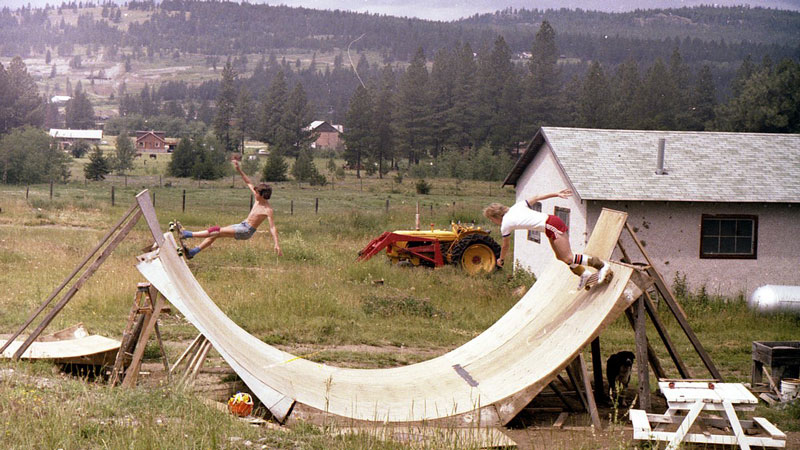 Head Honcho Product Shot 1977
Northwest was the first distributor for a number of key skateboard brands here in Canada. I had placed orders with them as a buyer with the KaDe Cycle shop. I had just graduated high school and I had won a major skate contest. On a complete whim, I sent my resume to the company and explained that I was involved with skateboarding along with martial arts. It turned out that the owner, Harry Greenberg had a black belt and he could see I was an honourable person. It was this connection that landed me the job at Northwest.
I was hired as the warehouse manager and I was pretty much involved with every board, truck and wheel that came in and out of the warehouse. I had to hand assemble the Bennett and ACS trucks (they were cheaper if we bought them unassembled). These Head Honcho decks were made in Vancouver at a little woodworking shop just around the corner from us. The big secret at the time was that this woodshop was the same place Powell Peralta made their Brite Lites.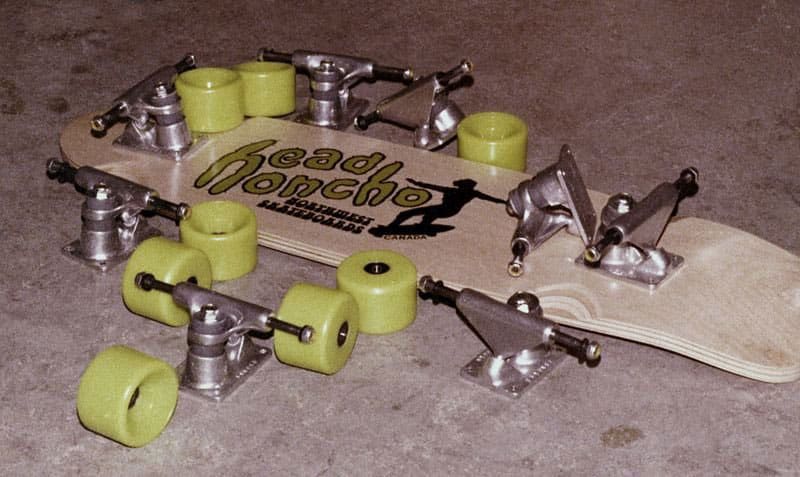 Harry Greenberg did a few unusual things as a distributor but there is one particular decision he made that still strikes me as quite prescient. Harry contacted the Olympic marketing department and arranged to be their official licensee. The official Olympic logo was on his decks and t-shirts.
During my time at the distributor, I was on the phone talking with all the major brands like Powell, Sims, NHS and Tracker. As the 1970s ended, skateboarding started to die pretty quickly but since I had all these skateboard contacts, I was able to navigate my next path in the skate industry.
After Northwest closed down, in 1979, I became the 2nd Powell Peralta distributor in Canada. I did this for about 18 months and then eventually made the decision to just do retail exclusively.
Bob Mohr – Cranbrook, British Columbia 1978
Freestyle legend came up to my hometown of Cranbrook on a major skate tour. Here is having a coffee outside of my house. There was both a skate contest in Cranbrook and then an $8,000 cash purse for the contest at the Calgary Stampede. This is the equivalent of about $38,000 in 2023! Russ Howell, Jerry Valdez, Lonnie Toft, Steve Rocco, Paul Hoffman, Matt Barden and Ellen Berryman were also on the tour. At the time I was a sponsored skater for Hobie. They were a great team to ride for but just as things were rolling, they crashed very hard when skateboarding the second time.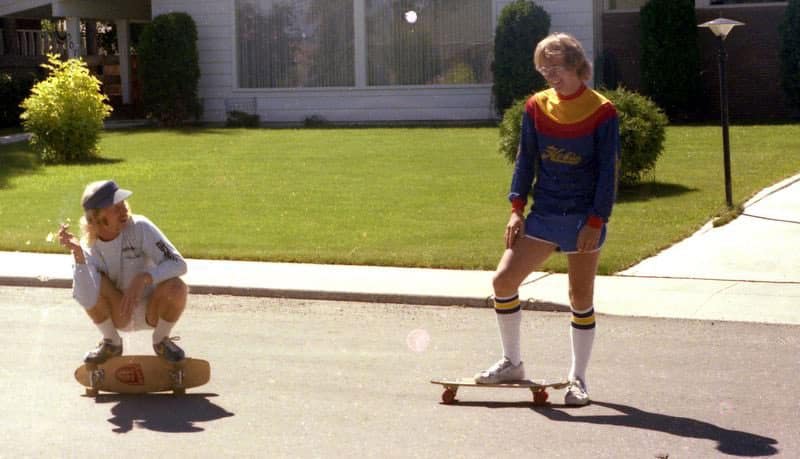 Handstand – Elizabeth Lake, Cranbrook
Living in Cranbrook meant that it was really difficult to practice my skateboard tricks once winter hit. This meant you had to get creative. You'll notice that this skateboard has ice blades on it and it glided on this frozen swamp which was a few blocks away from my house. We cleared an area on the pond and started practicing. But the truly amazing thing is that we would attach a sail to the ice blade deck and hit speeds of over 35 miles per hour. We would even practice doing kickflips with four blades under our feet. It was dangerous but so much fun.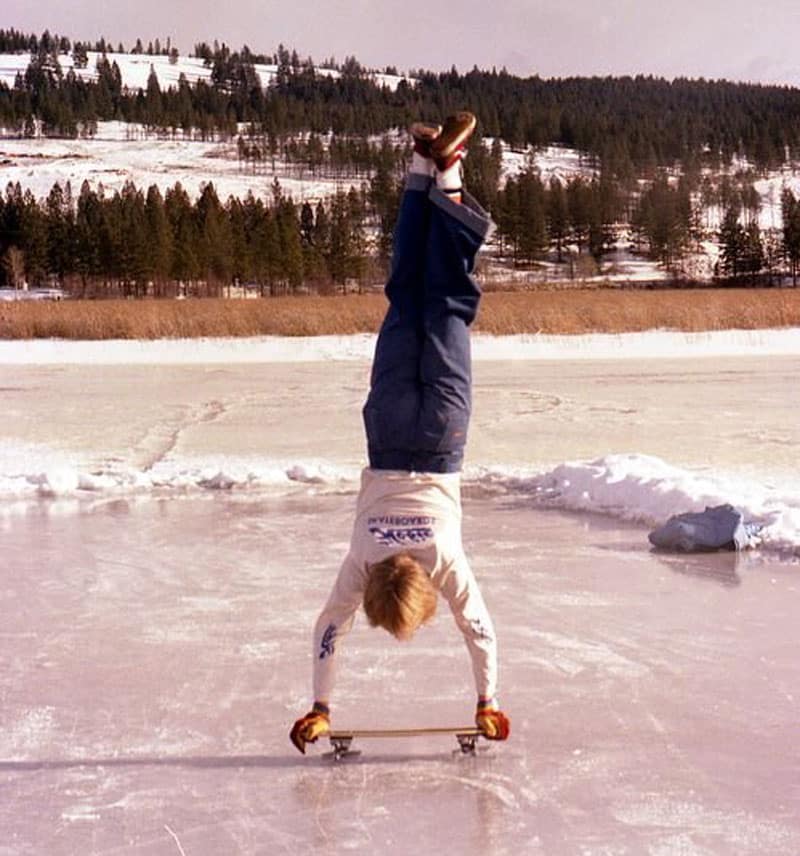 Skate Central 1979
I remember drawing this logo up on my kitchen table with my friend. 338 Lonsdale was owned by a war veteran. He seemed pretty cool with the idea of me opening up a skate shop so he rented it to me for $250 a month. He sat in the building next to me and seemed pretty content with me doing what I did. My family thought I was crazy to start up a skate shop. My mother even said, "you mean, you're only going to sell only one type of toy?"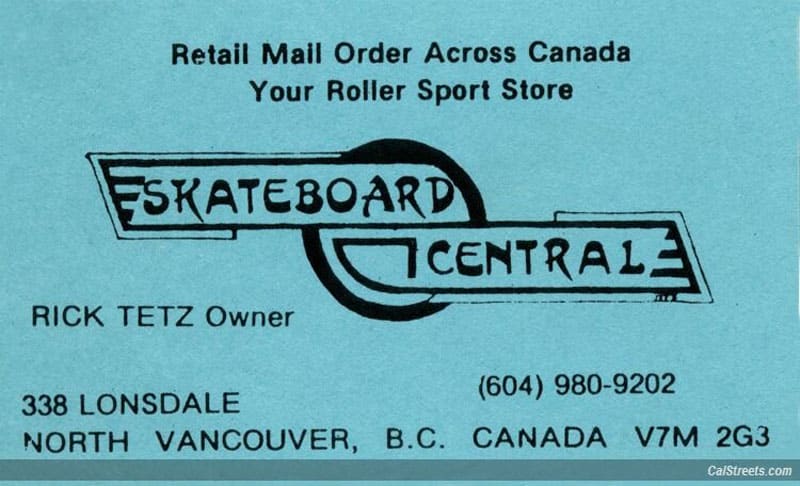 Truthfully, I was more of a skater than a businessman. I would hang out at a local skatepark with flyers and the word of mouth just spread. We also did mail orders. Despite this, we didn't really make a lot of money. Oddly enough, this location is very close to the second shop I opened up in the early 1980s – CalStreets. This time around, I had learned from my mistakes and had all my ducks lined up in a row. The other thing to note is that after over 47 years of selling skateboard products, I still sell the same brands that you see on this flyer.
Cranbrook Citizen 1979
I am holding what are now two highly collectable boards – a Turner Summer Ski and a Dogtown Wes Humpston model. Back when I ran Skate Central, these were the most expensive decks we carried. The Turner was retailing for over $440 in today's money. The photographer who came to our shop was so amazed at the prices for skateboards that it wound up being a cover story of the local newspaper. Sadly, I wasn't able to hold on to the Turner and I haven't been able to find it!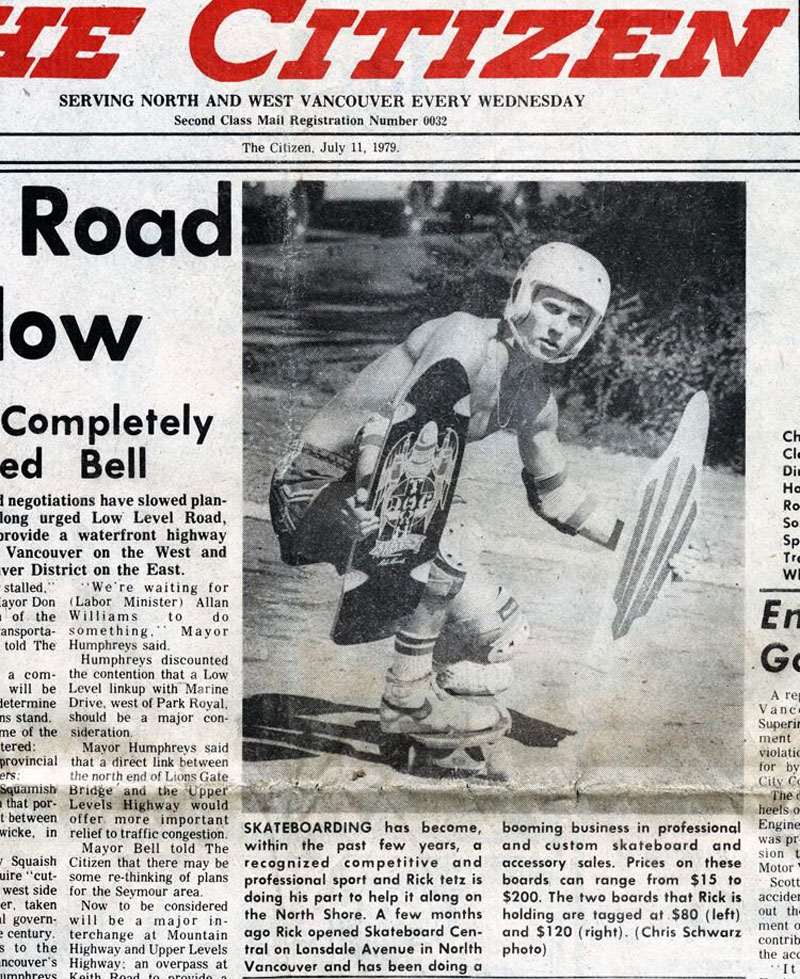 Dianella Agostinis Photos At The Seylynn Skatepark
This legendary Vancouver skatepark was built in 1978. This makes Seylynn Canada's oldest skatepark. These photos were taken by a classmate at UBC who was taking a photography course. Her name was Dianella Agostinis and she took a number of photos of me and it wound up being quite a large exhibiton on the campus. If you look closely, you can see I am riding super-rare urethane copers that were used when riding Gullwing Trucks.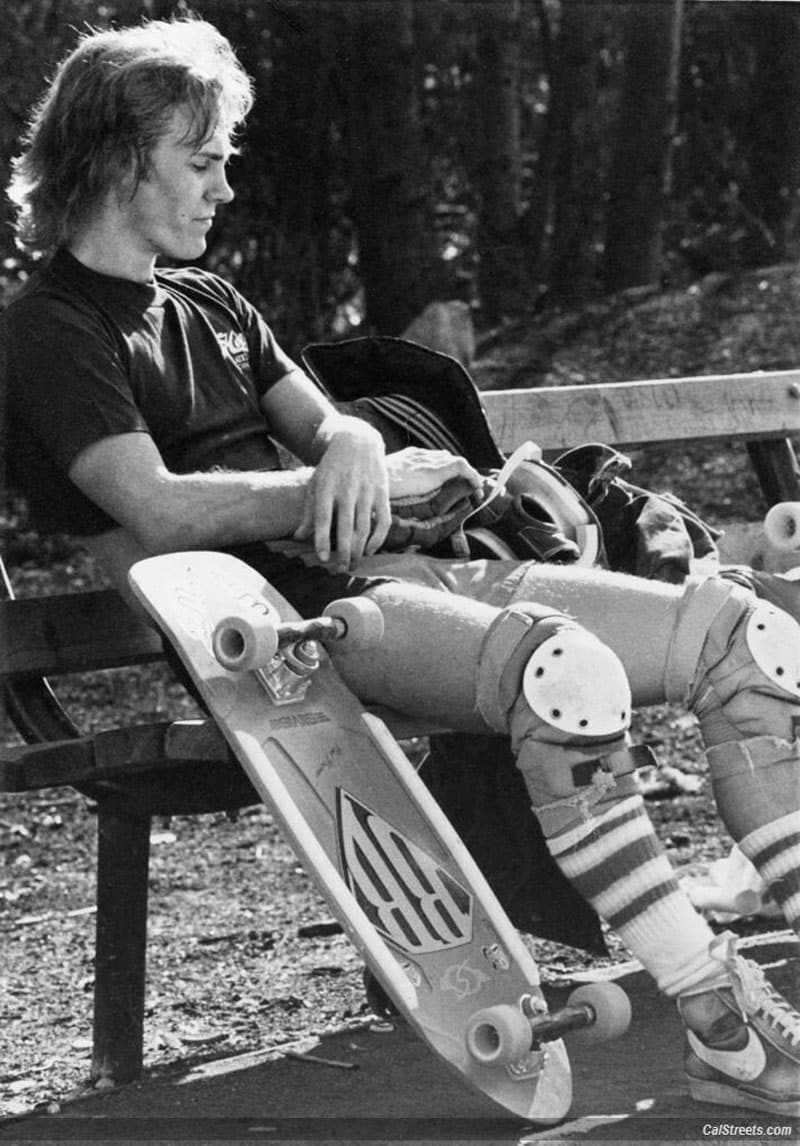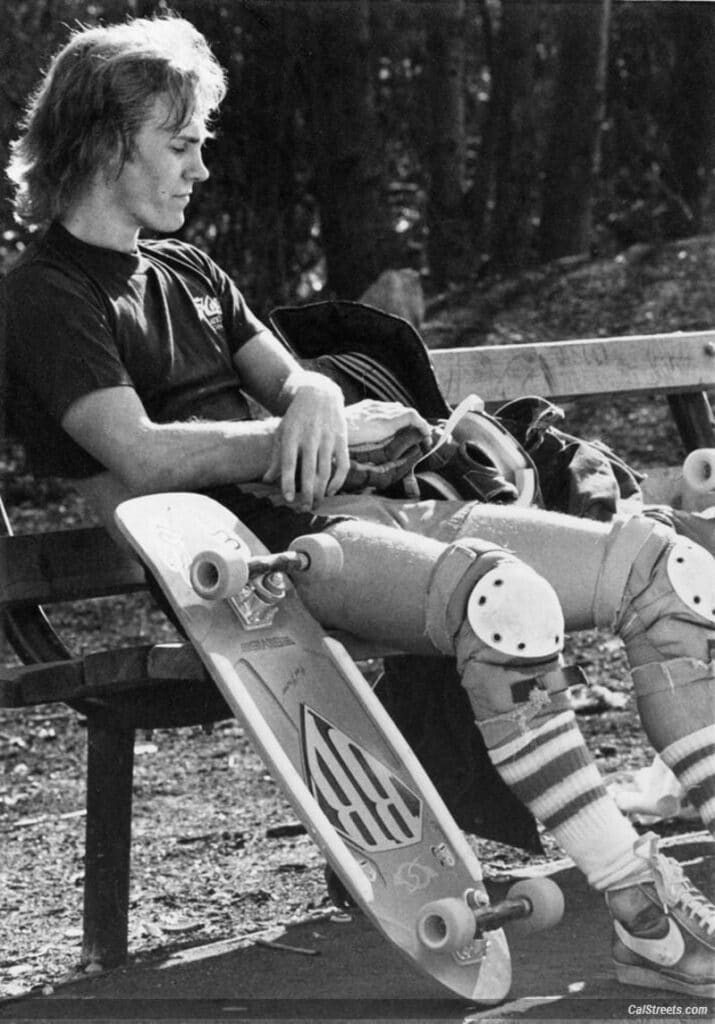 Rick Tetz