There's nothing quite like riding a good ole' cruiser skateboard.
They're a crossbreed of a street skateboard and longboard.
But there are so many out there; choosing can be confusing.
Over the past few years, I've bought and tested a ton of cruisers. This list is a compilation of the best cruiser skateboards that I can confidently recommend. Then, at the end, I'll share some best practices for choosing based on your riding style.
Affiliate Disclaimer: The Landyachtz & Loaded links below are affiliate links, meaning we receive a small commission. It's at no additional cost to you.
Landyachtz Dinghy
Length: 28.5″ | 72.5 cm
Width: 8.6″ | 21.8 cm
Wheelbase: 14.6″ | 37.1cm
The Landyachtz Dinghy is portable, affordable, and made with high-quality parts. If this setup is too small for you, I'd recommend looking into the Landyachtz Tugboat. It's a beefier version of the Dinghy.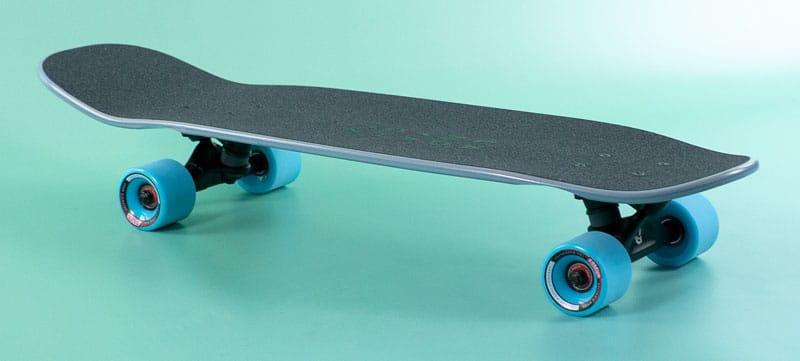 Loaded Ballona
Length: 27.75" / 70.5 cm
Width: 9" / 22.9 cm
Wheelbase: 14.75-16" / 37.5-40.6 cm
The Ballona is Loaded's take on a mini-cruiser skateboard. It has the flattest deck profile of all the cruisers on this list. Recommended for those looking to go for casual cruises. It's not functional for ollies/fliptricks.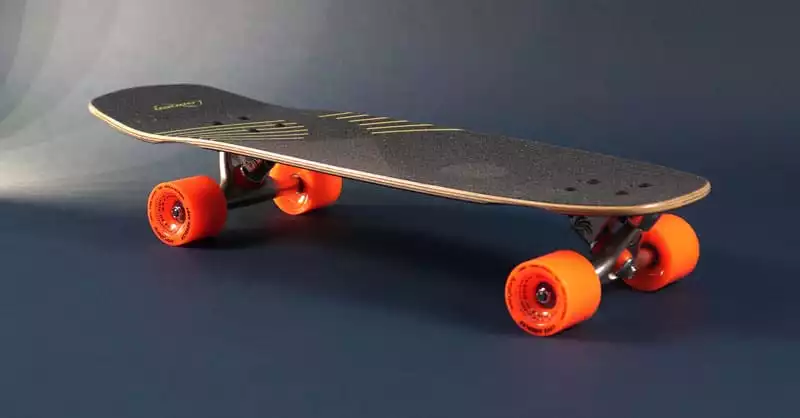 Comet Cruiser
Length: 33″ | 83.82 cm
Width: 7.875″ | 20 cm
Wheelbase: 20.25″ | 51.44 cm
There's a reason why the Comet Cruiser is regularly back-ordered. It's an incredibly functional setup that can do almost everything. Not only can it carve deep, but it's excellent at handling speed. It's also a solid setup for commuting.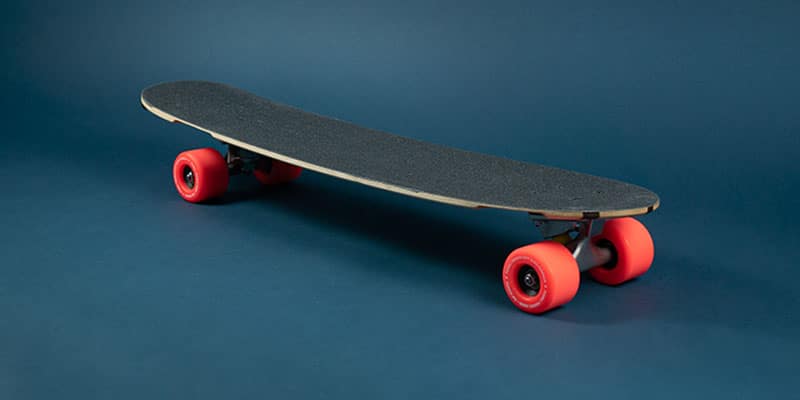 Lander La Cruiser
Length: 24.5 | 62.23cm
Width: 7.75 | 19.69cm
Wheelbase: 13.25 | 33.66cm
The Lander La cruiser is the most unique on the list. The deck is made of recycled fishing nets. Contrary to what you might think, it doesn't flex, offering a solid amount of pop. They offer two shapes – Rodeo & Rio. Lander La is a solid option if you want a sustainability-driven cruiser skateboard.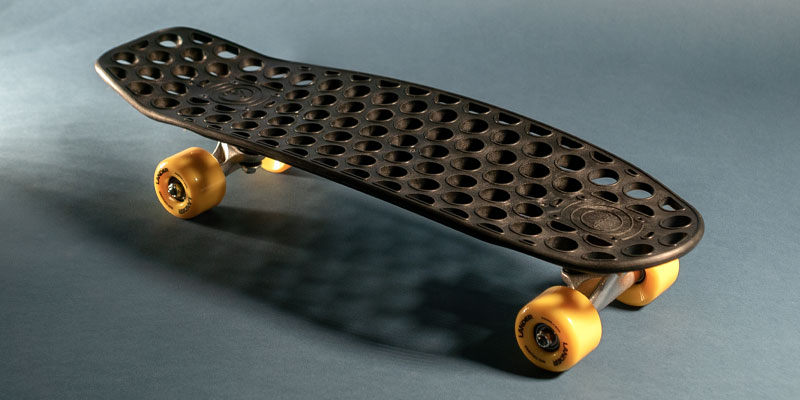 Choosing a cruiser skateboard
Things to consider when picking a cruiser skateboard.
Deck Shape
If you want the ability to do ollies or flip tricks, you'll want a kicktail/nose for popping. If you have no intention of doing tricks, and just want to cruise, then go for a flatter deck shape.
Trucks
Cruisers are most commonly built with traditional kingpin trucks (TKP). This is because they're lower to the ground and will make ollies/fliptricks easier. However, some cruisers (like Loaded Ballona) use reverse kingpin trucks (RKP). This is because it's a completely flat deck shape and not made for ollies/fliptricks. It's more so built with cruising in mind. RKPs sit higher off the ground and will give more clearance for larger cruising wheels.
Wheels
Cruise skateboard wheels are softer than street setups since they're made for cruising. Smaller wheels will accelerate faster, but larger wheels will have a higher top speed. Sharp lips and offset cores are better for deep carving styles since they'll grip the pavement better. Round lips and centerset cores are easier to powerslide.

Billy James
I've been skating for over 20 years and it's had an incredibly positive impact on my life. My mission is to get more people into skating and help them carry it as a lifelong passion.