Penny boards are extremely popular, but they're not the best option for everyone.
Their flexy plastic decks might not fit your riding style.
So, I wanted to highlight some penny board alternatives.
Penny Board Characteristics
Chances are if you're looking into a penny board, you want something that's…
Portable
Durable
Affordable
That's a fair statement to make, right?
So with that being said, below are some options I'd recommend (I've tested each one).
Landyachtz Dinghy
Length: 28.5″
Width: 8.6″
Wheelbase: 14.6″
Deck Material: 7-Ply Maple
The Landyachtz Dinghy is probably my favorite mini cruiser and the one I recommend the most. It's a great alternative to the penny board because it's portable and high quality. The deck is made of 7-ply maple, so it's different compared to the plastic penny board deck.
If you want something you could do ollies/flip tricks with, this is a solid option. Much easier to do tricks on this compared to a penny board since it's a wooden deck and it won't flex.
Honestly, can't recommend the LY Dinghy enough… a quality cruiser for a decent price.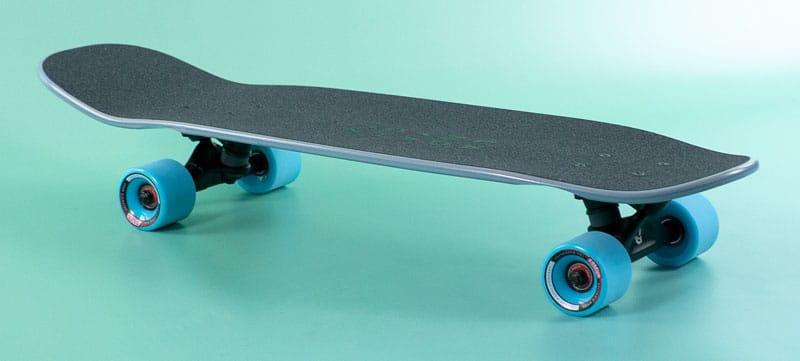 Lander La
Length: 26.5″
Width: 9″
Wheelbase: 13″
Deck Material: Fiber reinforced Nylon (recycled material)
Next up, we have the Lander La cruiser.
It's such a unique design, that I have a hard time describing it to people. Let's call it the Yeezy, cheese-grater skateboard cruiser? Right? Idk.
This is a good alternative when compared to the penny because it's lightweight and made of a similar plastic material. If you want a deck that's not gonna get waterlogged, then I'd consider it.
But they also can get slippery if you get wet. Strengths and weaknesses.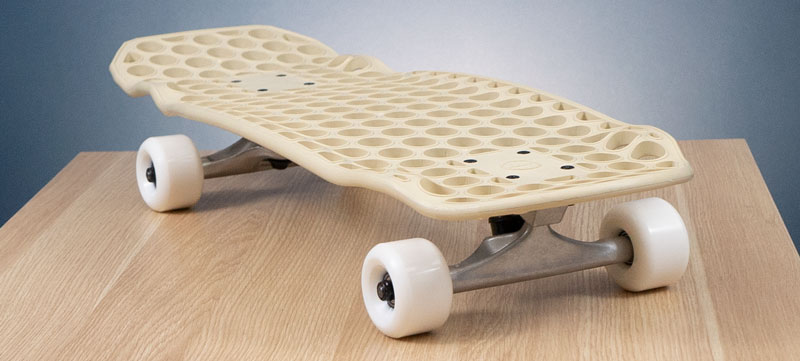 Arbor Pilsner
Length: 28.75″
Width: 8.25″
Wheelbase: 15″
Deck Material: 7-Ply Maple
I often get the question… "Which is better the Arbor Pilsner or the Landyachtz Dinghy?" I bring this up because both have pretty similar specs. And, obviously both solid alternatives to the penny board.
The components (deck, trucks, bearings, bushings) are of decent quality. From an aesthetic point of view, Arbor has it nailed in my opinion. If I had to choose, I'd personally pick the LY Dinghy over the Pilsner because I think the Hawg wheels are better. Plus the spray-on grip on the Arbor wears quicker than traditional stick-on.
If you're a fan of Arbor, then I'd definitely suggest looking into the Pilsner.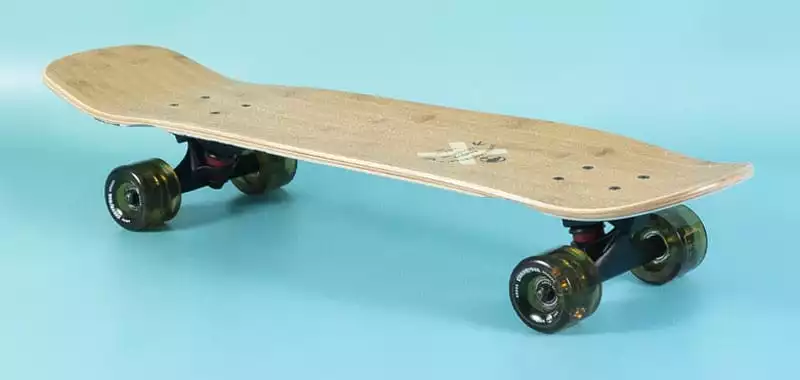 Magneto Cruiser
Length: 28″
Width: 7.75″
Wheelbase: 18″
Deck Material: 7-Ply Maple
The Magneto mini-cruiser can be a better option if you want a different type of deck. It has similar specs to Penny's Nickel board. However, I do have to say, the deck shape can feel awkward since it tapers towards the kicktail.
I wish the width kept consistent throughout. That being said, I still think for the price it's a solid penny alternative.
Especially if you don't want your deck to flex if you're gonna try ollies/fliptricks.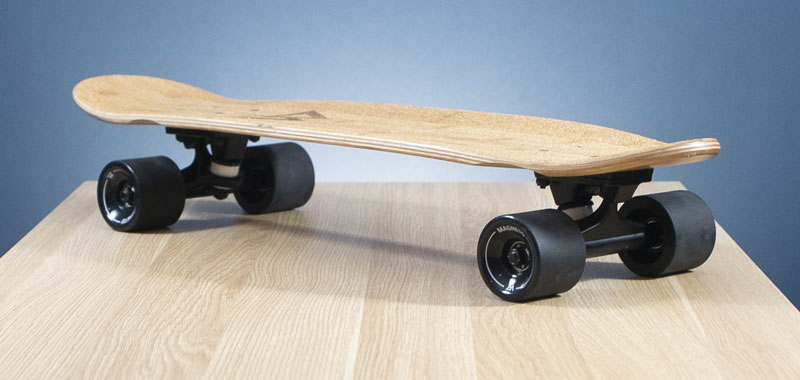 Hamboards Biscuit
Length: 24″
Width: 14″
Wheelbase: 15″
Deck Material: Maple
The Hamboards Biscuit is also portable, but with the most amount of deck space. With a 14″ width, you'll have no problem getting a comfortable stance. One of my favorite mini cruisers to use because it's made with high-quality components and easy to carry around.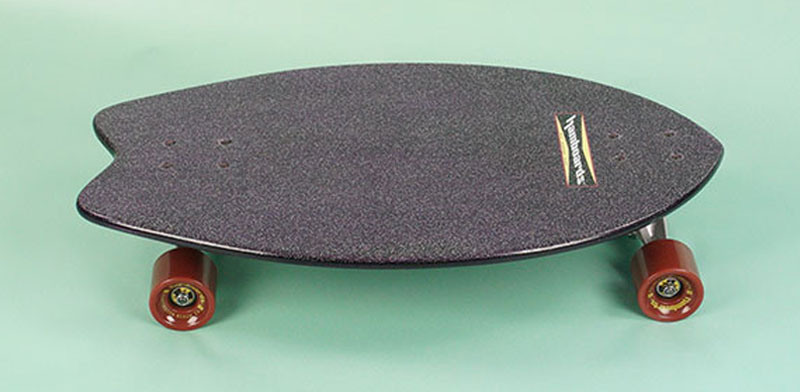 Eggboard
Length: 19″
Width: 9″
Wheelbase: 12″
Deck Material: 6-Ply Bamboo
If portability is a must for you then look into the Eggboard. But keep in mind this thing is very tiny and I'd only recommend it for shorter commutes. It's tough to get a wide enough stance to feel comfortable at higher speeds.
It's all subjective though depending on your skill level.
But it made the list because it's extremely portable and durable. Thus, it's a solid penny alternative.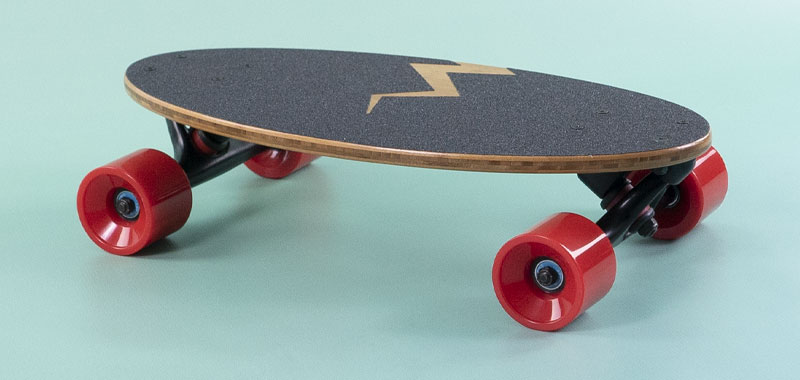 Loaded Coyote
Length: 30.75″
Width: 8.375
Wheelbase: 17.5″
Deck Material: 7-Ply Maple
I put the Loaded Coyote at the bottom of this list because for most you, it's not gonna make sense. But, I still wanted to include it because it's a really solid cruiser skateboard.
However, if you're familiar with Loaded, you know it's not gonna be cheap. You can mix and match it with either traditional kingpin or reverse kingpin trucks. Loaded's completes are always paired with Orangatang wheels, which I'm a big fan of. Their urethane mixes are really solid.
If you want a cruiser that's beefier compared to a penny board and is in another league, you should look into the Loaded Coyote.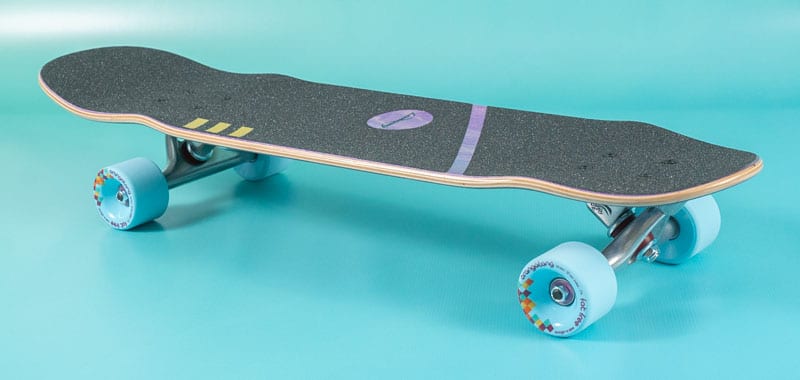 Hope this list of penny board alternatives helped you out.

Billy
I've been skateboarding for over twenty years. When I'm not skating, I'm most likely surfing my local break. The goal is to fuel the growth of all genres of skateboarding.