Picking the right longboard can quickly become overwhelming.
Use these three easy steps and you'll be in a solid position.
Define your riding style
Define your budget
Align them with a brand
If you're clueless about what type of riding style you fit into, check out this article. If you already know, keep scrolling.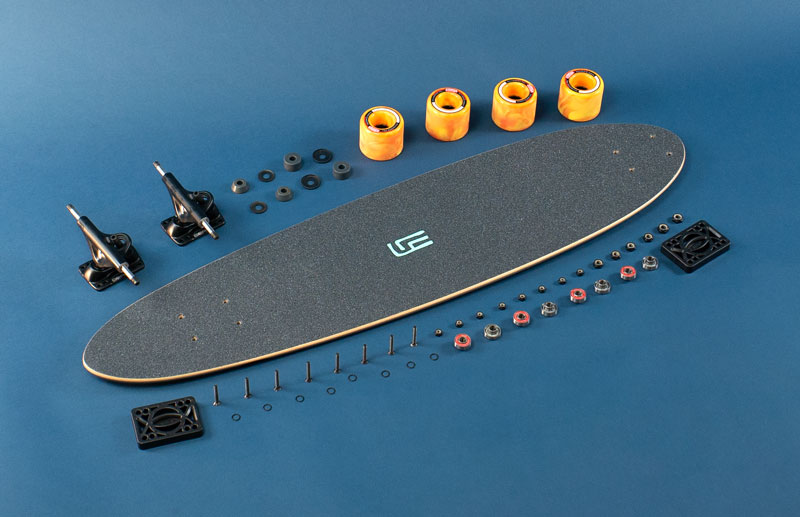 Under $100 Budget
Buying a used longboard is a good move for this budget. Especially if you're a beginner and unsure if you'll be sticking with it long-term.
Places to search…
Specific brands to search…
Landyachtz
Loaded
Zenit
Pantheon
Sector 9
Arbor
If this is your budget, I'd suggest reading our article on cheap longboards.
A decent in-between brand is Arbor. Their prices range from $150-$200ish.
Arbor
Arbor offers a 2-year warranty.
Based in Venice, California, Arbor has been around since 1997. They started by focusing on snowboarding, then expanded to skateboarding. One of the notable things about Arbor is its focus on sustainability. They're known for their dark wood aesthetic.
Over $200 Budget
If you know you'll be sticking with longboarding, I'd recommend the below brands.
Loaded Boards
Disclaimer: The above link is an affiliate link. Meaning if you buy something after clicking it, we will receive a small commission. It's at no additional cost to you.
Loaded offers a lifetime, original owner warranty.
Based in Culver City, California, Loaded Boards has been around since 2000. Their goal was to replicate the feeling of snowboarding and surfing on land. Fast forward, and they've established themselves as one of the best longboard brands. Because of the premium materials, Loaded's boards aren't cheap. But they will last. A solid longboard brand to support because they stand behind their product.
Landyachtz
Disclaimer: The above link is an affiliate link. Meaning if you buy something after clicking it, we will receive a small commission. It's at no additional cost to you.
Landyachtz offers a 12-month warranty.
What do you think of when you hear the word 'yacht'? Probably, high quality, premium, and expensive, right? That's a good description of what Landyachtz offers, except for a fair price. Based in Vancouver, British Columbia, Landyachtz has been around since 1997.
Comet Skateboards
Comet offers a limited, lifetime warranty.
Comet Skateboards is based in Bristol, Rhode Island. Started back in 1997 by Jason Salfi with the mission to make the most environmentally and socially responsible skateboards in the world.
Zenit Longboards
Zenit offers a 12-month warranty.
Based in Montreal, Quebec, Zenit longboards started around 2012. They make everything handmade, controlling the whole process. Zenit uses epoxy resin to layer their boards, which is the same material used on surfboards and snowboards.
Pantheon Longboards
Based in Indian Hills, Colorado, Pantheon started in 2014. The founder, Jeff Vyain, has been a skateboarder since 12 years old. When he got older, he gravitated toward long-distance skating. Even holding a world record for the skateboard marathon.
Seismic Skate Systems
Seismic was founded by Daniel Gesmer in 1992. Dan is a former professional freestyle skateboarder and has dedicated his life to innovating the skateboard industry.
Bottom Line
It can be tempting to buy a cheap longboard from Amazon, but I encourage you to avoid it.
Stick to the brands on this list and you'll have a solid longboarding experience.

Billy
I've been skateboarding for over twenty years. When I'm not skating, I'm most likely surfing my local break. The goal is to fuel the growth of all genres of skateboarding.