By Billy James
|
Updated:
November 9, 2023 |
Longboards
Picking a good longboard brand can be confusing.
Don't worry, I gotchu.
I've been longboarding for over two decades and have bought a ton of different brands.
If you're an absolute beginner and unsure where to start, check this beginner's buyer guide. It will educate you on common riding styles and recommend beginner-friendly shapes. If you'd just like to know the best brands, keep scrolling.
$100 Budget
If you're just testing the waters and not sure you'll stick with longboarding long-term, then this budget makes sense.
You have two options for this budget.
Option #1: You could buy a used longboard made by a reputable brand. Go to local garage sales, or search used marketplaces for Loaded, Landyachtz, Pantheon or Zenit. It might be tricky to find one of those within this price range, but I've seen it happen!
Places to search…
Option #2: You could buy new – however, just be aware that cheaper longboards won't last as long. I'd suggest going for a drop-through, kicktail or drop-down longboard.
11/30/2023 02:06 pm GMT
A decent mid-range brand is Arbor.
Arbor
Price Range: $140-$250
Year Founded: 1997
HQ: Venice, California
Warranty: 2 Year
Based in Venice, California, Arbor started out focusing on snowboarding, then expanded to longboarding. One of the notable things about Arbor is its dedication to sustainability – they've planted over 500,000 trees and do their best to minimize their production's impact.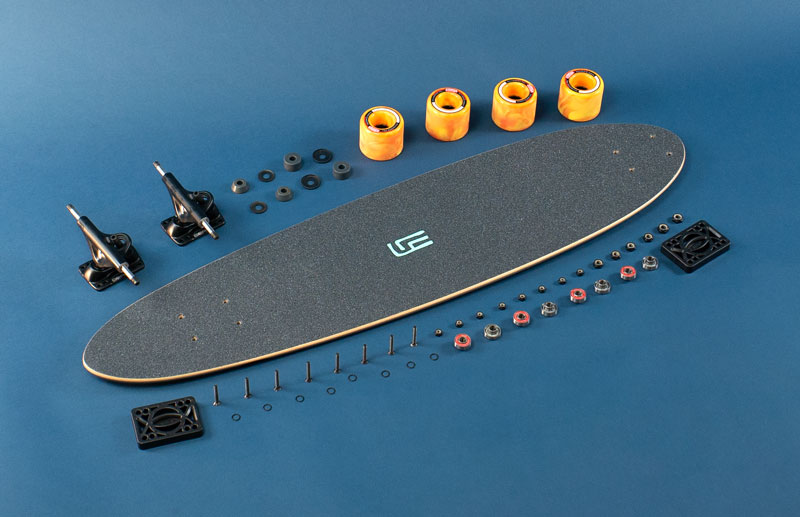 $200+ Budget
If you know you'll be sticking with longboarding, save up and invest in a setup from one of the longboard brands below. Trust me; it'll make a world of difference.
Landyachtz
Price Range: $150-$300
Year Founded: 1997
HQ: British Columbia, Canada
Warranty: 1 year
Landyachtz is a staple in the longboard community. Not only are their prices great for the quality, but they're also dedicated to sustainability. For each board they sell, they plant a tree.
Disclaimer: The "above"Landyachtz website" link is an affiliate link. Meaning if you buy something after clicking it, we will receive a small commission. It's at no additional cost to you.
Loaded Boards
Price Range: $205-$450
Year Founded: 2002
HQ: Culver City, California
Warranty: Lifetime
Loaded is also a staple in the longboarding community. Because of the premium materials, Loaded's boards aren't cheap; however, they will last. A solid longboard brand to support because they stand behind their product and give back to the community.
Disclaimer: The "Loaded's website" link is an affiliate link. Meaning if you buy something after clicking it, we will receive a small commission. It's at no additional cost to you.
Pantheon Longboards
Price Range: $270-$430
Year Founded: 2014
HQ: Indian Hills, Colorado
Pantheon's founder, Jeff Vyain, has been a skateboarder since 12. He gravitated toward long-distance skating when he got older and became a top competitor. After working his way up in the industry, he started Pantheon. Pantheon longboards are high quality.
Comet Skateboards
Price Range: $225-$300
Year Founded: 1997
HQ: Bristol, Rhode Island
Warranty: Lifetime
Comet Skateboards was started in 1997 by Jason Salfi with the mission to make the world's most environmentally and socially responsible skateboards. They've kept their lineup small, but don't let it fool you – each one is thought out incredibly well. Their Comet Cruiser is one of my all-time favorites.
Zenit Boards
Price Range: $185-$300
Year Founded: 2012
HQ: Montreal, Quebec
Warranty: 1 Year
Zenit makes everything handmade, using epoxy resin to layer their boards (the same material on surfboards and snowboards). Each one of their boards has an unmatched premium feel.
Bottom Line
Buying a cheap longboard can be tempting, but I encourage you to avoid it.
Buy from a reputable brand in this article, and you'll be on your way to a soulful experience that'll significantly improve the quality of your life.

Billy James
I've been skating for over 20 years and it's had an incredibly positive impact on my life. My mission is to get more people into skating and help them carry it as a lifelong passion.