Welcome to Concrete Waves. We are glad that you are here.
When I first learned that the former owner of Concrete Wave Magazine sold the URL to another company, I was quite surprised. The site was so different than anything I would have wanted the magazine to become. You can find my explanation as to why I sold Concrete Wave Magazine here.
Frankly, I was alarmed. So I wrote to the site trying to get some sort of explanation. This was quite some time ago (well before the pandemic!) and to this day I have never received a response.
I am not going to dwell on the past but I will say…
Two critical things
1. The website concretewavemagazine.com doesn't represent the spirit of what Concrete Wave Magazine was founded on.
2. The website concretewavemagazine.com has absolutely NOTHING to do with me or my work or the work of hundreds of contributors, supporters and advertisers that helped create the original Concrete Wave Magazine.
Now that I have decided to return to the world of skateboard publishing, I want people to know that this website is where I will be dedicating my energy and time. Thanks to the incredible work of Shred Shack, things are moving ahead quickly…but this is just the start.
Concrete Wave was always about taking you back and moving you forward. It was always about being inclusive and spreading the stoke on a variety of terrain.
Concrete Waves continues our skateboard journey – it's great to have you on board!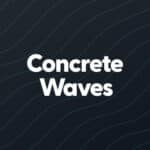 Michael Brooke