I've always wanted to build a custom direct-drive electric skateboard. But to be honest I'm not super techy. So building it from scratch wasn't a path I wanted to take.
Is it right for you? Keep scrolling to find out.
Journey & Riding Style
Just to give you context, my electric skateboarding journey has gone like this…
I started with an extremely cheap $127 board, just to see if I even enjoyed shredding an electric setup. Then a Shark Wheels Electric, next an Onsra challenger belt drive. And now I have the Revel kit.
I wanted to share that because if you're further along in your journey, then you might not find much value in this article and I don't wanna waste your time.
I'm 5'11, weigh 165lbs and my style of riding for this one averaged around 8-12mphs doing deep carves.
What's In The Box?
When you purchase a Revel Kit you get…
Charger
Charging Dock
Revel Front RKP
Remote Control
Direct Drive Back Truck
Revel 74a ABEC 11 Wheels
Standard or Extended Battery
Orangatang Wheel Adapters
ABEC 11 Wheel Adapters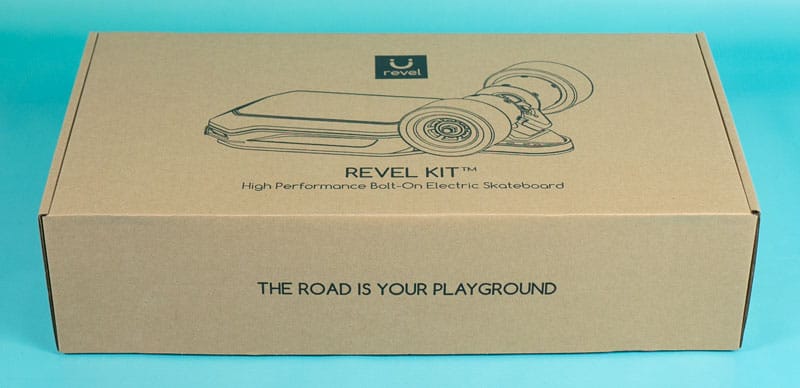 Now that you know what's included, let's cover some notable features.
Notable Features
First, let me cover the weight of this kit…
The battery and no wheels is about 10lbs
The battery is about 2.8lbs
So you can either get their standard battery (10-16 Km 144WH / 4000mAh) which they claim will get you 6-10 miles.
Or their extended battery (16-24 Km 216WH / 6000mAh) which will get you 10-15 miles.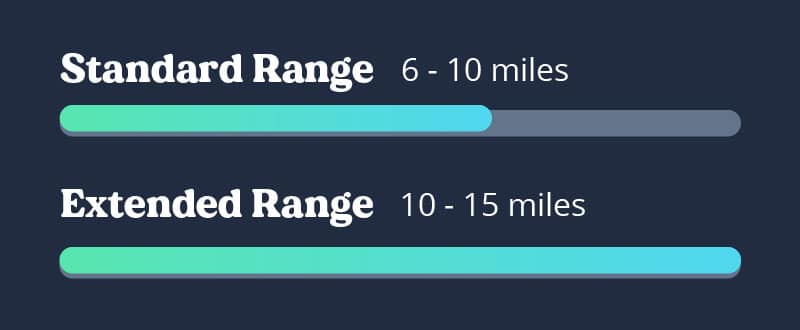 I went with the extended range revel kit because at the time of purchasing it wasn't that much more compared to the standard – kind of a no brainer in my opinion.
It's direct drive, giving you the option to swap out the wheels, which personally I love.
The neat part about this kit is you can easily swap batteries, so if you're going for a longer ride, you could get two batteries and swap.
You also have the ability to get 4wd if you want more power, but for my riding style I didn't really find that necessary.
Remote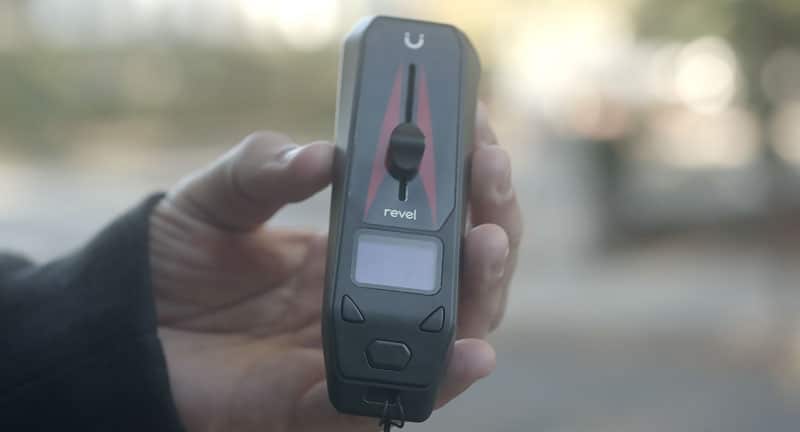 The first component I wanna cover is the remote because it's different from any of the other remotes I've tried.
Instead of having a scroll/wheel, the revel has an up/down slider.
At first I wasn't sure about this remote design but it actually feels really natural to use and I enjoy it.
Pushing the dial up and down feels buttery smooth.
Although if it came down to it, I much rather have a scroll wheel remote but it does the job.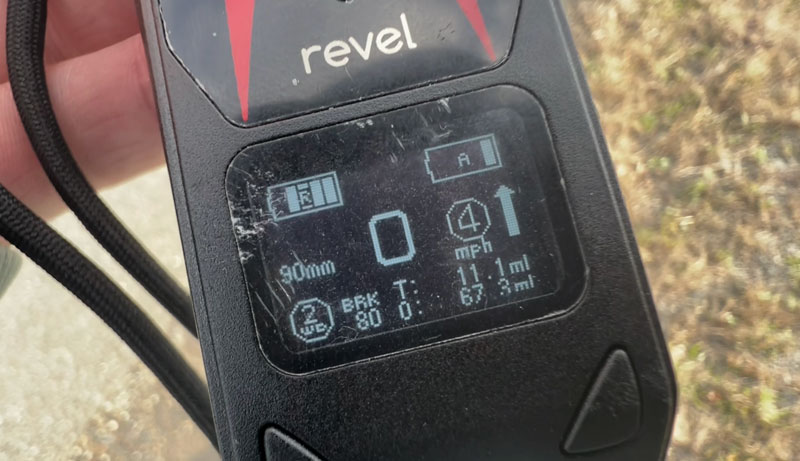 The screen had all the necessary info I was looking for…
Speed
Odometer
Trip distance
Remote battery indicator
Main battery indicator
Wheel diameter adjustment
Braking power adjustment
The charging port uses a micro USB and if I'm being picky, I kind of wish it was USB C instead so you don't have to figure out which side lines up.
Shred Tests
Now I want to share my experience riding this thing.
I used the stock Revel Kit setup to do a range test since that's what most people will probably use. All said and done I got 11.1 miles on the remote (10.8mi on Phone tracker), until I got the 10% remaining indicator.
I'd consider my environment somewhat hilly, so I'd say their claim of 10-15 miles is spot on.
I'm not sure if anyone is interested in this but even after the 10% low voltage indicator, I maxed out the speed and was still able to hit like 18/19 mphs.
It took about 8 seconds to go from a standstill to max speed on a flat straightaway. Honestly it has pretty solid torque that I wasn't ecpecting.
I would say braking is on the stronger side, not in a bad way though. I'd rather have it like that so I could stop if I was in a sketchy situation. But even on the lowest setting, the braking takes some getting used to.
Revel Kit Components
Revel's reverse kingpins and wheels were solid quality. If I were to only have this setup, I'd be content with it.
The 90mm 74a wheels have a high rebound urethane and are obviously super sticky. The quality is actually pretty decent and something I wasn't expecting.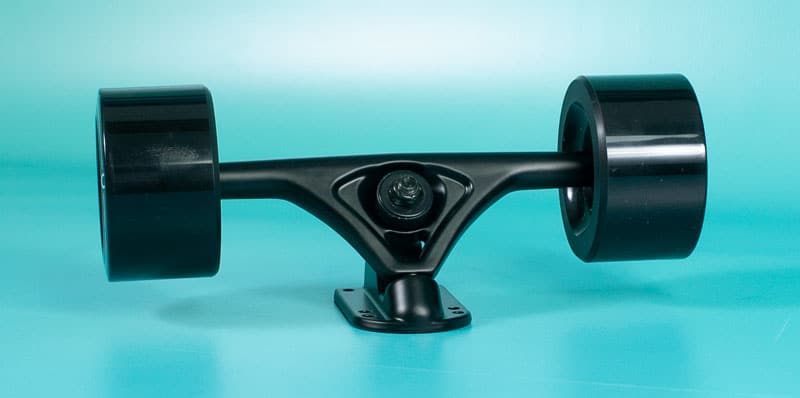 I feel like the 94a bushings were a good choice because I didn't experience any speed wobbles maxing it out and I still could carve pretty hard if I pushed it.
Although if you're heavier than 165lbs, you'll have a higher chance of getting speed wobbles.
There's so many factors that come into play, so I think by providing you my weight and bushing duro, that should hopefully help you.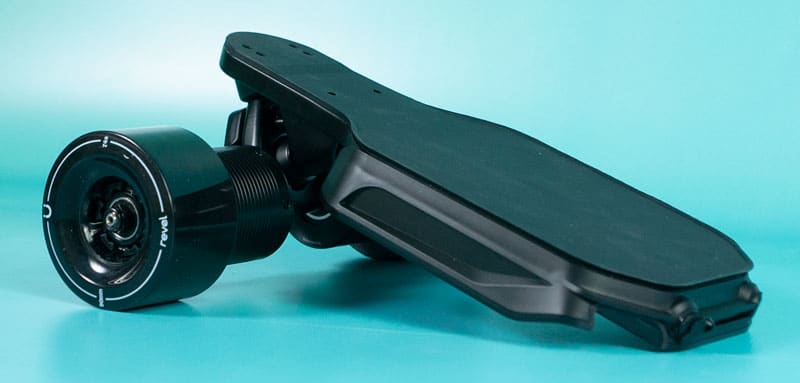 I wish the bearings had built-in spacers because it was a pain to line up the wheels with the adapters and spacers. Not a big deal, but would be nice as a future upgrade.
Paris V3 165mm
The next setup I tested was the Omakase with the Paris V3 165mm 50 degrees front truck, Orangatang orange knuckles bushings and Orangatang 85mm Caguamas (swapping between the 80a and 83as).

I swapped the stock bushings out with Orangatang orange knuckles, which allowed for some deeper, juicer carves.
Overall my favorite and probably permanent Revel setup. It's a nice crossbreed of stability and carviness.
Moving on, I tested it with some surfskate adapters because I was curious to see how it would pair. I used my YOW Snappers deck (Length: 32.5″ Wheelbase: 17″) for all the setups because I like the smaller wheelbase and concave.
Surfskate Setups
The first surfskate setup I tried was with the Carver CX & C7.
Compared to the Omakase rkp setups, it was definitely more maneuverable but since it's impossible to switch out the back truck, the range of motion felt off.
I think it was fun, but not what I was searching for. I tried it with the YOW and Waterborne as well, but they both still felt off.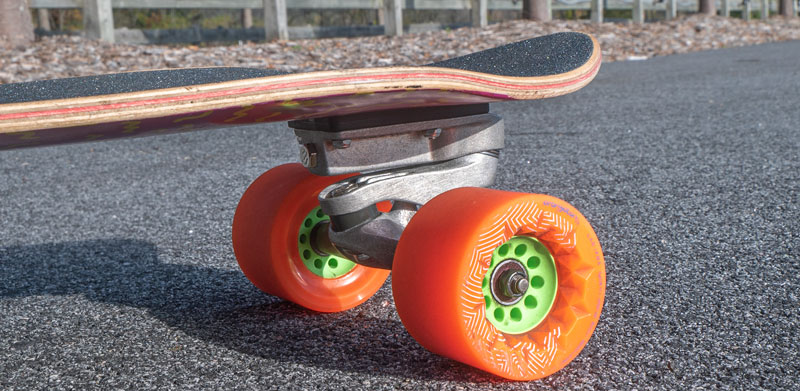 Out of all of them, I felt like the Waterborne adapter made the most sense because it's not spring-based and it used a more compact design with a cube urethane bushing.
If there was a way to add Waterborne's rail adapter, then I think it could help with the range of motion. For the surfskate feel I was looking for, the revel kit isn't ideal.
I think I'm gonna have to try out the Unlimited hub motor kit soon.
Minimal Motor Clearance
Since it's direct drive, the motor clearance is minimal if you use wheels smaller than 90mm. I didn't have too many issues with the 85mm Caguamas, but I did bottom out the motors when I was on rougher pavement.
90mm revel wheels have about ½ inch of clearance from the motors. 85mm Orangatang Caguamas have about ⅜ inch of clearance.
Not sure how many of you shred Caguamas but just wanted to mention that.
Components Removal
Next, I kind of wish the battery was easier to remove. Not only that but the stock 90mm revel wheels were tough to get off the truck axles. I did end up getting both off but I wish there was an easier way.
Micro USB
The last con I could think of would be that the remote charging port is a micro USB and I wish the remote charging port was USB C. Minor but I think it'd be a nice addition.
Ease of Use
And for the pros, I love how easy it is out of the box to setup. I feel like Revel has made it super simple for anyone to make an electric board.
Quality Components
Secondly, the stock Revel setup – the wheels, bushings, trucks are all pretty solid in my opinion. Nothing really stood out to me as being low quality.
Manual Clarity
The last minor thing I would say is that I love that their manual is simple and straight to the point.
My overall experience with Revel has been positive and I would buy it again – I'm stoked to have it in my quiver.
Hope this article helped you out!