By Billy James
|
Updated:
July 30, 2022 |
Gear
I've been fascinated by electric skateboards since the first day I tried one. With the right setup, it can feel like riding an endless wave. In this post, I'll share one of my favorite electric surfy setups.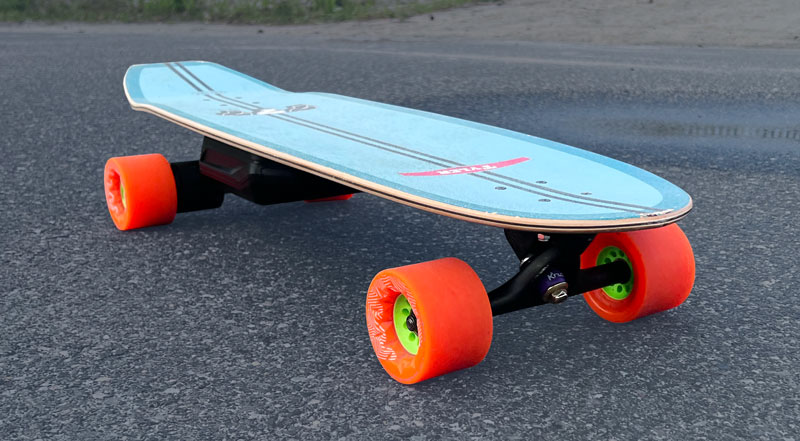 About this setup
Setup Price: $900+
Ideal Speed: 8-12mphish
Riding Style: Surfy Cruiser
This is a mellow electric surf cruiser. Swapping out the stock bushings on the Paris RKP and Revel RKP is the key to making it surfy. It can quickly become sketchy if you ride it above 15mph. I use it in the 8-12mph range for long, drawn-out carves. I feel it does a solid job of replicating my longboard surfboard.
Individual Parts
Disclaimer: Some of the links above are affiliate links. Meaning if you buy something after clicking them, we will receive a small commission. It's at no additional cost to you. This does not affect what products or prices are displayed.
Pros
High-quality components
Insanely fun, surfy feel
Easy DIY setup
Cons
Minimal motor clearance
Qwik plates creak at times
Sketchy over 15mph
Expensive
Deck
Length: 36″ Width: 10″ Wheelbase: 21.25″

The Tyler 777 is such a fun deck. It was modeled by Tyler Hatzikian, taking inspiration from his 777 nose rider surfboard. I often surf a Hap Jacobs 422, which (I believe) Tyler drew inspiration from for his 777. Anytime I ride this deck, I feel like I'm surfing my 422.
There's slight concave on it – enough to lock into carves.
The paint on the top of the nose is starting to chip off, which isn't a huge deal, but I still wanted to share.
I mounted the Qwik plates to the deck to easily swap to a traditional longboard setup. I usually rotate from an electric setup to my Carver CX. You can see below that the Qwik plates mount to the deck and the trucks.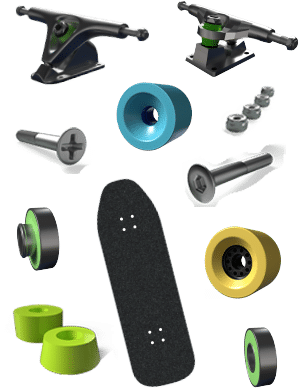 Skate Setup Guide
Dial in your skate setup with our free guide that covers decks, trucks, wheels, and more.
By entering your email address you agree to receive emails from Concrete Waves. We'll respect your privacy and you can unsubscribe at any time.
Hardware
Why are there 16 bolts required? Because of the Qwik plates.
(8) 5/8″ counter sunk bolts to mount the Qwik deck plates. Another (4) 5/8″ counter sunk bolts for the Qwik truck plate for the front Paris RKP.
Then another (4) 1.25″ to mount the Qwik truck plate to the Revel Kit.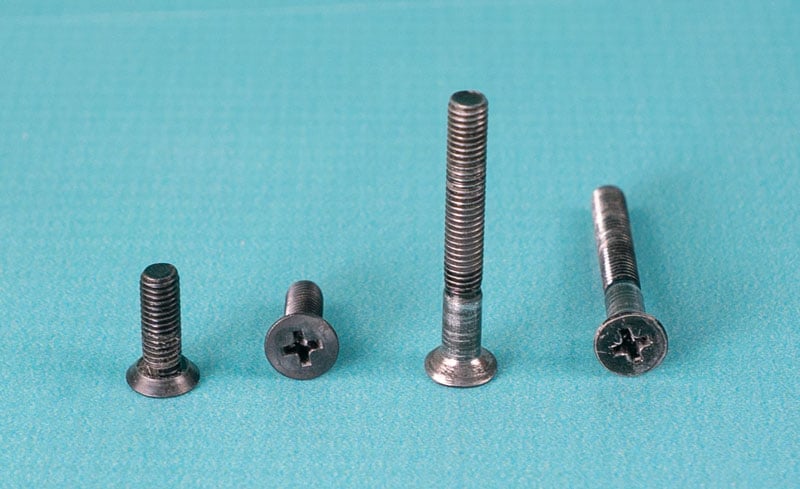 Trucks
Didn't put a riser pad on the front truck because of the Qwik plate.
I mounted a hard 1/8″ riser in the back so the Revel kit can seamlessly slide on the Qwik deck plate. Sliding the Revel Kit onto the Qwik plate is tricky without a riser pad. It will get stuck because of the rubber material on the bottom of the battery.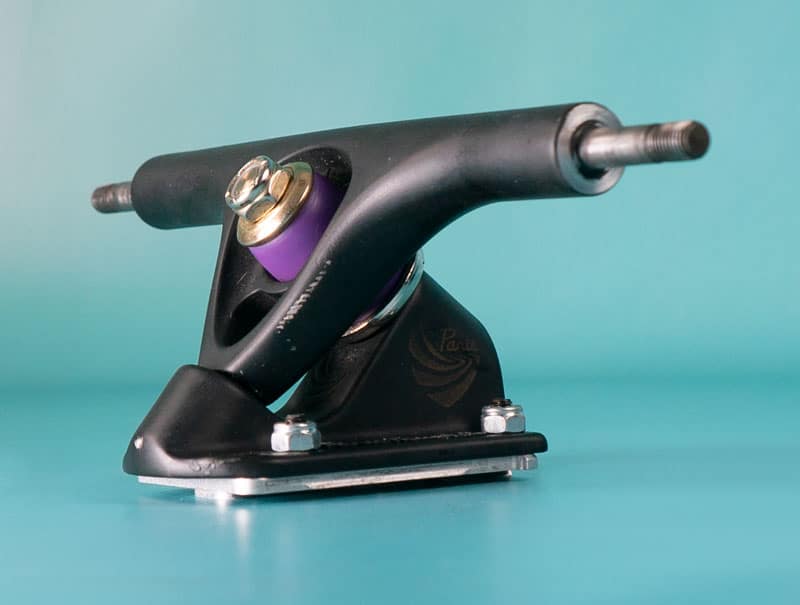 Bushings
I swapped out the stock Paris and Revel bushings with Orangatang Knuckles.
I found the softer, orange Knuckles were too soft and way easier to get speed wobbles. So for me, the purple Knuckles worked the best. Double cones in the front.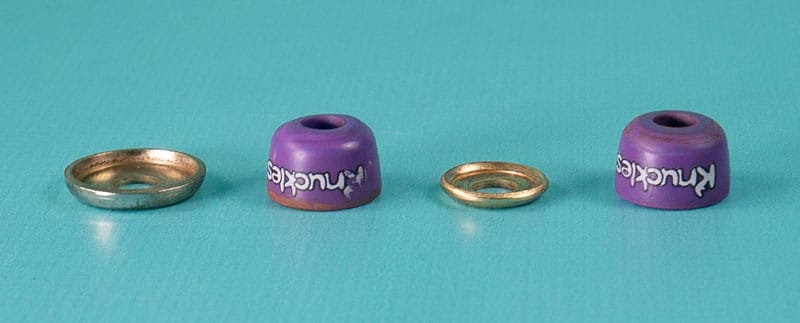 Double barrels in the back revel trucks for extra stability.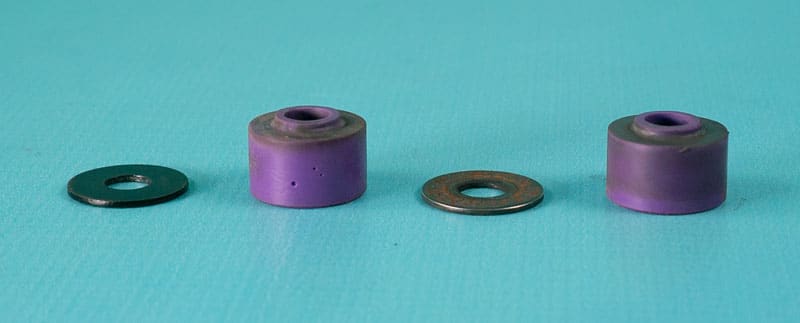 Wheels
The Caguamas 85mm 80a are solid for this setup. Since they're so big, they're hard to slide out. But once you break them in, you can do some powerslide checks. But because of the large contact patch, it's tricky.
You can use Revel's stock wheels if you don't want to spend the extra money on these.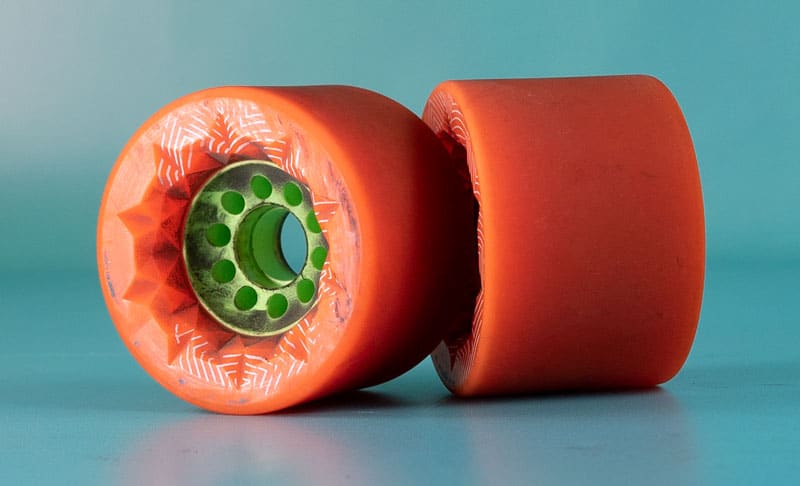 Bearings
Any bearings will do for this setup.
I had Carver built-in bearings laying around, so I used them. I've heard a lot of people liking Zealous built-ins. Or you could even buy Loaded's Jehu built-in bearings.