By Billy James
|
Updated:
September 6, 2023 |
Gear
Praise the skate gods! There are now a bunch of high-quality mini electric skateboards for a fair price.
Not only are they a blast to ride, but they're a reasonably functional way to get around.
The issue isn't our options; it's separating the good from the bad. So, I've researched and narrowed down this list to the best mini electric setups. Each one represents a different budget category.
Then at the end, I'll discuss things I wish I had known before I bought my mini setups. I highly recommend reading it if you've never ridden one before.
Summary
If you want a setup under $500, go for the Exway Ripple or Meepo Mini. If price isn't a concern, go for the Exway Wave. The Wave also has the ability to swap out the batteries. If you want to build your own, go for the Revel Kit.
Lightest: Exway Ripple
Fastest: Meepo Mini
Tricks: Bustin Yoface
Best Overall: Exway Wave
Build Your Own: Revel Kit
Disclaimer: The Meepo, Amazon, and Revel links are affiliate links. Meaning we will receive a small commission if you buy after clicking our link. It's at no additional cost to you.
Exway Ripple
Ripple purchase options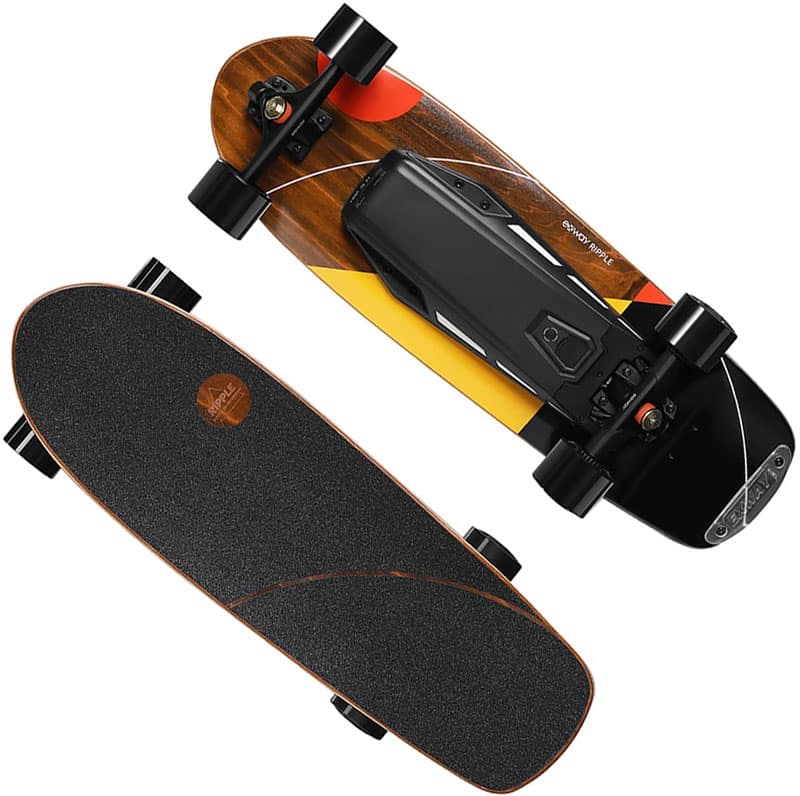 Price: $399
Length: 30.7″
Width: 9.5″
Weight: 13lbs
Top Speed: 22mph
Warranty: 6 months
Range: 5-7 miles
The Exway Ripple is the newest budget electric skateboard on this list. It's a great entry-level setup. Its dual hub motors are quiet and easy to push if your battery dies.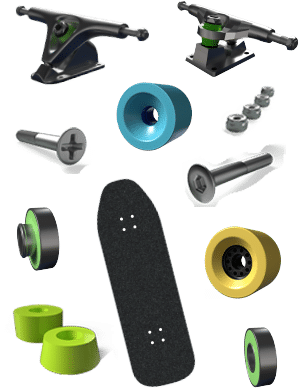 Skate Setup Guide
Dial in your skate setup with our free guide that covers decks, trucks, wheels, and more.
By entering your email address you agree to receive emails from Concrete Waves. We'll respect your privacy and you can unsubscribe at any time.
Meepo Mini 5
Meepo purchase options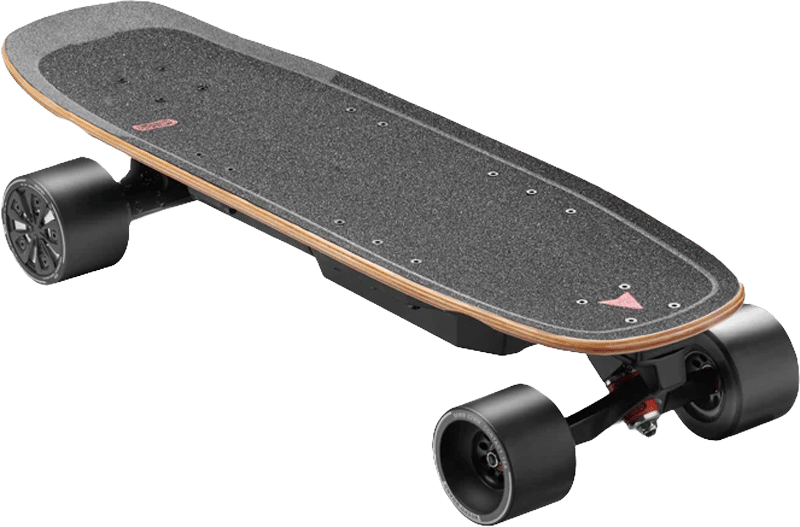 Price: $400-450
Length: 30″
Width: 11.1″
Weight: 16lbs
Top Speed: 28mph
Warranty: 6 months
Range: 11 or 20 miles
The Meepo Mini 2 is a great budget electric skateboard. It has dual hub motors, maxing out at 28 mph. The deck has some concave and a subtle kicktail.
Exway Wave
Wave purchase options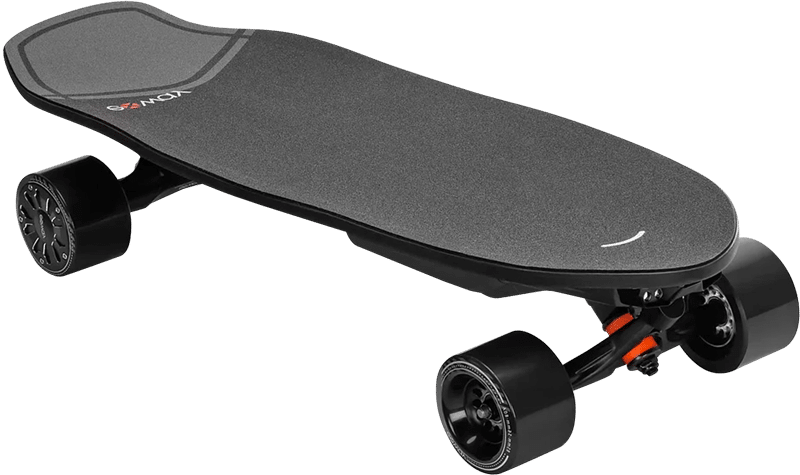 Price: $699-950
Length: 30″
Width: 10.55″
Weight: 15.2lbs
Top Speed: 23mph
Warranty: 6 months
Range: 11 miles
Best if you want a high-end setup with the ability to swap out the battery. You can either get a hub or belt drive setup.
Bustin Yoface
Yoface purchase options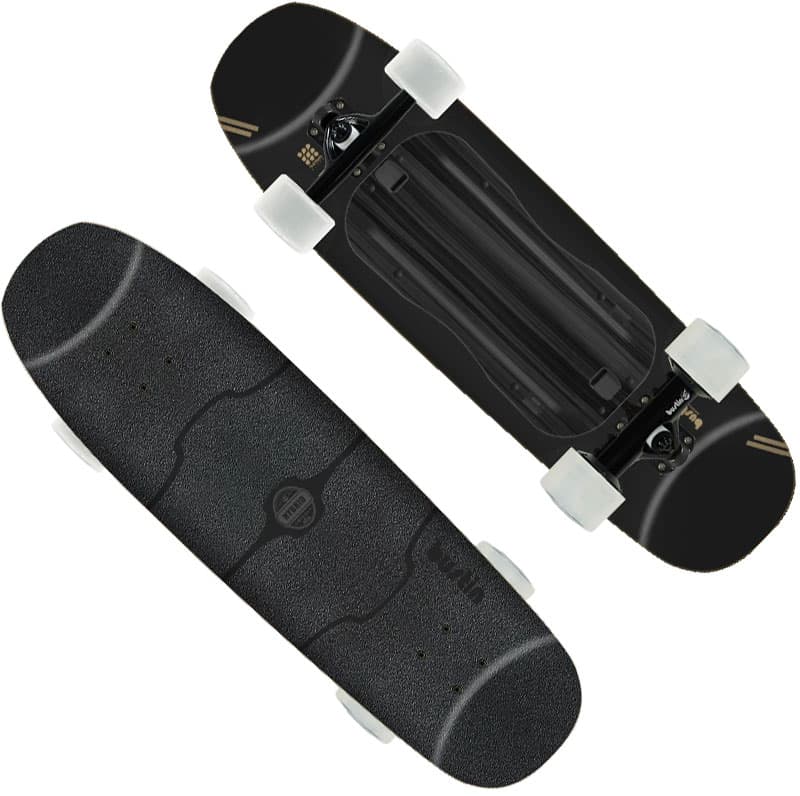 Price: $800-900
Length: 32.8″
Width: 9.25″
Weight: 16.5lbs
Top Speed: 27mph
Warranty: 6 months
Range: 16 miles
The Bustin Yoface Hybrid electric skateboard is the most similar to a street setup. The double kicktails allow you to do tricks that the others on this list can't. However, remember it's still heavy af – so your trick list will be limited.
Revel Kit
Revel purchase options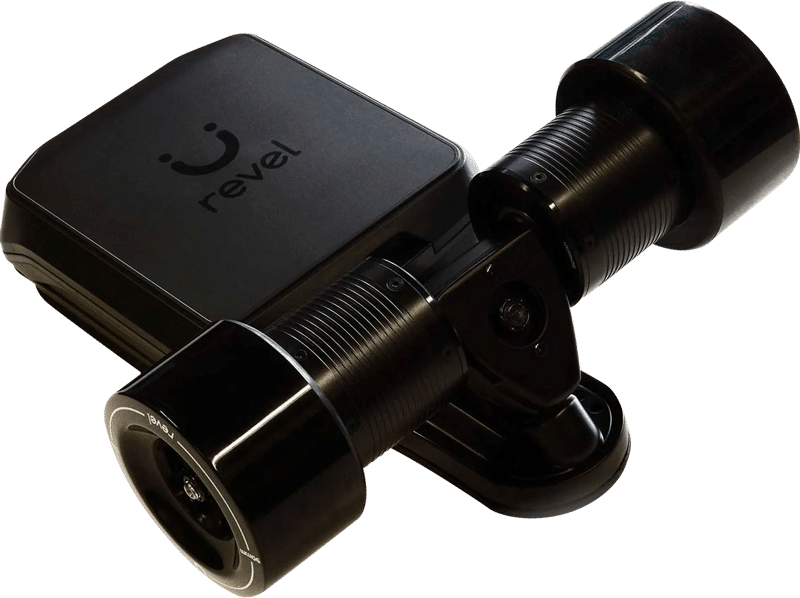 Price: $670-750
Drive Type: Direct Drive
Although out of the box, it's not a "mini electric skateboard," you can easily turn it into one. The Revel Kit is perfect if you want to build your mini electric setup but don't want to get too techy. It's a direct drive, and you can swap out batteries.
We built an electric surf cruiser with the Revel, and it's a blast to ride. We've also had it for over two years, and it's still going strong.

Mini Electric Skateboard Insights
Below are a few things you should know before purchasing.
Shorter wheelbase
Mini electric skateboards have a shorter wheelbase. This means you have a higher chance of getting speed wobbles. Almost all mini setups come with barrel bushings to combat speed wobbles, but the downside of this is…
Limited carving ability
With barrel bushings it severely limits your ability to carve. This can be a good thing for speed wobble prevention. But if you're used to riding something like a surfskate, it will feel incredibly stiff.
They're still heavy
If you're used to a mini cruiser skateboard, don't expect electric setups to be anywhere close in weight. So if you expect to carry it around for an extended period of time, be prepared for a workout! This is one of the main things that stuck out to me when I bought my first electric board. Batteries are like weights.
Bottom Line
Always wear a helmet – electric skateboards are sketchy! I know many people that got severely injured from these things. Take the necessary safety precautions and get out there.
They're incredibly fun to ride and offer a soulful experience!

Billy James
I've been skating for over 20 years - it's been a lifelong passion. Our mission at Concrete Waves is to fuel the growth of all genres of skateboarding.