By Tyler Mixon
|
Updated:
January 25, 2023 |
Longboards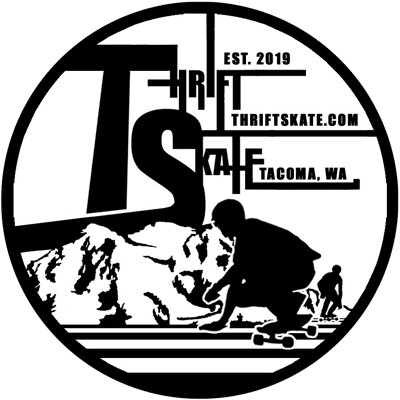 Thrift Skate is a small online skate shop with used / new gear from independent skate/ longboard companies. Unlike most big box retailers, Thrift Skate listens to its customers and will make whatever accommodations are needed to satisfy the customer's interests.
How I came across Thrift Skate
It all started back in August of 2022. I was looking for a set of Randal 125mm RKPs for a Hill bomb event at the college I was attending. This underground, slightly illegal event would be the biggest so far. I needed a truck that would handle speeds of nearly 30mph as well as be agile enough to make it through the slalom section. The Randals were the truck for the job. The only problem was the price. I spent weeks trying to find a used set online to no avail until I came across a website called Thrift Skate.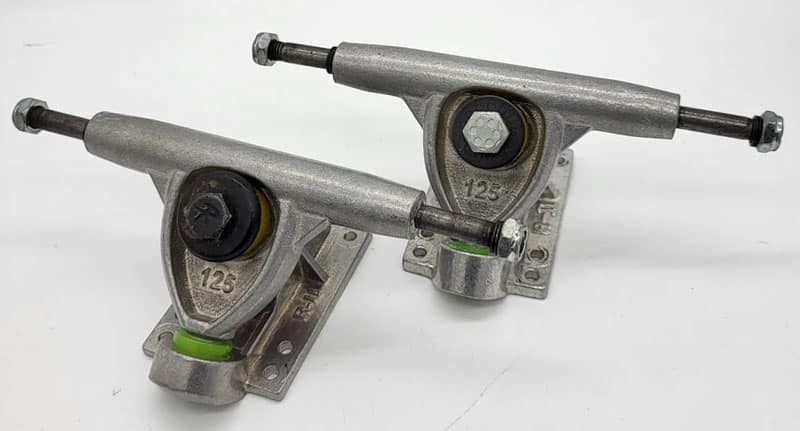 This website had the trucks I needed at the price I wanted to pay. The trucks also came pre-tuned with Riptide pivot cups and bushings. Upon further inspection, I found that this site was dedicated to selling new and used skate gear.
This is the first and only option besides eBay and Facebook Marketplace that I am aware of. This is revolutionary because of the lack of options for skaters looking to buy or sell used gear online, and this platform fills the void that I had been totally unaware of.
What do they stock?
New and used skate equipment. You can buy new and used longboards as well as traditional skate gear at a reasonable price.
Trucks
Wheels
Bushings
Bearings
Helmets & Pads
They also sell decks from independent skate companies. I like that they provide an outlet for independent skate companies. Many really small deck crafters end up just selling on social media rather than dealing with the hassle of making and maintaining a website or dealing with large distributors. So I find this aspect an awesome resource for those independent skate companies.
Do they sell used gear?
This is my favorite part. Thrift Skate does sell used skate gear.
Below are a few examples.
EZ Hawgs
MSRP: $44.99
Thrift Price $22
Condition: 8/10
Orangatang Stimulus
MSRP: $60
Thrift Price $35
Condition: 10/10
Powell Peralta K-Rimes
MSRP: $70
Thrift Condition 8/10
Thrift Price $40
Prism Theory V2
MSRP: $150
Thrift Condition: 8/10
Thrift Price : $110
Paris V2 9.75′
MSRP: $50
Thrift Condition: 9/10
Thrift Price: $28
Independent 139s
MSRP: $45
Thrift Condition: 8/10
Thrift Price: $22
This is just a brief summary of current examples available. The used inventory is limited in regards to the number of used Items but the item selection is very diverse. Not only are most of the used Items 50% off and more, but they also may be hard to find. Some of the decks sold on this site have not been around for years, and if there is a specific component you are looking for that is no longer available, then Thrift Skate may have it.
Do they buy used gear?
Yes, but as of now, only in person. The store is located in Tacoma Washington, so if you are in the area, or you want to make a road trip with a Uhaul full of used gear, then go for it. I was told that in-person allows for the owner to check the quality of the products in person, and sell them at a lower cost. Shipping does a number on the end price.
Interview With The Owner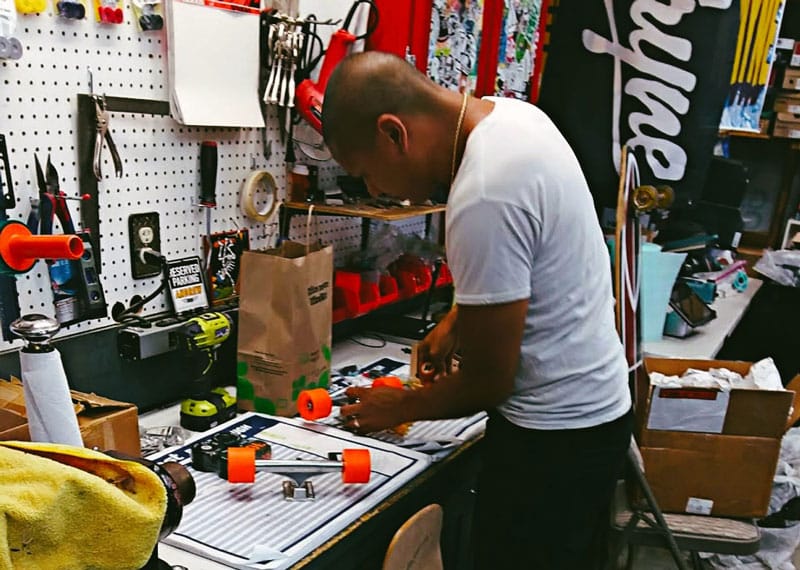 So tell me about yourself. What's your name? When did you start skating? What boards do you ride?
"My name is Andrew Montoya. I started skating in the early 2000s.
"I mostly do freeride with some downhill."
"I ride a Rayne Mini Vandal with Aera rf1 trucks, and 919DH Dreamsicles wheels. 919 is a smaller independent company and I try to support them because I also own a small independent company."
When did you start Thrift Skate? How did you make it happen?
"I started it back in 2019. originally there were two of us, but now it's just me and my garage. I originally worked in retail for an auto parts company, and I took that knowledge and applied it to this.
" I was at the point where I felt like I could just slave away at my old job, or make the leap and see if I can make it, and here I am three years later."
The whole used gear aspect was what originally set us apart. Nowhere does used skate gear as we do."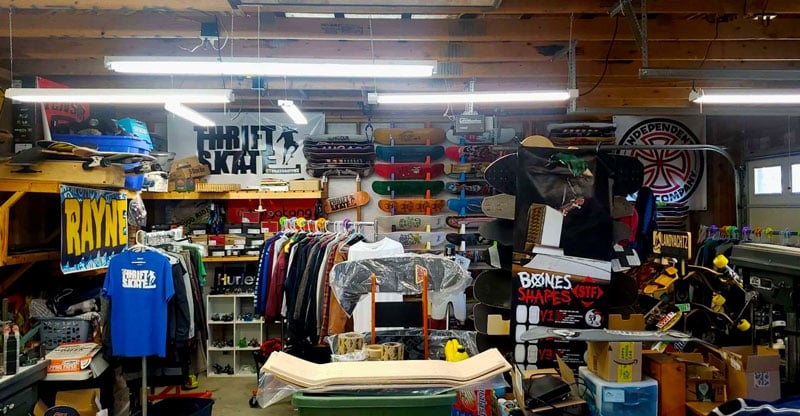 How do you currently stock your used inventory?
"I'm scouring garage sales, and Facebook Marketplace looking for good deals. I have some people that trade gear locally, but a lot of it is just me personally looking for good deals."
"I really like to look for discontinued products. People love their boards, and once they thrash their setups, they typically look for another one to either hang up on the wall or to set up and skate."
Do you think you will be able to stock your inventory from used gear in places outside of Tacoma Washington? Do you think this will be possible?
"I like to do it in person just so that I know that everyone gets a good deal, but in the future I see myself having a team running the shop while I travel around to areas like Portland, or other closer bigger cities. Maybe having a popup where skaters can bring, sell or trade their gear and then it would be mobile. It's becoming more difficult to post used gear because I am draining my local recourses."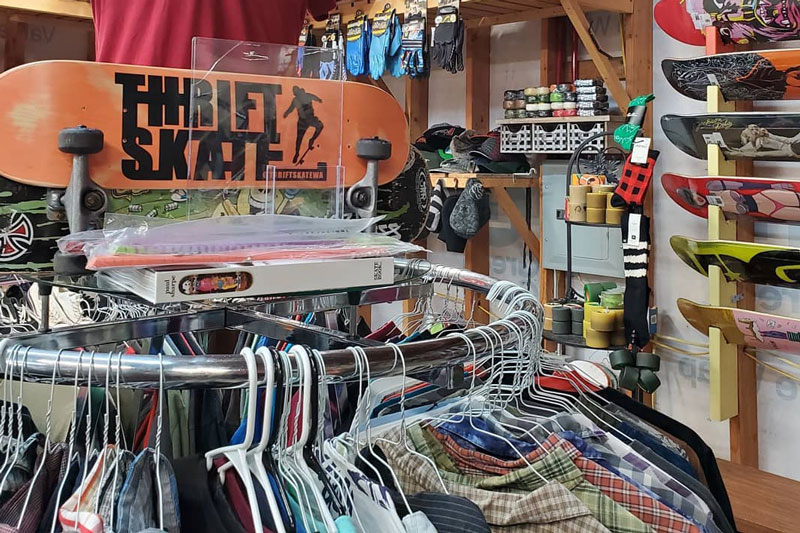 In what other ways do you see your company growing in the future?
"I see myself growing out of the garage and into a larger warehouse. This would allow Thrift Skate to compete with the larger big box sites. I'm continually getting new gear. I just started working with a company called Roger Brothers Downhill, and I have the site stoked with the gear I bought directly from them. I also work with seismic skate and Riptide bushings."
How busy are you with this? Is this your primary source of income, or is this just on the side?
"I have the online skate shop but I also run a Poshmark store where I sell clothes. As well as an eBay store where I sell all sorts of miscellaneous stuff, video games, electronics, movies, and stuff, but everything funnels into the skate shop."
Is this your dream job?
"If I could live comfortably off this, it would be my dream job."
What is it like owning an online shop? What's your day-to-day like?
"I wake up and check my Shopify for any orders that came up. Pack em up, and take them to the post office. Then I spend an hour or two checking the marketplace and offer up looking for any good deals. I may hit a thrift store or two a while after that. There is so much I have to do that I have to split my time. Some days I clean used inventory, take photographs, and post gear on the shop. Some days I'm doing paperwork and packing stuff. It's pretty busy. My day-to-day varies."
Do you have any advice for new entrepreneurs looking to get into the skate industry?
"It's a lot of work, but the community out there is so good that if you are consistent, and you keep working at it, and don't get frustrated. You can make it happen."
"Honestly, just grind it out, and people will notice."
"I've seen so many companies come and go, and I didn't want to end up like them. The one thing I noticed is that you just have to keep being in people's faces. Keep reminding people that you are out there, and keep updating your gear. It's not going to happen overnight. Organic growth is really slow, so you just have to have that in your head while you're doing it. That's the key to all of it."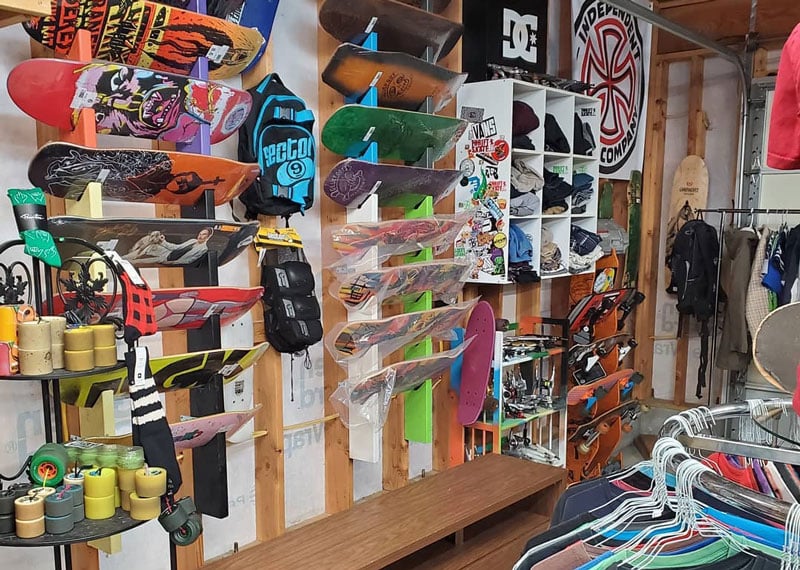 Tell me about the independent board companies. Are you open to more independent skateboard manufacturers working with you?
"Yeah, I like the small companies. Especially the ones just running their businesses off Instagram. It's been great so far. I would like to work with more small brands that make street boards, but I try to cater more to longboarders."
What is skateboarding to you?
"It's stress relief, a leisure fun activity that is also exercise."
" I wouldn't be caught dead on a treadmill, but I can skate all day."
Do you have a favorite skater?
"Probably Liam Morgan. When they are bombing in Hawaii it looks so amazing. He has great style. I love Prism Skate Co. Their whole team is awesome!"
What do you think about the current trends in skateboarding and longboarding?
"The one thing I have never gotten into is the tiny boards and tiny precision trucks for downhill. I like the wider boards. I know that the smaller setups give you more leverage control and traction, but they just don't feel right to me."
Any opinions on surfskates?
"I like the idea of surf skates, I just have never ridden one. They look cool tho. maybe one day I will pull the trigger on a surf skate setup."
Do you listen to music when you skate? Any genre or band in particular?
"No, I don't like to listen to any music when I skate, only because I want to be more aware of my surroundings. I want to be able to hear the car when it's coming. In general, I do like to listen to electronic music. Growing up in Boston there was a huge rave scene. So EDM, Trance, House, and Dubstep have become ingrained in my music tastes. Currently, I'm listening to a lot of Bad Boy Bill who is a DJ out of Chicago"
Is there anything else that you would like to add? Do you have any comments or ideas you would like to share?
"I'm really stoked that you guys are doing stuff like this. I'll be watching you grow while watching Thrift Skate grow as well."

Conclusions
Hearing Mr. Andrew's story is very inspiring. Similar to Christopher McCandless in the novel Into The Wild. Andrew walked away from one life into another seeking purpose, passion, and a career that he would genuinely enjoy. Anyone who has read the novel Into The Wild would know that the two stories are nothing alike, but the "risk it all" and "do whatever it takes" attitudes displayed by Andrew Montoya and Christopher McCandless is the common denominator.
In the end, the skateboarding industry will remain at a never-ending stalemate between what it really is Vs. What others want it to be. The Big Box retailers are Goliaths whose greater economic independence allows them to reign over the smaller companies with advertisements and lower prices at the deficit of individuality and quality control. It's the small companies like Thrift Skate that are the Davids in this story.
So before you go to buy a board online, I encourage you to look at Thrift Skate. Not only will you be able to get a more personalized setup at a potentially lower price, but you will also be putting food on the tables for those who are keeping skateboarding alive for what it truly is.

Tyler Mixon
In the rural areas of South East Georgia, I have dedicated the last 13 years of my life to skateboarding. Our mission at Concrete Waves is to fuel the growth of all genres of skateboarding.