By Michael Brooke
|
Updated:
November 12, 2023 |
History
It's hard to imagine a juice company becoming an enormous force in the world of 1960's skateboarding, but the Vita-Pakt Juice Company was no ordinary business. Two events led to Vita-Pakt's involvement with skateboarding. Ed Morgan worked in the sales department at the Vita-Pakt located in Covina, California. Although their primary business was juice, Morgan realized that the company could expand into other profitable areas. He had seen people skateboarding at the beach and came up with an idea for Vita-Pakt.
Vita-Pakt had recently purchased a roller skate manufacturer. Morgan took a set of trucks from the roller skate plant along with a piece of a juice crate to illustrate the skateboard concept to the company brass. The other executives at Vita-Pakt liked his idea and decided to get into the skateboard business.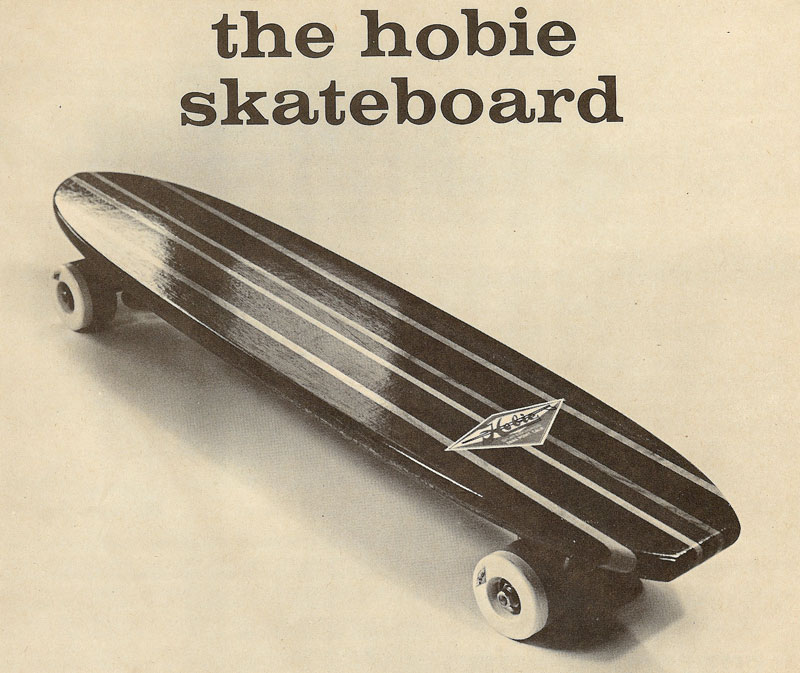 Around the same time that Ed Morgan was thinking about moving into the skateboard business, the owner of Vita-Pakt was looking into things for himself. Vita-Pakt was owned by none other than Baron Hilton, of Hilton Hotel fame. His two sons, Davey and Steve, were avid skateboarders and were anxious for their father to get into the business of skateboarding.
In late 1964, Vita-Pakt and Hobie Alter joined together and formed a manufacturing/marketing agreement. The Hobie name carried a huge amount of weight within the surf industry and it was natural for a company to market a line of Hobie skateboards. A large publicity effort was put forth to spread the word on the Hobie skateboards. A Hobie Super Surfer team was put together with top-notch riders, including Dave Hilton. Interestingly enough, many of these skaters were taken from the Makaha team.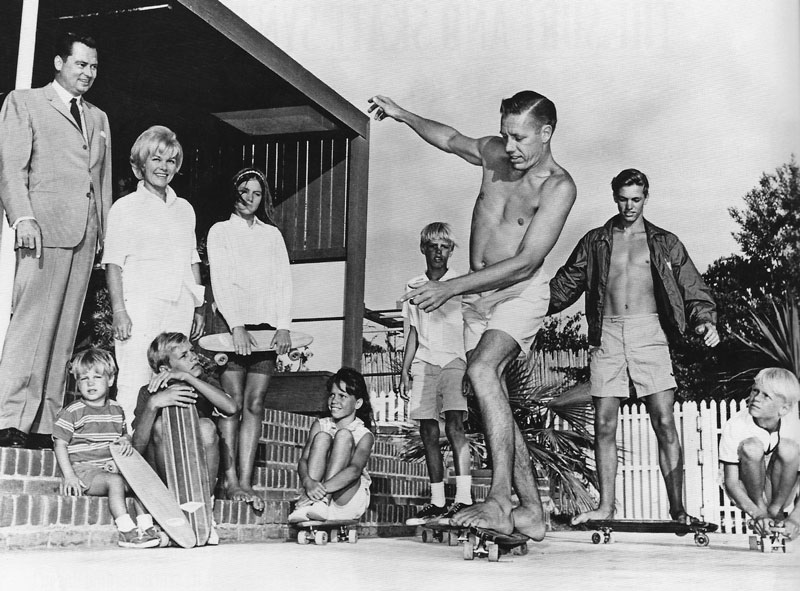 Now that there was a team in place, ideas were formulated about how to promote the Hobie brand best. Hobie Alter saw an opportunity.
"Bruce Brown was working on the [surfing] film The Endless Summer and he would run sections of the film for people. I realized that the film was really hot and I talked Bruce into doing a trip."
Hobie rented a bus (it slept nine people) and filled it with surfboards and skateboards.
Starting out in California, they drove to New York. The trip featured surf and skateboard demos along with showings of The Endless Summer in cities down the East Coast. There were eight screenings of the film and each had an audience of a thousand people. Hobie remembers the impression the film left on viewers:
"When people saw the film they'd tell us they were going to return the next day with their friends. We'd be gone by then and off to another town. Believe it or not, people actually followed us as we went from each city."
Crowds for the skateboard demos ranged from two to three thousand people. The surf demos were even more of an event.
"We had 10,000 people show up at Gilgo Beach!" recalls Hobie.
The entire trip cost about $5,000 but it paid off for Hobie and Vita-Pakt. There was an enormous amount of press about the team. In 1965, The Quarterly SkateBoarder interviewed surfer/skater Mike Hynson about the trip:
"We drove across the country in a big bus that Hobie chartered. We all had skateboards, so stopping at a gas station was quite an event. We would pull into a gas station in some small inland town and yell, 'Fill 'er up.' Then the entire crew would burst out of the doors with their skateboards and go rolling off around town exploring. The local population just couldn't believe the rolling invasion. In some places we looked like the pied pipers with all the local kids in town following us along."
Baron Hilton also owned the San Diego Charger football team and during a Thanksgiving game, the Hobie Super Surfer team performed a skateboard demo at halftime. Through Hobie and Vita-Pakt's work, the skateboard division began to really take off. By 1965 Vita-Pakt had orders for 20,000 skateboards a day and still couldn't keep up with the demand.
Hobie was the first to come out with a pressure-molded fiberglass skateboard. It had a rocker and was very popular. They were also the first company to mass-market a truck exclusively for skateboards. Despite these innovations, there really wasn't time for major technological improvements in the hardware. But one person did come along who might have changed the course of skateboarding history.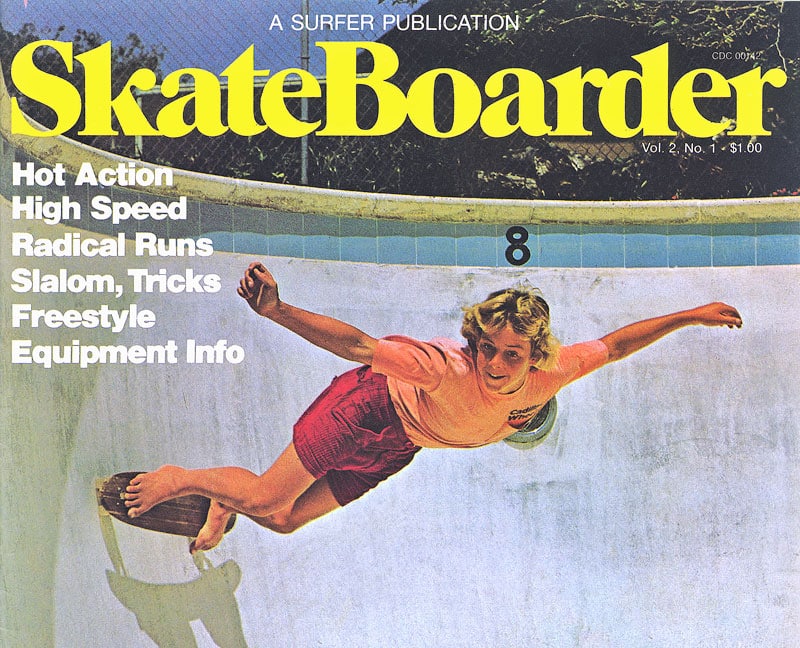 Wheels at the time were clay or metal and they had no grip. In 1965, Hobie Alter was approached by a company called American Latex. The son of the company's president was a surfer and skater. He had cast a set of urethane wheels and machined their surface. Hobie remembers dropping in the bearings and putting them on a board.
"I took them out to let some of our pro riders try them. Their response was immediate — they thought the wheels were fantastic."
Hobie then went to the executives at Vita-Pakt with the idea for the urethane wheels. But they were not willing to market the concept because they felt the price for the skateboards would be too high. At the time, Hobie Super Surfers retailed for under 20 dollars, and by adding urethane wheels the price would have more than doubled.
"They thought the more expensive urethane-wheeled boards would denigrate their cheaper boards," recalls Hobie.
It would take eight more years for urethane wheels to come to market. Who knows how different the skateboarding world would have looked if Hobie had been able to convince the Vita-Pakt executives.
As it turned out, things kept rolling along and demand was strong for what was ultimately a flawed product. After all, there was only so much you could accomplish with clay wheels. At the 1965 Toy Show in New York, buyers for stores went out and placed a tremendous amount of orders with all the large skateboard companies. They knew that no one could keep up with demand. Hobie has not forgotten the buyers' strategy:
"The buyers ordered huge amounts knowing that they could cancel their orders if the product wasn't received by a specific date."
Vita-Pakt geared up and went full steam ahead with production. Other manufacturers did the same.
As Hobie says, "The pipeline was filled up with product."
Unfortunately, it was at this time that police chiefs started calling for the prohibition of skateboards. Most of the public felt skaters were a nuisance and cities began banning skateboards. As a result, demand for skateboards died fast. Enormous inventories coupled with waning interest led to the big skatebust of November 1965.
Vita-Pakt were caught with too much product and suffered immense losses. Hobie recalls they even tried to sell skateboards for one dollar each. It was to take almost eight years before things would start rolling again for skateboard riders and manufacturers.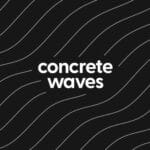 Michael Brooke
Since 1975, my passion for skateboarding has remained unchanged. Our mission at Concrete Waves is to fuel the growth of all genres of skateboarding.