By Billy James
|
Updated:
December 14, 2022 |
Gear
I've been getting into mini electric skateboards, and I wanted to test the Meepo Mini 2.
It's pretty much impossible to avoid if you're doing any research.
I reached out to Meepo, and they sent me one to test. Of course, I only accepted it under the terms that I could share my honest thoughts. They agreed, and this post is a result of that.
Summary
For the price, the Meepo Mini 2 is a solid mini electric skateboard.
Pros
Portable
Useable kicktail
Solid build quality
Affordable
Cons
Limited carving
Sensitive brakes
Not the best for rougher terrain
Unable to swap hub motor wheels
Who Is It Best For?
I would recommend if you want an affordable mini electric skateboard that will be stable at higher speeds.
If you want to make it easier to carve, I'd recommend swapping out the bushings for barrel/cones. Keep in mind it'll be much sketchier riding at higher speeds if you go for softer bushings.
If you don't care about easier carving, but still need something that will allow you to make sharp turns, the kicktail is functional enough.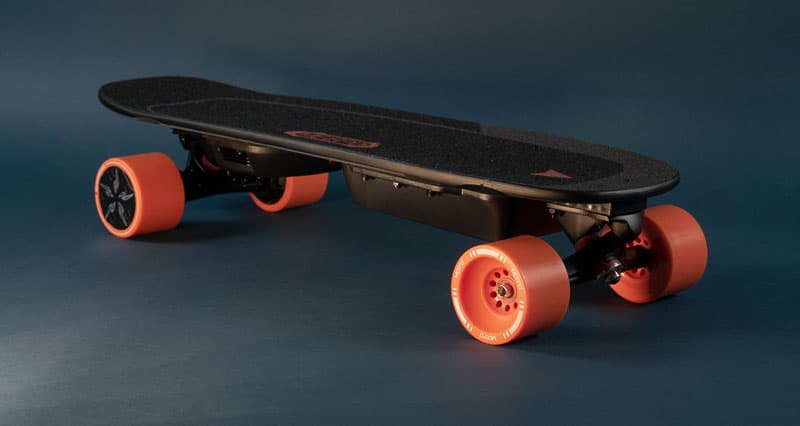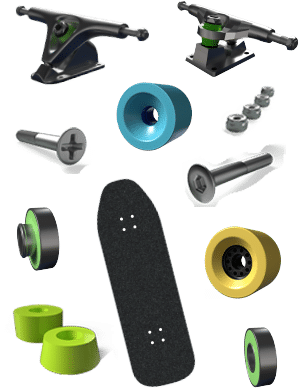 Skate Setup Guide
Dial in your skate setup with our free guide that covers decks, trucks, wheels, and more.
By entering your email address you agree to receive emails from Concrete Waves. We'll respect your privacy and you can unsubscribe at any time.
Remote
First, let's take a look at the remote.
Holding it feels solid. The design with the matte black finish doesn't make it feel cheap. I enjoy the scroll wheel to accelerate and brake.
However, it did feel twitchy while riding and took me a bit to get used to it. I'm not sure if it's a setting I can adjust, but out of the box, when I would use the brake, it felt aggressive. I guess that's better than having a weak braking system, but it still took some time to get used to.
The charging port is a micro USB. I wish it were USB-C but not a big deal.
Wheels
The wheels are 90mm 78a made by Meepo.
The urethane feels decent from what I've ridden so far. Although it's harder to tell on an electric skateboard since you won't feel resistance as much as on a push setup.
You might find this article helpful which covers the different characteristics of longboard wheels.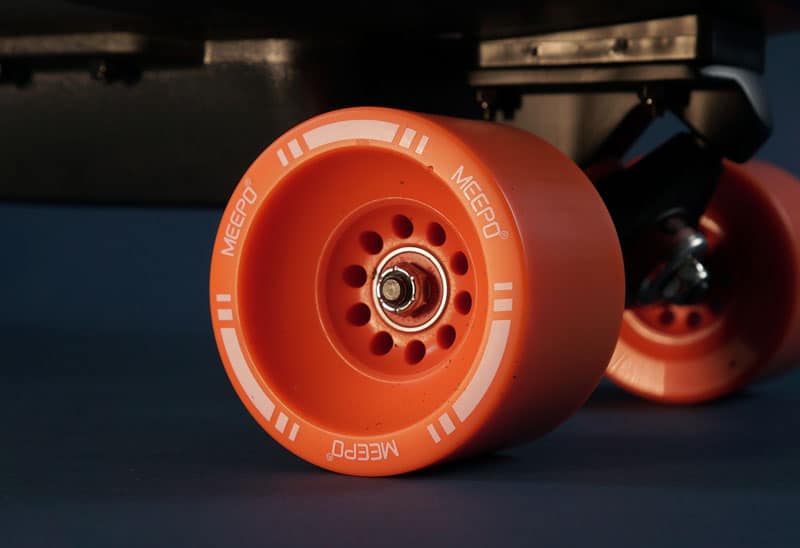 Deck
The deck has some concave but is not as aggressive as what you usually find on an electric skateboard.
There's a kicktail and nose. The kicktail has a more aggressive angle than the nose. It's nice to have a kicktail on this setup because the 100a double barrel bushings make it tough to make tight turns.
The griptape seems decent. I'm glad it's not sprayed on griptape, which wears down quicker. If I'm being picky, I'd rather the Meepo logo be placed elsewhere.
Bottom line, I think the deck shape makes sense for this setup.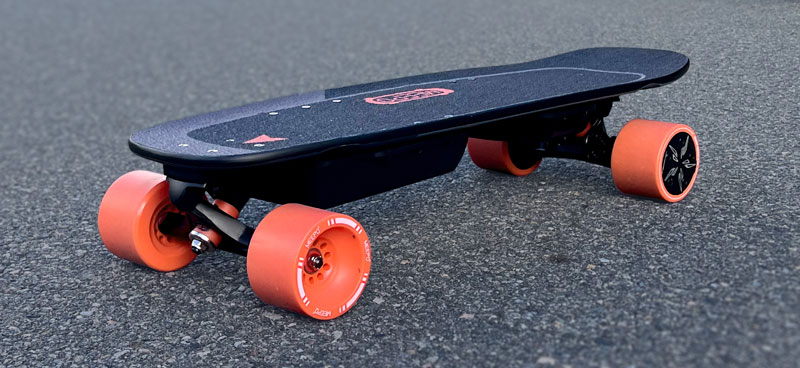 Trucks
Reverse kingpin trucks with double barrel 100a bushings. Despite the smaller wheelbase, this actually a pretty stable setup. I've been able to max out the speed and not get any speed wobbles.
While it is good for stability, it's not great for carving. So I might swap out the front bushings for softer, double cones or a barrel/cone. Especially since I don't care about maxing out the speed.
I've maxed out the speed (around 25mph) and didn't get any speed wobbles.
Pros
1. Stable at higher speeds.
2. Compact design, easier to carry around.
3. The kicktail is functional if you need to make sharp turns.
4. Decent quality for the price.
Cons
1. Hard to perform deep carving.
2. Sensitive brakes out of the box.
3. Hard to swap hub motor wheels compared to direct or belt drive.
4. Thin hub motor urethane sleeves aren't the best for rough terrain.

Billy James
I've been skating for over 20 years - it's been a lifelong passion. Our mission at Concrete Waves is to fuel the growth of all genres of skateboarding.