The nickel board is Penny Skateboard's 27″ cruiser.
It's the step up from the original 22″ Penny Board, which is why it's referred to as the 'Nickel'.
So after buying it, taking it apart and riding it, here are my thoughts.
[lasso ref="amazon-com-penny-skateboards-27-skateboards" id="8269″ link_id="361″]
Who Is It Best For?
The Penny Nickel (27″) is best for most riders that want the traditional Penny look but want more deck space.
I originally bought the 22″ Penny Board, but after riding it for a while, it felt too tiny.
So, I'd recommend the Penny Nickel for most people since it's larger, making it easier to balance on.
The only time I'd recommend getting the traditional 22″ Penny is for younger kids or if portability is important to you.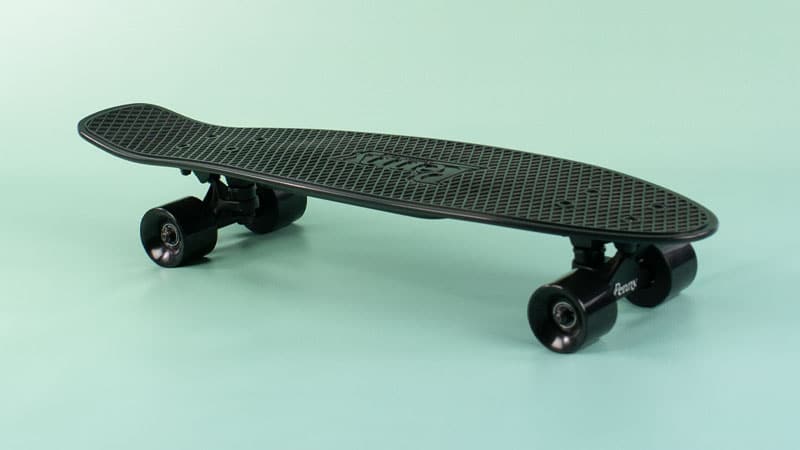 Parts Breakdown
Length: 27" (68.58cm)
Width: 7.5" (19.05cm)
Below you'll find a summary of each part of the Nickel board.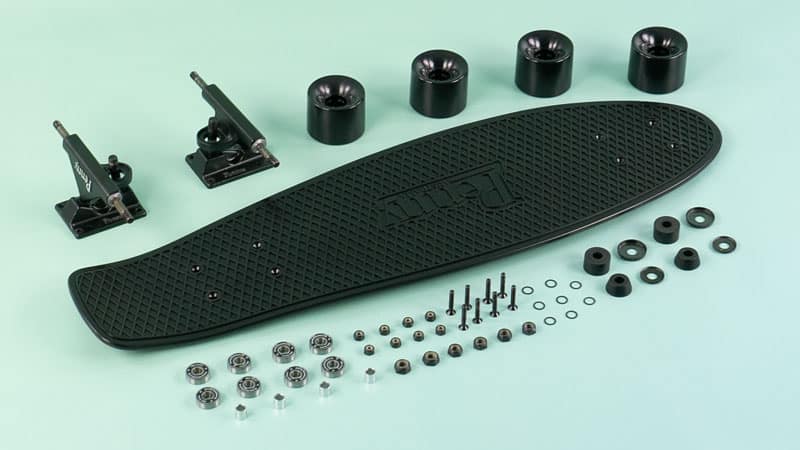 Hardware
The screws, nuts, and washers are your typical skate hardware. They're solid quality. It's always nice to see that the nuts have plastic self-locking, which will prevent them from loosening.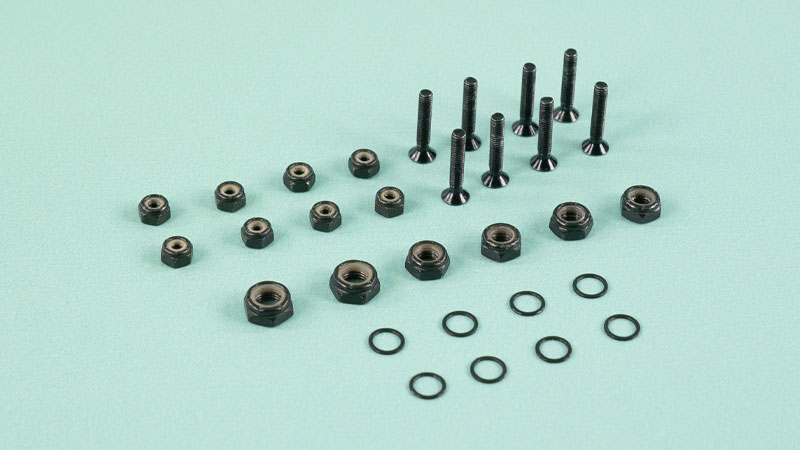 Trucks
The trucks are 4 inches and A-grade 356 cast aluminum powder-coated. Compared to the 22″ Penny Board trucks they're about 1″ wider. It's tough to tell the difference though.
The Penny logos are on the front of the trucks and both sides of the base plates. Overall, well-made trucks!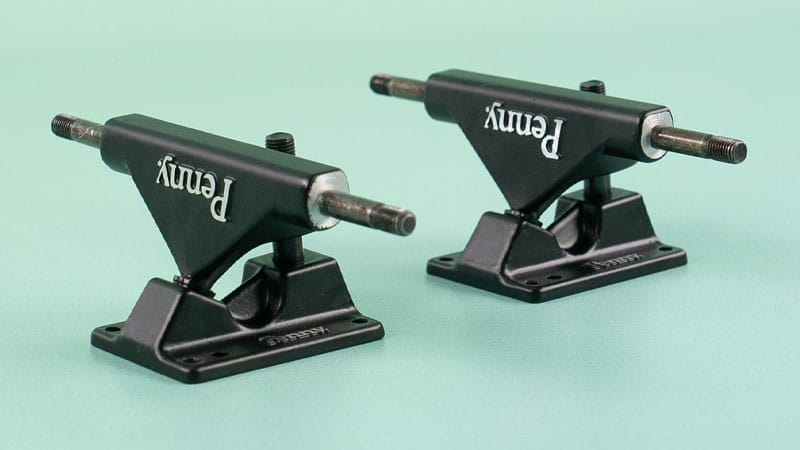 Deck
The deck is your classic waffle print grip Penny board. The main difference from this and the 22″ is the 5″ size difference. It also has a wider deck at about 7.5″ versus the 22″ is just under 6″.
The Nickel's deck size is why I prefer it over the traditional 22″ Penny. It gives me much more deck area to balance. But I'm not gonna lie, it still feels like not enough deck space for my personal preference. My favorite board they make is easily their 29″ High-Line SurfSkate.

Wheels
The Nickel's wheels are the same as all the other wheels that Penny Skateboards offers. They're a standard 59mm 83A polyurethane wheel. They make for a smooth ride, so I really can't complain. They do exactly what they're suppose to – offer a smooth ride for cruising.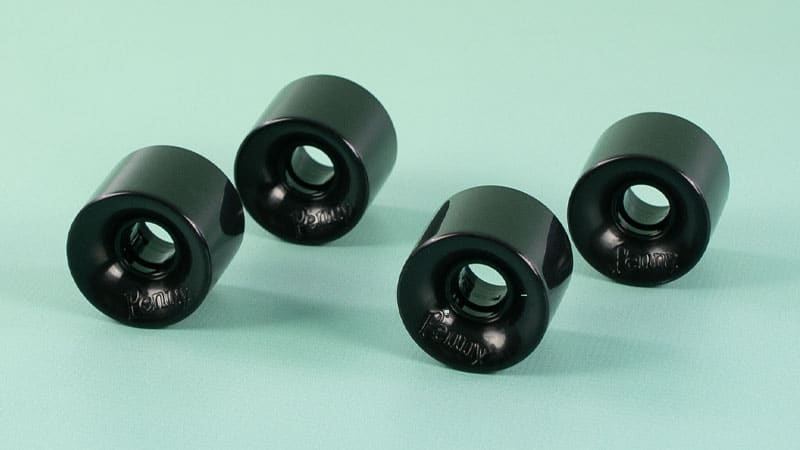 Bushings
Similar to the wheels, the bushings and washers are exactly the same as all the other Penny boards. They're soft enough to do turns and well-made. I guess there's really not much more to say about bushings.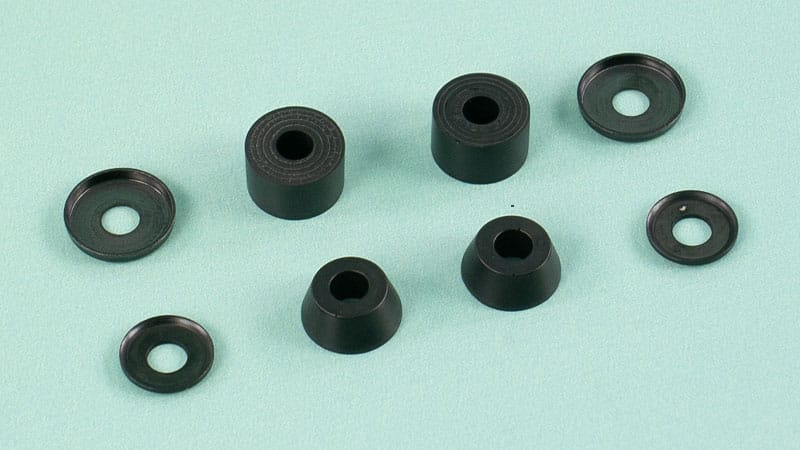 Bearings
The bearings are their standard ABEC 7 Penny bearings, which are pretty good. I've compared them to other bearings I had laying around and they hold their own. They're way better than the fake ABEC 7 bearings that come with the knockoff Penny boards.
The only downside is the backs aren't capped, which makes it easier for dirt to get inside them and wear faster.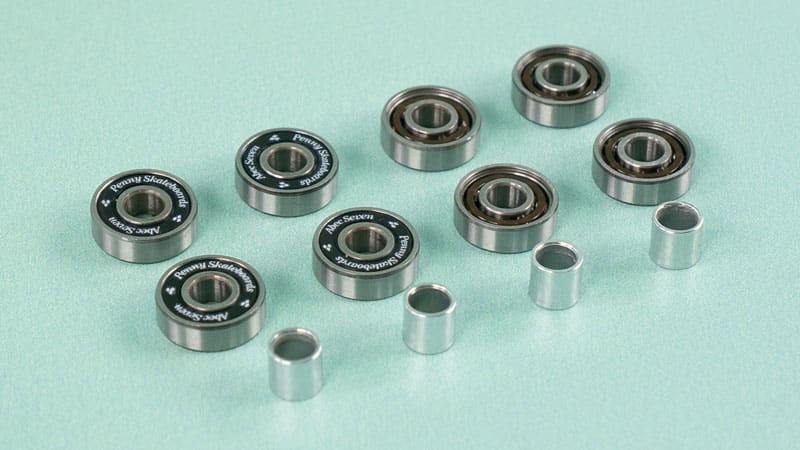 Parts Summary
The main difference between the traditional 22″ Penny board and this 27″ Nickel board is the deck and truck size. The deck's length and width makes it way more enjoyable to ride for me (and probably you). The 22″ is best for younger kids.
All of the other parts (hardware, wheels, bushings, and bearings) are exactly the same as on the 22″ and other boards that Penny offers.
Personal Opinion
If you want to stick to the traditional looking Penny Board, then you have two options…
22″ Penny Board
27″ Penny Nickel Board
And it all comes down to size. For younger kids, the 22″ is a solid choice. But just remember it's tiny (only 6″ wide)! It's honestly hard for me to recommend the 22″ Penny Board to anyone especially since most will outgrow it. However, the portability is easily its greatest strength.
For most people I'd recommend going the 27″ Nickel board since it has much more deck space. Although if you need something that's smaller, the 22″ has the edge when it comes to portability.
Below are some main things I like and dislike about the 27″ Nickel.
Size
The biggest selling point when it comes to these boards are their size. And I gotta say, I love how small and light they are. You would think you'd have to compromise quality for portability, but that's just not the case.
The ability to pick up your Penny, cruise where ever you need to go and easily stash it away is what make these things so popular.
Soft Wheels
Possibly one of my favorite parts about all Penny Skateboards is their wheels. The size is big enough to cruise over bumps without absolutely eating it.
When I compared it to the knockoff ($30 Amazon) Penny, the wheels were way better.
Lifetime Warranty
It's always refreshing to know that the company stands behind its product. Penny Skateboards offers a lifetime warranty for any defects you might run into while riding their boards.
Just make sure if you buy a genuine Penny Skateboard to register it on their website.
Plastic Deck
I'd be lying to you if I didn't say I'm not a huge fan of the all-plastic deck. Although, I'm pretty sure I'm in the minority that thinks that since Pennys are so popular.
But, I get it. They're durable boards that are great for cruising. They fill a need in the skate market that no other company fills.
However, I do have to give it to them for their new SurfSkate. I've been riding it for a while, and it's a blast.
And there you have it, the Penny Nickel board review.

Billy
I've been skateboarding for over twenty years. When I'm not skating, I'm most likely surfing my local break. The goal is to fuel the growth of all genres of skateboarding.