Thinking about getting the Landyachtz surfskate?
Here's a look at all the parts.
Who's It Best For?
I'd say someone who wants to take a small step up in terms of carviness from a cruiser. This surfskate has the stability of a cruiser but allows you to get slightly more aggressive with carving.
I had no issues riding over rocks and pebbles with it; overall it's pretty stable.
Plus it's relatively light, making it portable. So basically, I wouldn't get it if you want something really surfy because there are better options out there.
If this fits you, then you can check out their surfskates here.
I can't knock them for it though because in all of their videos and on their website they legit describe it as a good mix between carving and stability and I'd say that's a solid way to describe it.
They also said that they're gonna drop more variations in the future. It's pretty awesome seeing them acknowledge the surfskate scene and I think it can only benefit it. They're one of the top brands, so introducing their audience to surfskates is just gonna help the community grow.
Maybe they'll get a little crazier with that front truck design in the future, but who knows.
So, this was an interesting release because Landyachtz pretty much specializes in downhill, freeride and cruising boards.
Should they even be dropping something that's not within their expertise?
They launched four surfskates with two different variations…
The Pocket Knife (the one I own)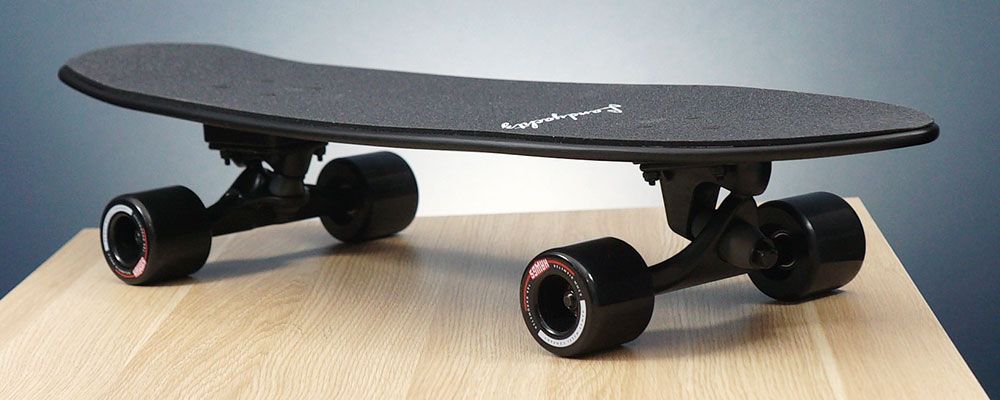 Pocket Knife vs Butter Lines
The Pocket Knife series is a smaller version at 29.6 inches long, 9.1 inches wide with an adjustable wheelbase ranging from 13.2 to 15.3 inches. I also weighed it and it's right around 6.5lbs.
The Butter Lines is slightly longer at 31.2 inches long, 9 inches wide with a wheelbase ranging from 15 to 17.1 inches.
Personally, I just liked the look of the Pocket Knife better, but if I had to buy it over again, I would've gone for the larger, Butter Lines.
Parts Breakdown
The first thing I always do before I go shred is to take the board completely apart and inspect the components.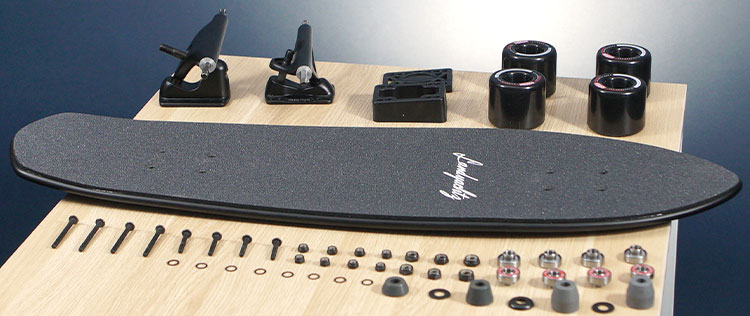 Deck
Starting with the deck, it's made of 7-ply maple and has really no flex to it all, which is pretty common among surfskates.
It's got that surfy shape to it which from an aesthetic point of view is dope.
Griptape
Probably my favorite part about this board is this squishy foam grip tape. I haven't seen this on any other surfskates and it definitely makes sense since a lot of the surfskate community shreds barefoot.
Of course, they put their logo on the top griptape in the most elegant way possible, which is just a signature Landaychtz thing to do. They always find a subtle and sleek way to add their logo.

Wheelbase
But at the end of the day, having a wheelbase that's only 13-15 inches long is too short in my opinion. A wheelbase in the 16-18″ range seems to be the sweet spot for most surfskaters.
There's even a formula to find your ideal wheelbase, which you can find in our how to choose a surfskate article.
Concave
The concave is so lowkey that's it kinda just feels flat. Personally, I like a more aggressive concave with surfskates because it locks my feet in when doing aggressive carving. But I think this deck shape makes sense since it's not as aggressive as other spring-based surfskates.
It's all what you prefer. For example… my dad has a shoe size 13 and doesn't like aggressive concave since a solid part of his feet hang off the edges and the concave just makes it uncomfortable for him.
I think this was a solid play from Landyachtz to appeal to a mass market. And they even say on their website, they made a low concave for comfortable footwork. I'd say that's accurate.
Overall, the deck shape feels solid, although, for my preference, I would've preferred more concave.

Kicktail
The kicktail exists, but it's very lowkey. The nose is basically nonexistent, which I think makes sense for surfskates. It's not like you're gonna be doing nollies on a surfskate (unless you're crazy).
My suggestion would be for Landyachtz to add a little more concave to their surfskate decks and raise the kicktail a bit. I really like the all-black aesthetic and foam grip.
Hardware & Risers
The hardware is pretty standard and nothing stood out here, besides the fact that each pair of screws are a slightly different size because of the angled riser pads.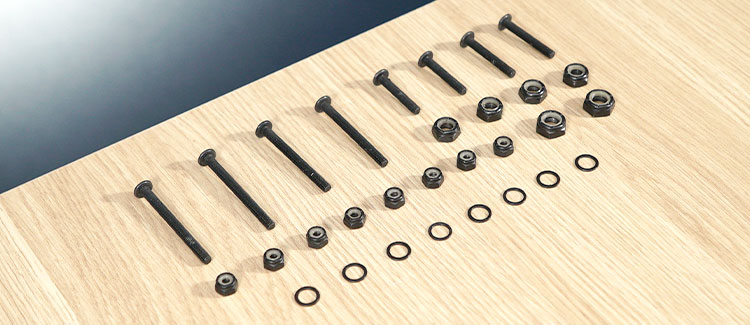 Large riser pads in the back are common among surfskates since the front truck usually makes it uneven.
So if you don't want something that's high off the ground, surfskates might not be a good option for you.

Bearings
Bearings are stock ones that come with almost every Landyachtz complete – ABEC 7 Spaceballs.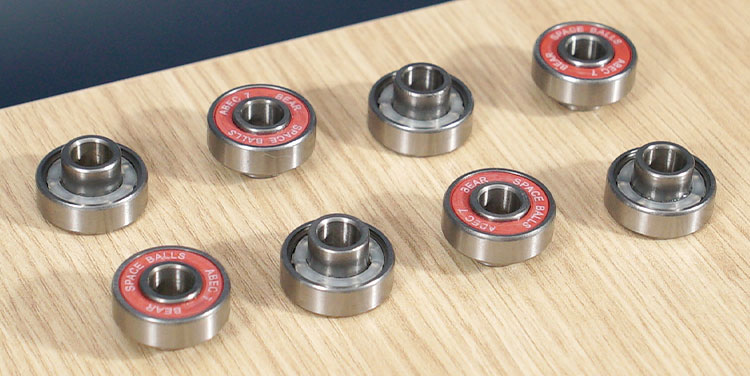 But I got mad heat for that statement, which I'm honestly stoked about because you guys taught me something. It's actually better to have the back of the bearings with a cap you can easily remove or no cap at all so you can clean and maintain them – makes total sense and again I really appreciate you guys for letting me know. I'm just trying to learn more and more as I go.
Overall, these bearings are solid and I love having the spacers built-in, especially when changing wheels its such a headache having the spacers fly out and you're like… is this necessary, like c'mon dude!
Wheels
The wheels are 63mm 78a Fatty Hawgs, with a radiused edge. I guess this really comes down to your personal preference, but the reason why other brands go for that sharp-edged wheel is that it grabs the pavement more aggressively, so you slide out less while doing those super aggressive turns.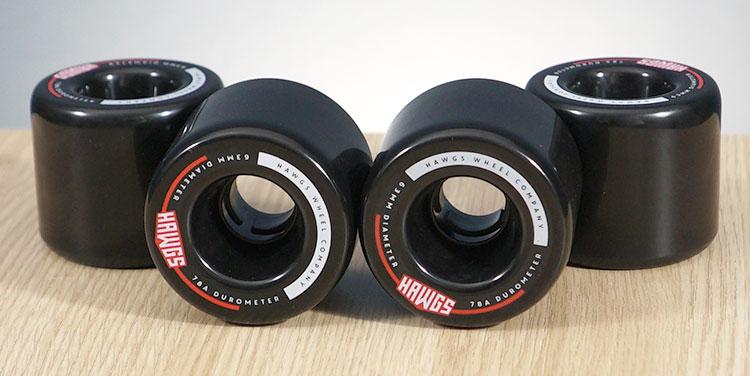 But for this board, I do think it makes sense to have a radiused edge because it's built for higher speeds, so if you wanna slide you can.
It's not like you're gonna be doing super long drawn out slides, but I was able to get something going.
Trucks
And finally, the most important part about the surfskate is the trucks.
And so how Landyachtz went about it is different from other surfskates. It's nothing revolutionary, no adapters, no springs, nothing fancy at all, it's just an angled 9-inch reverse kingpin truck with soft and tall cone bushings.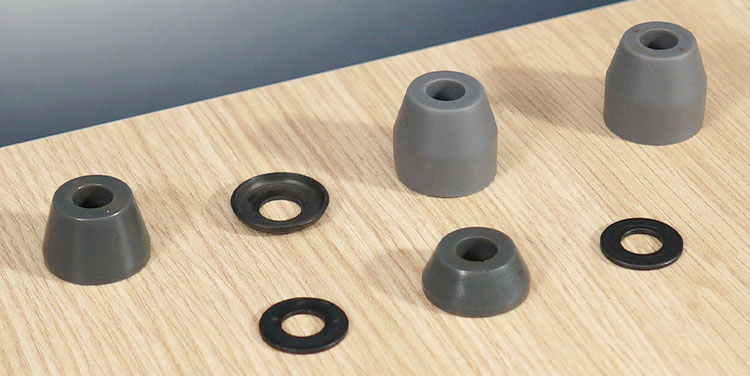 So this is what kind of throws me off when they call it a surfskate. I know there's no official definition of a surfskate but it's hard for me to categorize this as one.
It's angled at 65 degrees with an extra 5-degree riser pad, so all said and done it's got a 70-degree angle.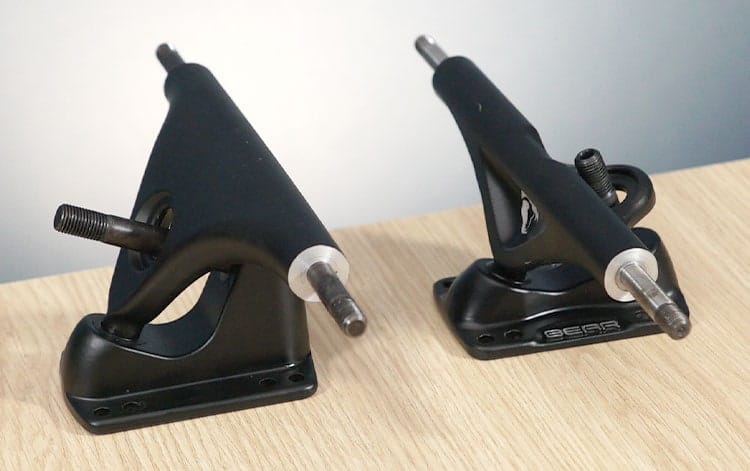 This does give you the ability to carve harder than any traditional cruiser but honestly, after riding it side by side with the dinghy, it's not a huge difference. Don't get me wrong there definitely is a difference but it didn't feel big enough, in my opinion, to classify it as a surfskate.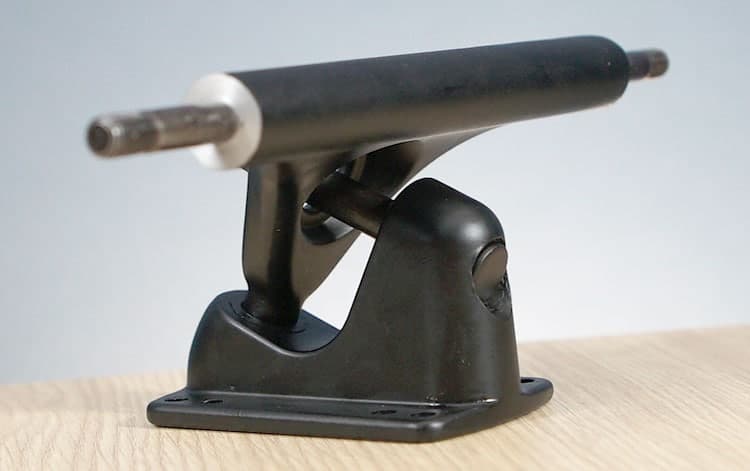 I know a lot of you reading this might have a dinghy already and I think your best bet if you want a more aggressive surfskate is to pick up a waterborne adapter.
The waterborne will give you a much, much, much more aggressive surfy carving feel.
It's all about preference though – I had someone comment on one of my posts and call the Landyachtz a surf cruiser rather than a surfskate and I think that's a better description of it.
Does it get speed wobbles?
And while I'm talking about the trucks, I had quite a few people ask me to test it to see if it would get speed wobbles. So I took it down a lowkey hill, nothing crazy but I did get up to about 16mph and riding it was manageable.
I didn't really get speed wobbles, but I also wouldn't bomb a massive hill with it. Basically my point is that it's overall pretty dang stable.
This is something I would never consider doing with my YOW, Smoothstar or Carver since those would be way more prone to getting speed wobbles.
But at the end of the day, getting speed wobbles actually has a lot to do with how you distribute your weight. So really, you could prevent speed wobbles on almost any board if you have the experience.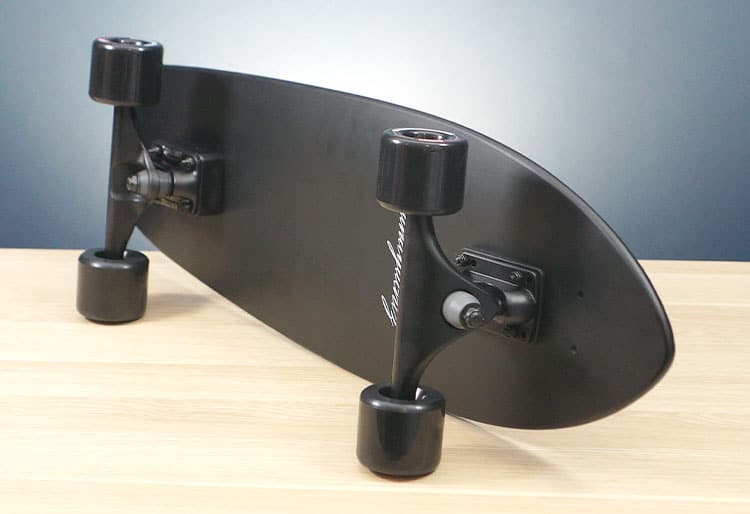 Can You Pump On It?
As far as pumping on the landyachtz goes… it's a challenge. Especially if you try to do it from a standstill which you can do with most of the other boards… you just can't with the Landyachtz.
And a lot of that has to do with springs in the surfskate adapters, which Landyachtz doesn't have on their boards.
I even switched up the wheelbase to make it longer and it was a little easier to get into a flow. But again not even close to pumping on the others.
Landyachtz Surfskate Comparison
And possibly the most requested part of this review was comparing it to other surfskates.
Again, I really only can categorize this thing as a cruiser heavy surfskate if anything.
I took each board around some cones and pretty much all the other surfskates could turn much sharper and just had a surfier feel.
The closest thing I have is the Carver CX trucks, so I tested these side by side, but they still really aren't comparable.
The Cx trucks are carvier compared to the Landyachtz by a solid margin.
If you want to learn about the differences between each surfskate, check out our best surfskate brands article. I break down how each brand feels to help you decide which is best for you.
I hope this Landyachtz surfskate review helped you get a better idea about it.