A few months back, I came across this quick-release system that allows you to literally swap out your trucks within seconds.
I ordered a couple of sets, tested them, and now want to share my experience.
How Do They Work?
That's what I was first wondering and what you're probably wondering as well.
It's a two-part quick-release system.
You have the deck plate and truck plate. Both are made from 7075 aluminum alloy, which is the same material they use for wings on airplanes. It's very light and strong.
Both plates combined weigh around 3 oz
On the back of the deck plates, they have nylon pieces to lock in the bolt, similar to nyloc nuts. Really cool idea.
First, you line up the Qwik logo with the pivot cup, insert the screws from the bottom and connect the nuts.
Once secure, slide it into the deck plate.
Line it up with your deck's truck holes, and screw it on like you're mounting your trucks.
Very straightforward.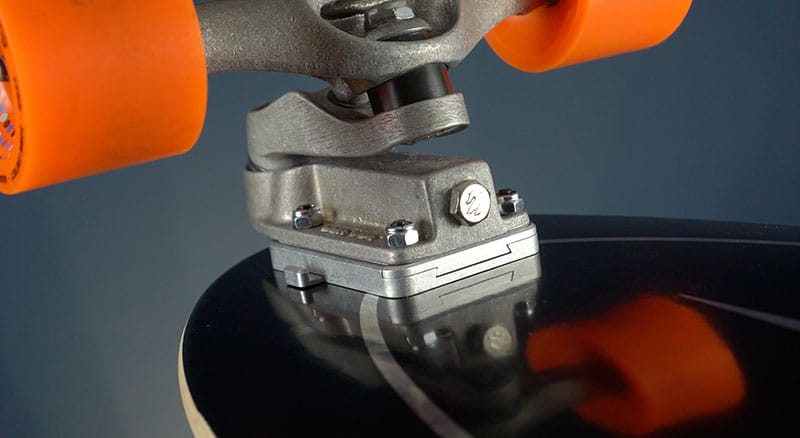 Tested Setups
The ability to have one deck where you can easily swap out trucks or even two decks and one set of trucks is so cool. The time it saves you is priceless in my opinion.
Now, I'm sure some of you out there are wondering about the compatibility with different surfskate adapters. I tested them with all my adapters and found that they work with all Carver trucks, Slide, Waterborne, Smoothstar, Curfboard, and almost YOW.
The included screws are slightly too long, so they bottom out and don't allow the Quik plates to slide in. If I had to guess, YOW would work if instead of ¾" screws, you got ½".
Then SwellTech won't work since it doesn't have a standardized baseplate mount. Hamboards aren't compatible because of the larger hardware they use.
They work with Paris rkps and tkps.
I even tested it with my Revel Kit and it works.
Pretty much anything that uses a standardized truck mount 10-32 bolts should work.
Bottom Line
Personally, I think these plates are a gamechanger.
I love how easy it is to test different setups, it saves me a lot of time.
But I guess it really comes down to if you think the price is worth the amount of time it saves you.
For me it is. For you, I don't know

Billy
I've been skateboarding for over twenty years. When I'm not skating, I'm most likely surfing my local break. The goal is to fuel the growth of all genres of skateboarding.