By Billy James
|
Updated:
April 14, 2023 |
Longboards
The Qwik Truks allow you to swap your trucks within seconds.
Yup, you read that right!
How Do They Work?
It's a two-part quick-release system.
You have the deck plate and truck plate. Both are made from 7075 aluminum alloy, which is the same material they use for wings on airplanes. They're light and strong.
Both plates combined weigh around 3 oz.
On the back of the deck plates, they have nylon pieces to lock in the bolt, similar to nyloc nuts.
First, you line up the Qwik logo with the pivot cup, insert the screws from the bottom and connect the nuts. Once secure, slide it into the deck plate.
Line it up with your deck's truck holes, and screw it on like you're mounting your trucks.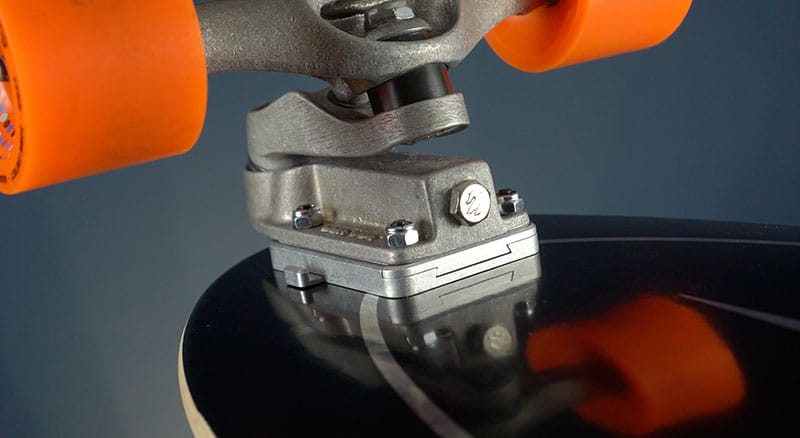 Tested Setups
The ability to have one deck where you can easily swap out trucks or even two decks and one set of trucks is so cool. The time it saves you is priceless in my opinion.
Now, I'm sure some of you are wondering about the compatibility with different surfskate adapters. We tested them with our surfskate adapters and found that they work with Carver trucks, Slide, Waterborne, Smoothstar, Curfboard, and almost YOW.
The included screws are slightly too long, so they bottom out and don't allow the Quik plates to slide in.
SwellTech won't work since it doesn't have a standardized baseplate mount.
They work with Paris rkps and tkps.
I even tested it with our Revel Kit and it works.
Anything that uses a standardized truck mount 10-32 bolts should work.
These plates are a gamechanger.
It comes down to if you think the price is worth the amount of time it saves you.

Billy James
I've been skating for over 20 years and it's had an incredibly positive impact on my life. My mission is to get more people into skating and help them carry it as a lifelong passion.