The Waterborne surf adapter is one of the best ways to turn your stale setup into a surfing machine.
In this article, I'll share how it works, compare it to Carver, and the pros & cons.
Is it right for your riding style?
Let's find out.
How It Works
To simplify it, the Waterborne surf adapter is made of a cube urethane bushing and thruster bearings. That sets it apart from most surfskate adapters that use a spring with thruster bearings.
The downside of this design is it doesn't have as much rebound as spring adapters do. But the advantage of using a urethane bushing is it's less likely to rust/break. I've hit it up against curbs and dropped it a bunch, and I've had no issues with it.
You can see all the parts in the image below.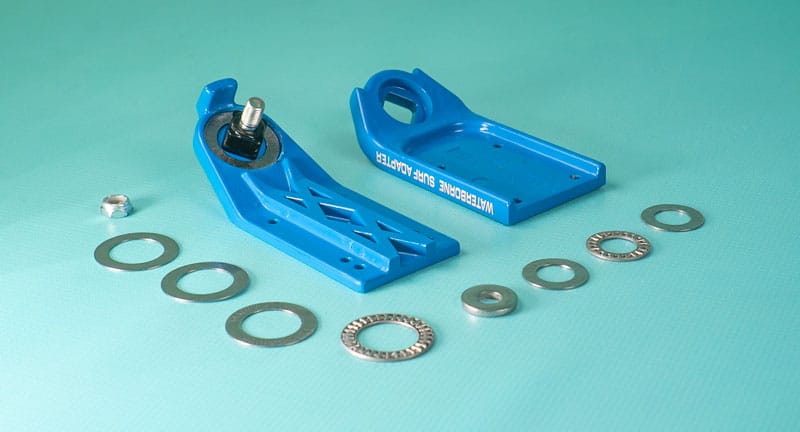 Waterborne Installation
1. Mount your front truck to the adapter
2. Screw it onto your deck of choice
3. Use the riser block or rail adapter to level it out.
That's a very basic explanation of the installation. If you want something more detailed, check out Waterborne's installation guide.
It weighs over a pound, which is right in the middle compared to YOW or Smoothstar.
Waterborne vs Carver
Probably the most common comparison is the Waterborne surf adapter vs Carver. What are the main differences? How should you pick?
First, Carver has three truck types – C7, CX, and C5.
I'll compare it to the C7 since that's their pivoting surf adapter.
The Waterborne pivots more aggressively and is easier to pump from a standstill. While they're both pivoting adapters, the C7 is more mellow. You can pump on both, but if you want the easiest option for pumping, I'd go for the Waterborne.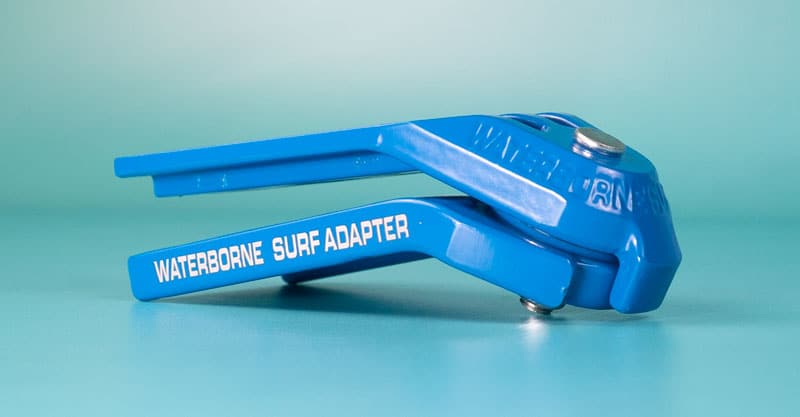 Does it get speed wobbles?
This is tricky to answer because it involves many factors like wheelbase, weight distribution, and bushing duro (the list goes on). To prevent speed wobbles, you wanna distribute your weight over the front truck. There are some exceptions, but that's just what I do.
On the Waterborne surf adapter, I haven't gotten speed wobbles, but at the same time, I only use it for lowkey hills and flat parking lots.
I reached out to Waterborne to ask, and they said there was someone that went 50mph and didn't get speed wobbles. Honestly, speed wobbles have a lot to do with rider error.
I'd say you're more likely to get speed wobbles on this than if you don't have it on your board, for a couple of reasons…
It pivots aggressively
It makes your setup higher off the ground
Quite a few people are putting these adapters on their electric skateboards with success. They even have an electric conversion kit.
Do you need the rail adapter?
You can mount the rail adapter to the back truck for more lean. While I've heard many people enjoy this, I've encountered wheelbite with it a few times. I feel like having limited lean in the back truck feels better. I prefer a riser block in the back.
It is all personal preference, though.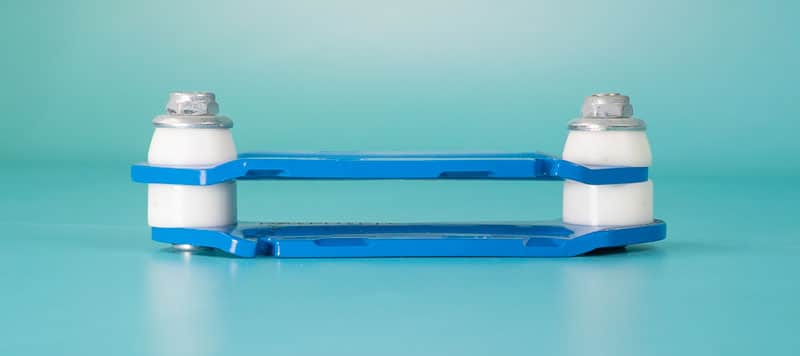 Does it get wheelbite?
The next thing is wheelbite because you'd think you'd get it since you can carve so aggressively. But they have a built-in wheelbite limiter, so at 35 degrees, it stops. This will prevent most wheelbite scenarios, but if you have larger wheels, you might experience it.
I've only got wheelbite with their rail adapter mounted to the back truck.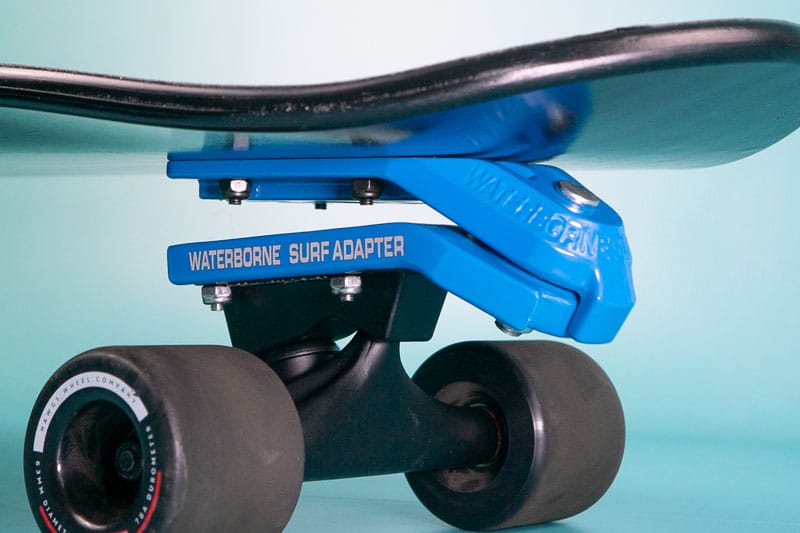 Can you add it to any sized board?
You can add it to any sized board. I've seen it on a 10ft board, which is pretty crazy. As long as your deck has a standardized bolt pattern, you're good. It's all about what your riding preference is.
I've put it on my Loaded Tan Tien, Lander, Dinghy – a bunch of different boards.
I prefer something in the 30-32" length range with a wheelbase of 16-18", but it's all personal preference.
There are a bunch of people in the eskate community that is using them. You can use them on a longboard, or mini-cruiser – it just depends what type of riding you want to do.
This brings me to the next question…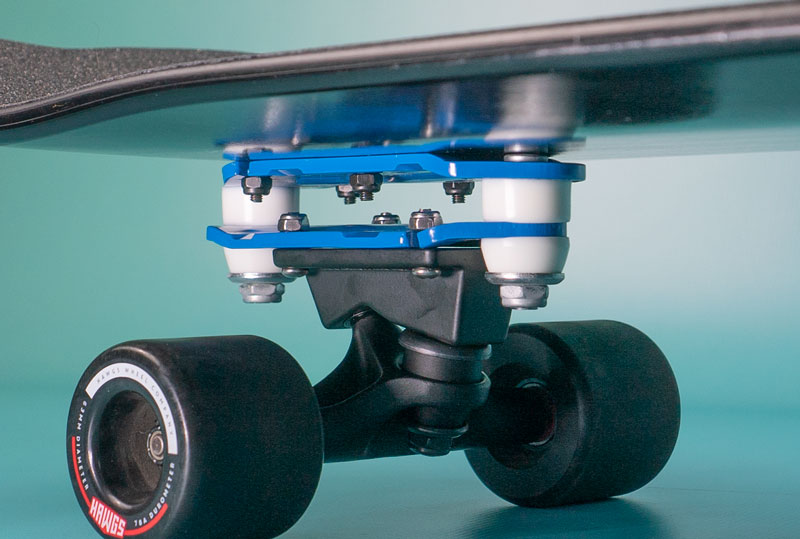 Current setup or complete?
If you already have a cruiser and are curious about surfskating, pick up this kit first. It's one of the cheapest ways to get into surfskating.
If you don't want to mess around with setting everything up, then sure, go for one of their completes.
The two links above are affiliate links, meaning we will receive a small commission if you buy something after clicking them. It's at no additional cost to you, and we'd recommend them regardless.
I wish I had bought their adapter kit before I went and bought a Carver complete because I would've been able to mess around to see what specs fit my riding style.
The downside of getting the adapter is you'll have to modify it until you get it how you want. It's not rocket science, but some might not want to deal with that.
Bottom Line
For the price, you can't go wrong with Waterborne. Remember that surfskates are much higher off the ground than a normal cruiser. I wanted to mention that since I've seen several comments saying they don't like the height of surfskates – understandable.
They're a company that stands behind its product.
I'm a fan of Waterborne.