Thinking about getting the Arbor Pilsner?
It's probably one of the closest cruisers to the Landyachtz Dinghy.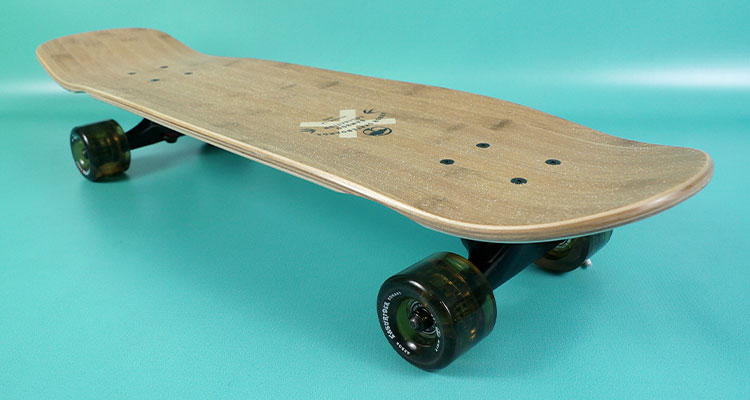 Parts Breakdown
Let's take a look at the components of this board, starting with the deck.
Deck

I covered the specs, but you can see it has a subtle concave, kicktail, and nose.
Wheel wells to prevent wheelbite, which worked… we never got wheelbite.
Overall, I like the deck shape; it's super portable and doesn't feel uncomfortable while riding.
Trucks

The trucks are Paris Street 129mm, very similar to the Dinghy's Polar Bears 130mm.
The one thing I will say is that it does seem like the Polar Bears are designed with more detail. If you compare both, you can see the bears are more intricate lines and have a hollowed-out kingpin, making them overall lighter.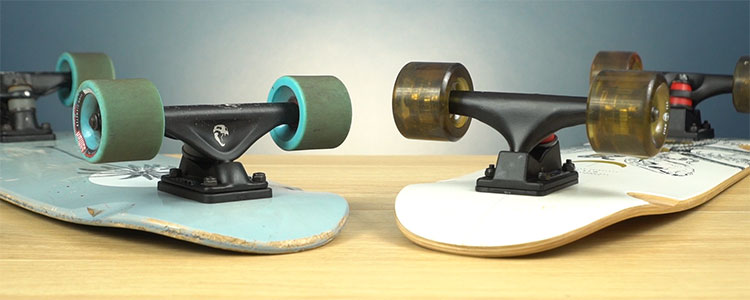 Don't get me wrong, Paris tkps are solid, but it just seems that the Polar Bears outshine them.
The next thing to note is that they come with an ⅛ inch riser pads, which are super hard. You compare them to the Dinghy's riser pads and they're made of a softer material. Personally, I don't think this makes the Pilsner harsher, especially since the wheels are gummier. But that's just something I wanted to note.
Bushings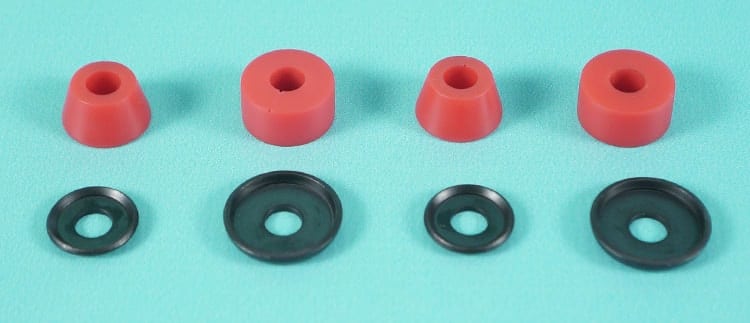 The bushings that come stock are 90a barrel and cones. They're similar to the bushings that come with the Dinghy. I weigh 165lbs and haven't experienced any wheelbite.
Wheels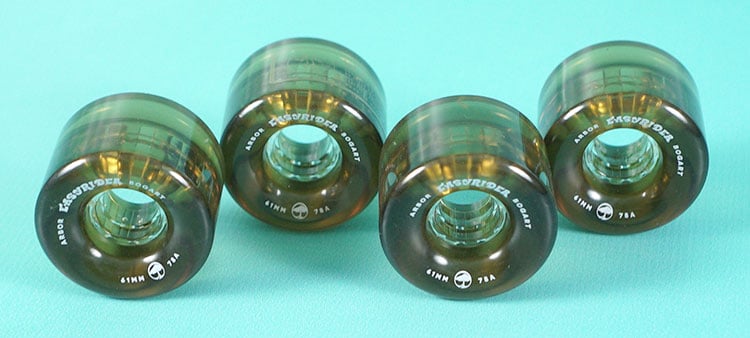 The wheels are 61mm 78a made of their Venice Formula. Even though they're the same duro as the Fatty Hawgs, the urethane formula is a lot gummier – they're not stoneground either.
They're extremely hard to slide on which makes sense because that's really not the purpose of them. We noticed that because they're grippier they slow up quicker than the Hawgs.
Personally, I prefer the Hawgs because I'd rather be able to speed check but it is a personal preference.
Bearings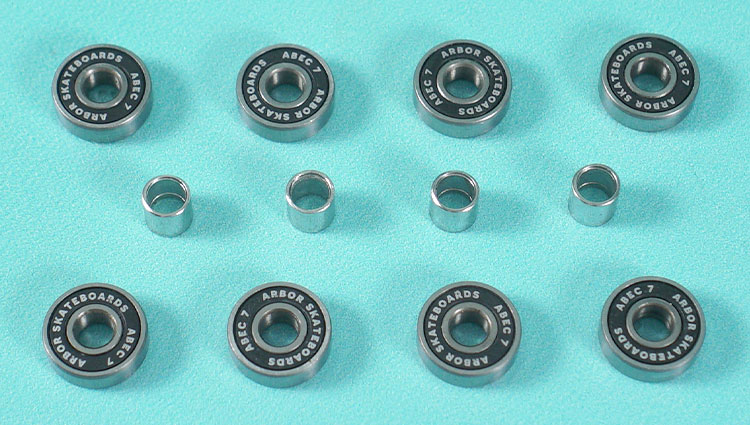 The bearings are ABEC 5 bearings, which from a riding feel perspective, I don't notice anything different compared to the Dinghy.
Personally, I like bearings with built-in spacers and washers so you don't have to keep track of them when swapping out your wheels. And I put out an IG post asking you guys what you preferred and almost everyone said built-ins.
So I'd say that's a weakness in the Arbor compared to the Dinghy. But again, it does come down to personal preference, and I wouldn't say it's a deal-breaker.
Community Submitted Questions

And then we had a bunch of questions and insights on the Pilsner submitted by you guys, which I'm going to cover a few right now. The first one is…
Arbor Pilsner vs Landyachtz Dinghy?
In my opinion, I would say that the Dinghy models slightly outshine the Pilsner for my riding preference. But if you're someone who doesn't mind the separated bearing spacers and the gummier wheels on the Pilsner, then both are pretty similar. Overall, the Dinghy and Pilsner are made with quality components.
Compared to a normal skateboard?
Besides the wheels, I'd say the main difference between the Dinghy and Pilsner compared to a normal board is the deck shape. The nose and kick tail is more subtle and it's going to be harder to do flip tricks on. So if you're someone who wants to learn how to do flip tricks, you can do them on these types of cruiser boards, but it's not as ideal as a traditional normal skateboard.
Arbor Pilsner as a surfskate?
I'm assuming this person just means like all the surf skate adapters that we have, and I didn't get a chance to test it with this deck, but I've tested all surfskates on the Dinghy, which is a very similar board.
I would say that the 15-inch wheelbase is going to work, but it's not ideal. What I would probably recommend the most is picking up Carver trucks, CX, C7 or C5s. Even though that's not going to be as aggressive for carving compared to the spring adapters, it's going to be a lot carvier compared to the Paris TKP setup.
Bottom line, it's not really that ideal because you're going to want a wider deck in my opinion, but I do think you can swing it if this is the only deck you have.
How does the Arbor Pilsner handle higher speeds?
Now, these boards really aren't meant for higher speeds, which is why we tested it just on low-key streets. If you want to go fast on this, you can do it, but I would pretty much just say that it's going to be sketchy, especially because it has a short wheelbase and the wheels are sticky.
Can it be used for barefoot riding?
Yeah, I definitely think you could use this for a barefoot cruiser. The spray-on grip on the top is definitely low-key enough that it's not going to bother you.
Who Is It Best For?
I would just say that if you're looking for a portable mini-cruiser that's made of solid components and is a sustainability-driven company, then I would say for the price, you can't really beat it.
Deck Shape
I would say that the deck shape is solid, really well-made, subtle concave, low-key kick tail, perfect for portability.
Sustainability
The next like I would say is that it's a sustainability-driven company, which I actually wasn't really aware of before I bought it. That's really cool. Sustainability is always dope.
Bearings
The bearings are probably the downfall compared to the Dinghy. Not a massive difference from a riding feel perspective, it really doesn't matter. But I would say if you're swapping out your wheels, it's kind of just a headache if you don't have built-in spacers/washers.
Wheels
For my riding preference, I'd rather have wheels with stone-grounded contact patches just so it's easier to speed-check and control my speed if I want to go a little faster.
Spray-On Grip
Although the clear spray-on grip looks cool, it will wear off quicker compared to traditional griptape. We've had numerous people send us messages saying that the spray-on grip wore off pretty quick. So if you're looking to get a Pilsner, I'd probably suggest going for one that has traditional griptape.