By Billy James
|
Updated:
September 16, 2023 |
Longboards
If you're looking for a compact freestyle cruiser, the Loaded Poke should be high on your list. Its subtle kicktail/nose, concave, and rocker profile make it a blast to ride. It's functional for casual cruising, carving, pumping, and freestyle.
Purchase Options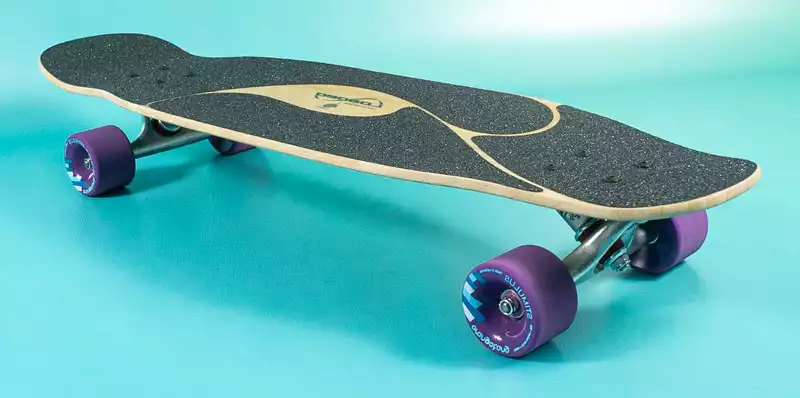 Which setup to choose?
Get the RKP complete for a combination of carving and stability. Get the Surfskate complete for a deep carving experience.
If you have a local shop that carries the Loaded Poke, buy from them.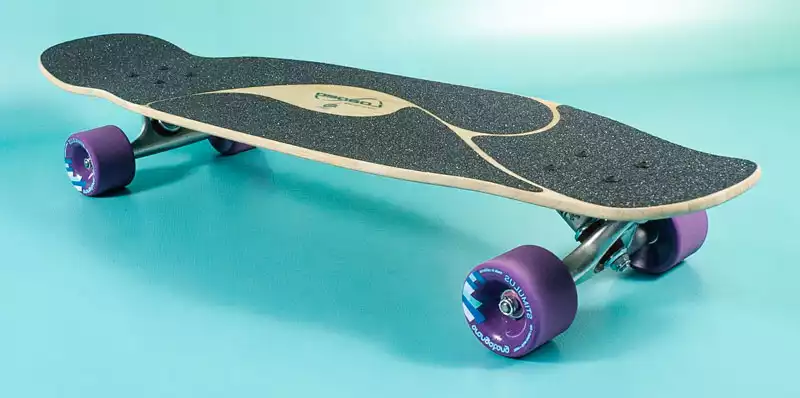 Deck
Length: 34" / 86 cm
Width: 9.125" / 23.18 cm
Wheelbase: 20.75" / 52.71 cm
Deck Weight: 2.8 lbs / 1.3 kg

The Loaded Poke's deck is a directional shape – the nose is more subtle (lower degree) than the kicktail. The combination of bamboo and fiberglass makes it have some subtle flex.
It has 1/2″ radial concave, which you can see in the image below.

It has wheel wells to prevent wheelbite, but they're so lowkey it's hard to notice when riding. The grip is more aggressive than what you usually find on a cruiser.
Wheels
Their complete setups have two wheel options…
Orangatang wheels are high quality; it just depends on your riding style.
70mm Stimulus (RKP)
Easier to throw out and powerslide since they have a round lip and a stoneground contact patch. Bottom line – they're way easier to break traction than 4Presidents.
70mm 4President (Surfskate)
Better for deep carving since they have a sharp line and will grip the pavement. They're great for surf-inspired, deep carving riding styles.
Trucks
Two truck options for the Loaded Poke completes…
If you want something that'll handle speed/slides better, the Paris 150mm 50° is for you. They come equipped with 90a barrel and cone bushings.
If you want a deep carving experience and not too worried about higher speeds, then the Carver CX is for you. If you've never ridden the CX trucks before, riding fakie on them compared to Paris RKPs is more challenging. It's not impossible, but because the front truck is surfskate-focused, it's joltier.
If you want a setup that you can ride both ways with ease, the RKP setup is best.
Bushings
Stock Paris: 90a
Medium Knuckles: 90a
Soft Knuckles: 87a
Stock Paris bushings are 90a. You can upgrade to Oragatang Knuckles bushings for a higher-rebound urethane formula.
Bearings
Type: Built-Ins
Shields: Double-Capped
Material: Chromium Steel
Loaded JEHU built-in bearings are made in Taiwan using Japanese grease. It's nice to have the spacers built in, so you don't have to keep track of them while swapping wheels.
It would be nice to see them in other color variations, but it's not a big deal.
Alternative Setups
Length
33.5″ / 85.1 cm
Width
10″ / 25.4 cm
Wheelbase
20.75-22″
52.7-55.8 cm
Length
30.75" / 78.1 cm
Width
8.375" / 21.3 cm
Wheelbase
17.5" / 44.5 cm
Length
34" / 86 cm
Width
9.125" / 23.18 cm
Wheelbase
20.75" / 52.71 cm
Loaded Poke vs Omakase
The Omakase is slightly shorter and wider compared to the Poke. It has no flex, two wheelbase options, and steeper concave. The Omakase is a better choice if you're a bigger person worried about the weight limit. Or if you don't want any flex/ want more concave.
Loaded Poke vs Coyote
The Coyote is shorter and thinner compared to the Poke. The Poke would make sense for longer cruises because it offers more deck space. Not to mention, it has a larger wheelbase. The Coyote doesn't have flex since it's 7-ply maple, similar to a traditional skateboard. The Coyote is easier to pop for fliptricks.