By Billy James
|
Updated:
September 11, 2023 |
Longboards
The Loaded Omakase is a durable, mid-length cruiser with a wide deck. Its bamboo and fiberglass/epoxy layers make it extremely durable.
It's a great option for heavier riders worried about a setup holding their weight. It's functional for casual cruising, surfskating, commuting, freeride, or electric skateboard setups.
Purchase Options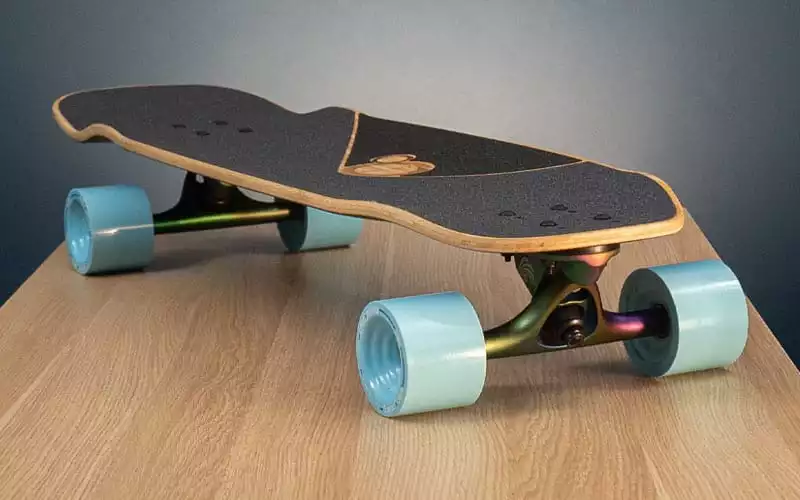 Which setup to choose?
Get the Palm complete if you want the ability to powerslide. Get the Roe complete for a combination of carving and stability. Get the Surfskate complete for a deep carving experience.
If you have a local shop that carries the Loaded Omakase, buy from them.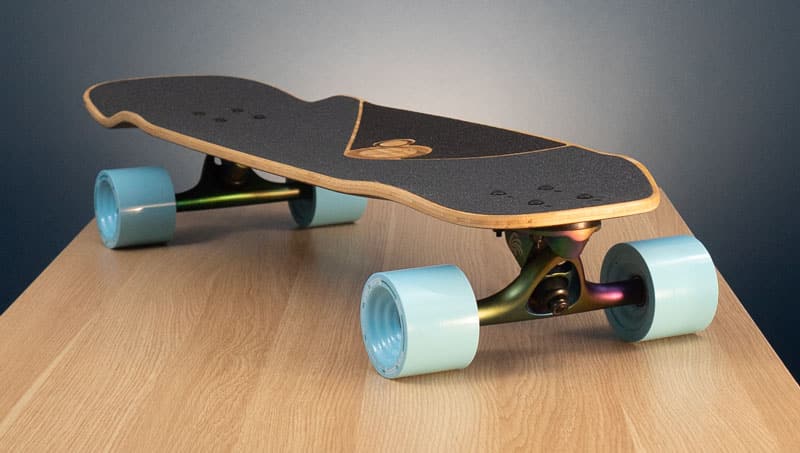 Deck
Length: 33.5″ / 85.1 cm
Width: 10″ / 25.4 cm
Wheelbase: 20.75-22″ / 52.7-55.8 cm
Deck Weight: 4.0 lb / 1.8 kg
The deck is wider and thicker compared to most cruiser skateboards. It's made of fiberglass and bamboo, making for a highly durable and stiff deck.
It has a mellow kicktail/nose, some concave, and two wheelbase options.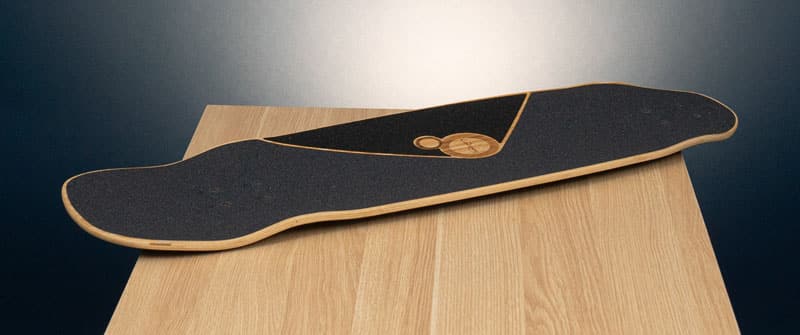 Because it's a beefier build, it's an excellent option for heavier riders. One reviewer from Loaded's website claims they're 300 pounds and had no issues with it.
Raised wheel wells are a nice addition for two reasons…
Easier to know foot placement
Prevents wheelbite for larger wheels
The grip tape design has a triangular cut in the middle, centered around their laser-etched logo. A subtle yet beautiful design. The level of detail that Loaded puts into their boards is why they're one of the top longboard brands.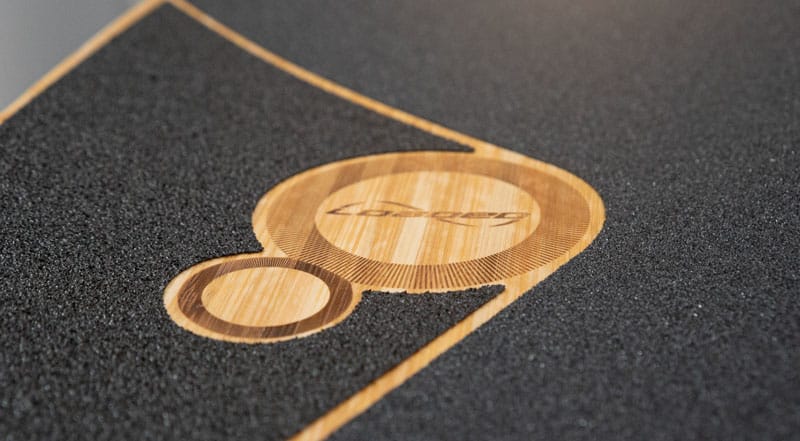 Wheels
Their setups have three wheel options…
All Orangatang wheels I've tested are quality, so it really comes down to your riding style.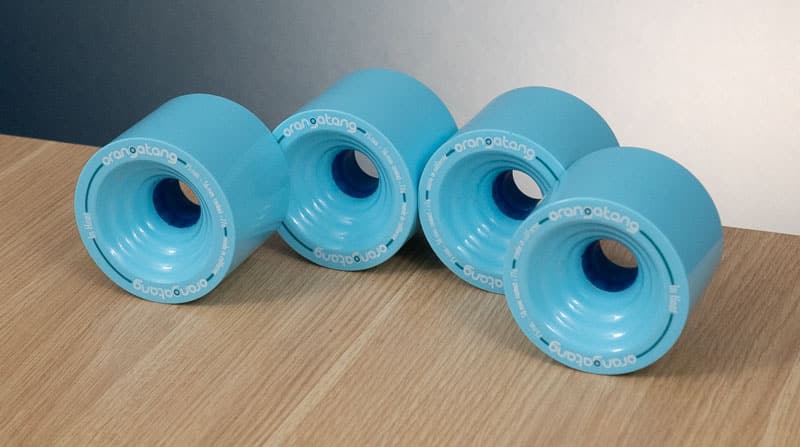 70mm Stimulus (Palm)
Easiest to throw out and powerslide since they're smaller (70mm), harder (80a) and have a rounder lip.
75mm In Heat (Roe)
Grip well for carving since they're large (75mm), soft (77a) and have a sharp lip.
80mm Kegel (Surfskate)
Grip well for deep carving, since they're large (80mm) and have a sharp lip.
If you're confused with the terms, check our longboard wheels guide.
Trucks
Their setups have three truck options…
Paris V3 165mm 50°
Paris V3 180mm 50°
Carver CX
Paris and Carver trucks are staples in the industry. Both Paris trucks are reverse kingpins, which will handle speed well. Carver CX is a surfskate truck, which is excellent for deep carving, but not as stable at higher speeds.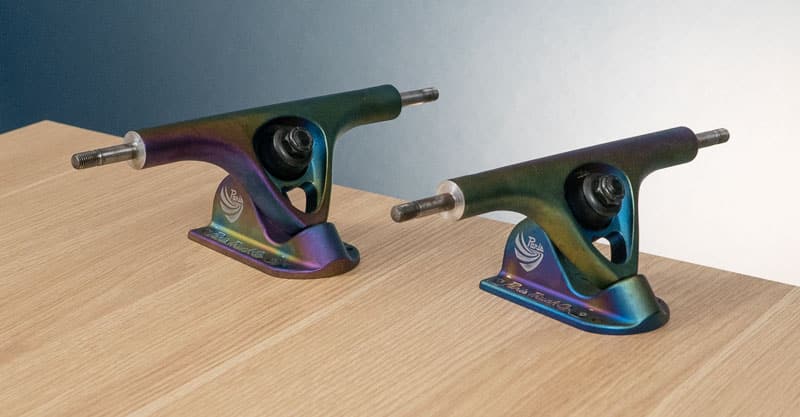 Bushings
90a barrel and cone bushings come stock in Paris trucks.
If you want to experiment, you can swap them out with…
If you get softer bushings, test for wheelbite!
Bearings
All of Loaded's completes come with their Jehunion (JEHU) built-in bearings made in Taiwan using Japanese grease. I usually only buy built-ins since I don't have to keep track of separate spacers.
Alternative Comparisons
If you're considering the Loaded Omakase, you might want to consider the alternatives below.
Length
34" / 86 cm
Width
9.125" / 23.18 cm
Wheelbase
20.75" / 52.71 cm
Length
30.75" / 78.1 cm
Width
8.375" / 21.3 cm
Wheelbase
17.5" / 44.5 cm
Length
31″ / 78.75 cm
Width
9.4″ / 24 cm
Wheelbase
16-17″ / 40-43 cm
Omakase vs Poke
The Loaded Omakase is stiff, whereas the Loaded Poke has noticeable flex. The Poke's flex will absorb rougher environments more efficiently. The Omakase has two wheelbase options, whereas the Poke only has one.
Omakase vs Coyote
The Loaded Omakase is similar to the Loaded Coyote because they're both stiff. The Coyote is shorter/thinner, making it more portable and easier to stash away.
Omakase vs Bolsa
The Loaded Omakase(4 lb) is heavier than the Loaded Bolsa (3 lb). The Omakase's concave is deeper and the kicktail is at a lower angle. They both have two-wheelbase options.
Loaded Omakase Surfskate?
I've found that the Loaded Omakase is best paired with Carver CX trucks. You can pair it with other surfskate pivoting adapters, but it didn't feel as soulful as the CX setup.