The Landyachtz Dinghy is a versatile cruiser skateboard, built with quality components. The deck is made with 7 plies of Canadian maple. It's functional for casual cruising, carving, and occasional tricks.
Purchase Options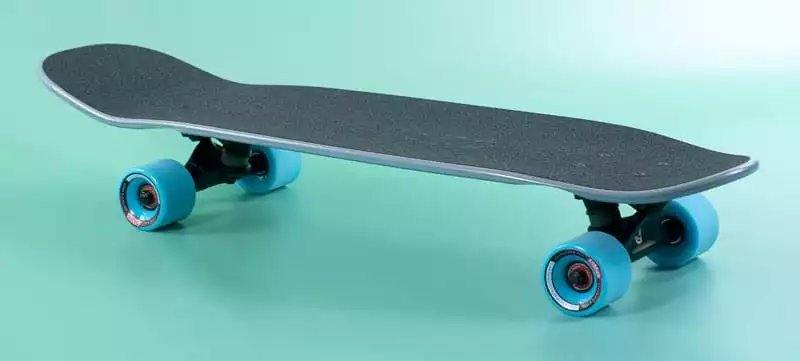 Which Landyachtz Dinghy to get?
There are a few variations of the Landyachtz Dinghy; it just comes down to the deck specs. If you want something a little bigger than the Dinghy, consider the Landyachtz Tugboat.
If you have a local shop that carries the Dinghy, buy from them.
Deck
Length: 28.2″ – 28.5″ / 71.6 cm – 72.5 cm
Width: 8″ – 8.6″ / 20.3 cm – 21.8 cm
Wheelbase: 14.5″ – 15″ / 36.8 cm – 38.1 cm
The deck has a mellow concave, which is nice for locking into carves. It's subtle enough to be comfortable for longer cruises.
The defined kicktail and nose make flip tricks doable. But they're not overly aggressive where it's annoying for cruising.
It's pressed with 7-ply Canadian maple wood, so there's no flex.
From a design perspective, the deck shape is well thought out.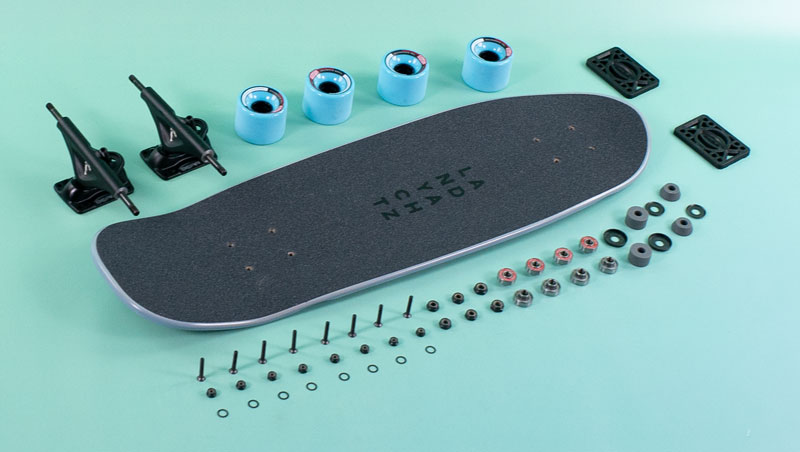 Wheels
Diameter: 63mm
Contact Patch: 50mm
Durometer: 78a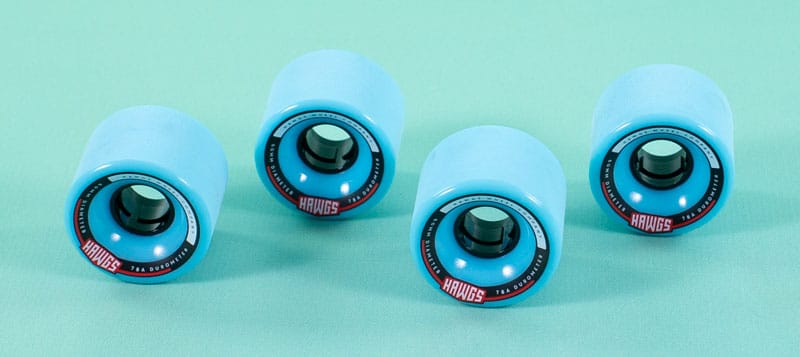 The Fatty Hawgs are stone-grounded, soft wheels that are incredibly versatile.
They easily roll over rocks/cracks, making them an excellent cruiser wheel.
They grip the pavement well while carving, but you can still powerslide them if you want. The urethane formula, stone-ground contact patch, rounded lips, and size perfectly pair with the Dinghy.
Trucks
Hangar: 130mm
Bushings: Cone & Barrel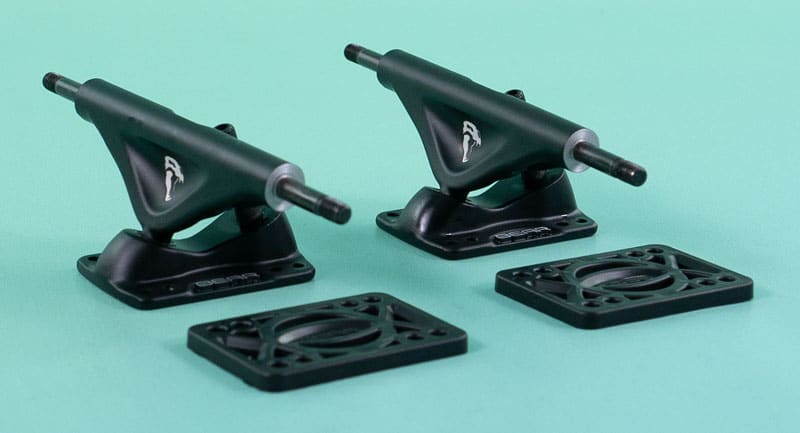 The Dinghy has traditional kingpin (TKP) 130mm Polar Bear trucks. Quarter-inch riser pads under the trucks to help prevent wheelbite.
I've used Polar Bear trucks for over ten years and can confidently recommend them. They're a high-quality truck at a decent price point.
Bearings
Type: Built-Ins
Shields: Single-Capped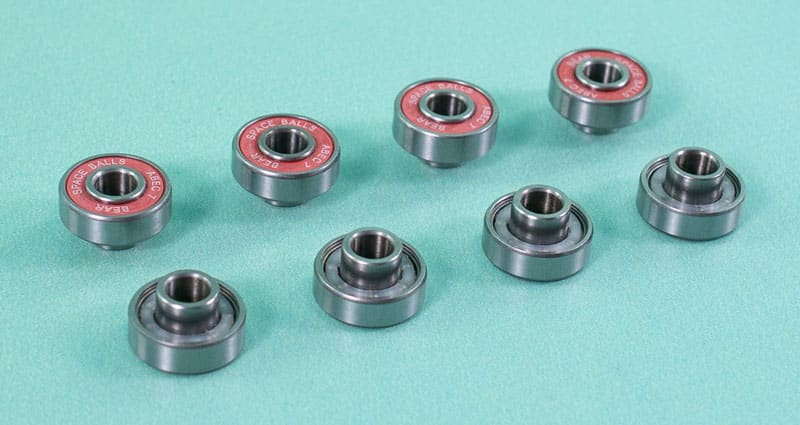 The Landyachtz Dinghy comes equipped with Bear Spaceball built-in bearings. Built-in bearings are pretty standard these days and will make your life easier when swapping wheels.
You don't have to worry about lining up the spacers or keeping track of them.
Comparisons
Length:
30″ / 76.2cm
Width:
9″ / 22.9cm
Wheelbase:
15″ / 38.1cm
Length:
26″ / 66cm
Width:
7.25″ / 18.4cm
Wheelbase:
13.75″ / 34.9cm
Length:
28.5″ / 72.4cm
Width:
8.6″ / 21.8cm
Wheelbase:
14.5″ / 36.8cm
Dinghy vs Tugboat
The Dinghy is a smaller version of the Tugboat. The Tugboat is slightly longer and wider. It's best to figure out what deck width you like and go from there. For reference, I'm a shoe size US men's 11 and I prefer the Tugboat for the extra deck space.
Dinghy vs Arbor Pilsner
The Landyachtz Dinghy and Arbor Pilsner are very similar. The Dinghy comes with built-in spacer bearings. From a quality perspective, you can't go wrong with either the Dinghy or Pilsner.
Dinghy vs Globe Blazer
The Dinghy is longer and wider than the Globe Blazer (26″). However, Globe does offer a bigger version (32″). From a quality perspective, the Landyachtz Dinghy is a better deal.
Dinghy vs Penny Board
The apparent difference between the penny/nickel board and Dinghy is the decks. Penny uses injection molding to make their plastic decks, and the Dinghy is 7-ply maple. Because the Penny is plastic, it flexes a good amount and the Dinghy doesn't.