Loaded partnered up with Carver and dropped their first surfskate.
Let's look at cover the specs and compare it to others.
Does it fit your riding style? Let's find out.
Summary
It's a solid surfskate setup if you want something more mellow. It won't carve as aggressively when compared to other spring-based surfskate setups. It's enjoyable for longer distances because the CX and C7 Carver trucks are pretty stable. The lifted wheel wells could be too aggressive for some. Whether you're looking to get into surfskating or a seasoned shredder, I'd recommend it.
Let's take a detailed look at the two setups they offer.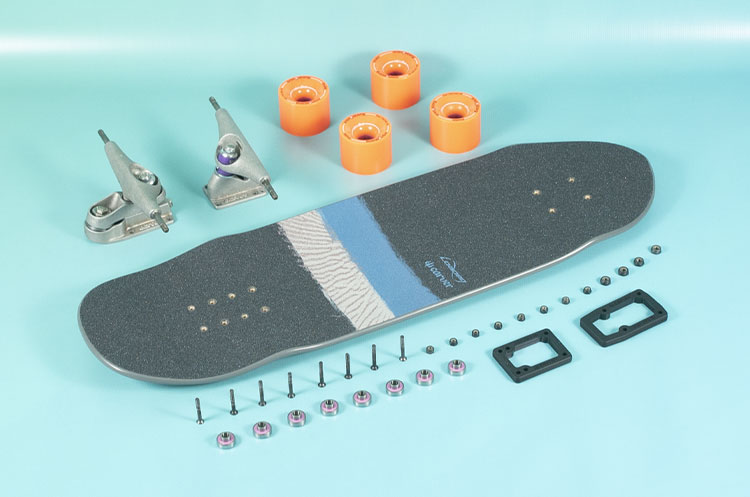 Setups
The Bolsa comes in two setups – the C7 or the CX.
The C7 setup specs are…
Loaded Carver Bolsa deck
Carver C7 trucks (stock bushings and updated springs)
17″ (outer) wheelbase
Orangatang 4President wheels (orange, 80a)
The CX setup specs are…
Loaded Carver Bolsa deck
Carver CX/C2 trucks
Orangatang Knuckle bushings (soft/orange front, medium/purple rear)
16″ (inner) wheelbase
Orangatang 4President wheels (blue, 77a)
Deck
Length: 31″
Width: 9.4″
Wheelbase: 16-17″
I like this idea of having two options for wheelbases since it plays such a big role with surfskate setups. In fact, I kind of wish they had one more set of holes for an additional option.

I think the concave is perfect. I'm not gonna say whether or not I think it's steep or not since I think everyone has a different definition of what's aggressive or not. Instead, you can see it in the photo above.
The lifted wheel wells seem to be a recurring theme for Loaded's cruiser boards. For my riding style, I really enjoy how the wheel wells are lifted up. I like how it feels to lock in and carve with them, although it definitely could be a downside for some. I'm a US 11 shoe size if that gives reference to anyone out there.

Alright let's take a look at this side by side with the Omakase and Coyote, so you can get a solid comparison.
Bolsa vs Coyote vs Omakase
As far as specs go, you can see the differences between the Bolsa, Coyote, and Omakase below.

Loaded Bolsa
Length: 31″
Width: 9.4″
Wheelbase: 16-17"
Loaded Coyote
Length: 30.75″
Width: 8.375″
Wheelbase: 17.5"
Loaded Omakase
Length: 33.5″
Width: 10″
Wheelbase: 20.75-22″
Bolsa vs Coyote
The Coyote and Bolsa are the most similar. The length is pretty much the same but that extra width on the Bolsa in my opinion makes a pretty significant difference.
For most surfskate riding styles, you're gonna want width in the 9-10 inch range. The angle of the kicktail and nose are pretty much identical.
The flared wheel wells and concave are slightly more aggressive on the Bolsa, which makes sense from a carving perspective.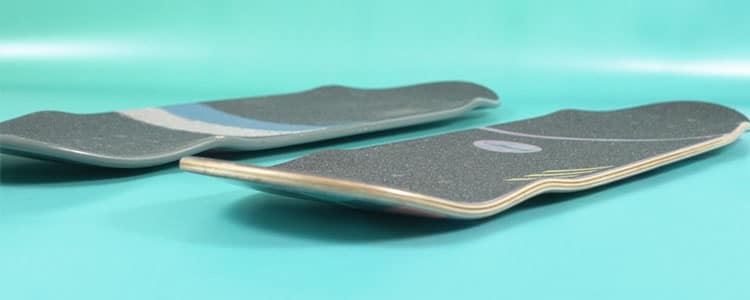 Bolsa vs Omakase
Now comparing the Omakase to the Bolsa, the most obvious difference is the weight.
The Bolsa is much lighter. The Omakase has a more aggressive concave but the kicktail is slightly more lowkey.
As far as surfskatey options go, you can use any of these decks, right there's no specific deck you need to use but I would say the Bolsa will be the obvious choice for most.
I don't know how many of you are familiar with the YOW Snappers, but the Bolsa has some resemblance to that. I would pretty much describe the Bolsa as a crossbreed of the Snappers and Coyote.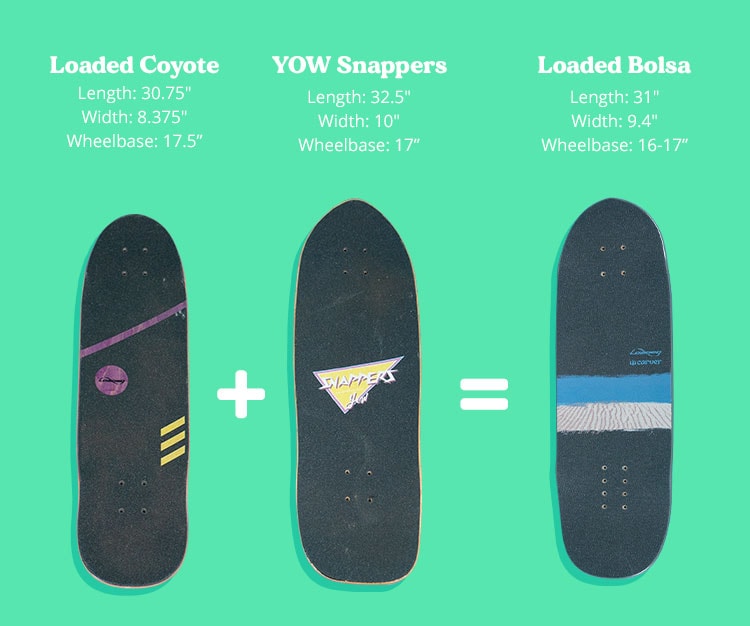 Trucks
Now I'm not going to go into too much detail here about the trucks since I already went into detail here (covering the differences on the C7 & CX).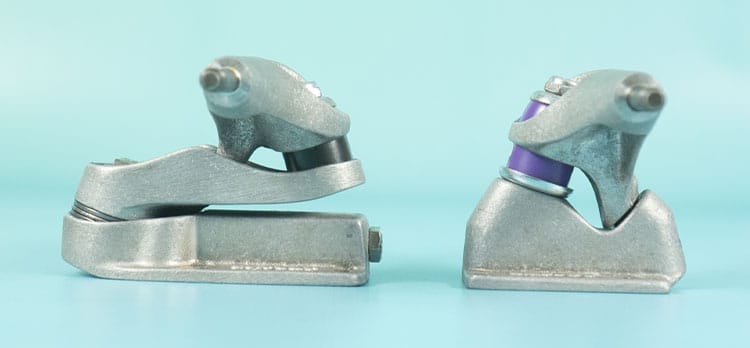 Pretty much the C7 is the closest "surfskate" truck design that Carver offers. It has a tension spring in the front, making it ride loose and flowy.
And the CX is a bushing-based design but because of the geometry still offers a solid surfskate carving experience. Compared to the C7, it's tight and snappier, especially with the shorter wheelbase.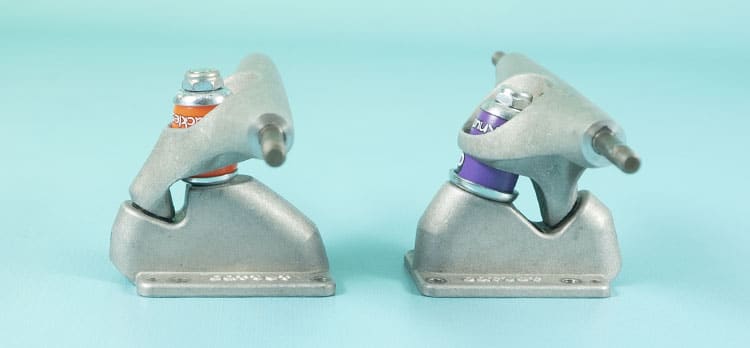 Bushings
Another unique part of this surfskate is the bushings.
On the C7 setup, the back bushings are swapped out with Orangatang 90a Knuckles.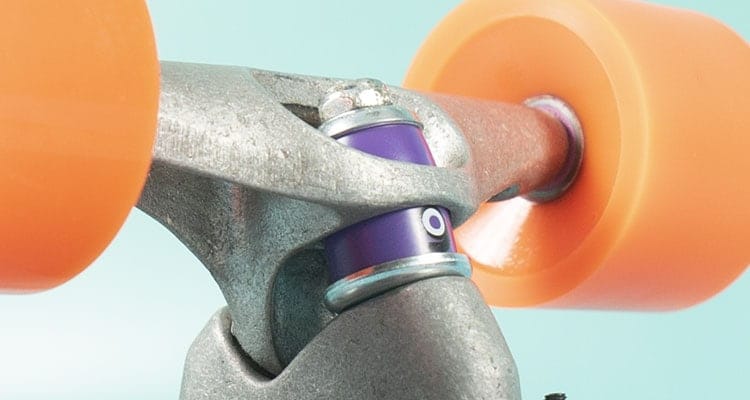 And on the CX setup, both the front and back bushings are swapped out with Orangatang 87a and 90a knuckles.
This sounds all great but did I notice a massive difference from a riding feel perspective? Not massively, but it did feel slightly more energetic if that's the proper way to describe it.
Especially considering the stock Carver bushings on the CX are 89a. It makes sense the knuckles offer a little more juice.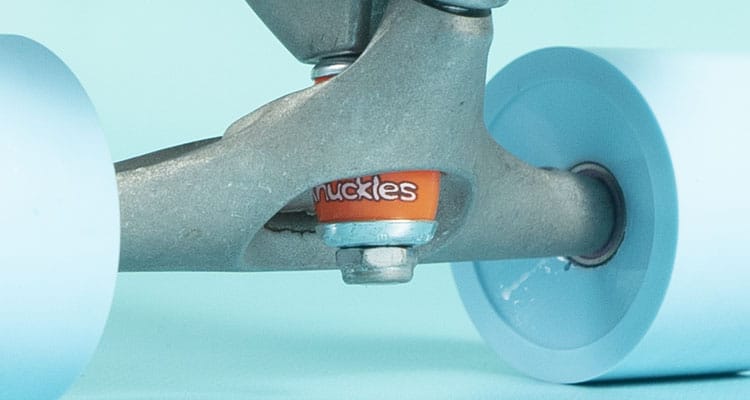 Wheels
Depending on the setup you choose, you'll either get the Orangatang 4president 77as or the 80as.
The 77as come with the CX setup.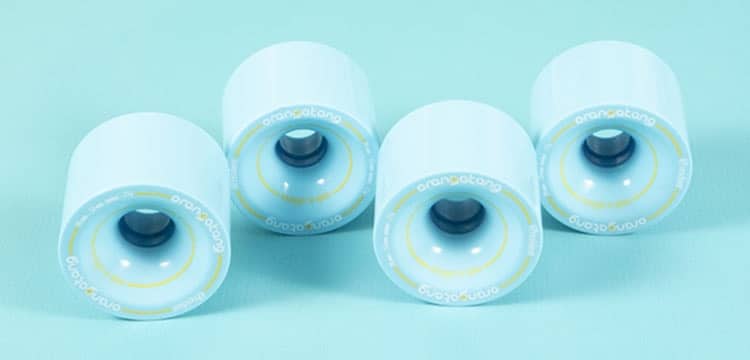 And the 80as come with the C7 setup.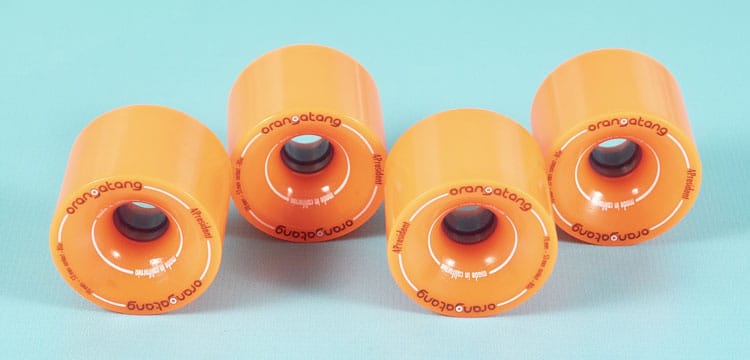 Both are grippy enough that you're not gonna slide out when doing aggressive carving but if you want to put the 80as, you can get them to slide.
Bearings
The bearings are what you get with every Loaded complete – the Jehu v2s with built-in spacers and washers.
Love em, if I was being nit-picky, I'd love to see different color variations in the future.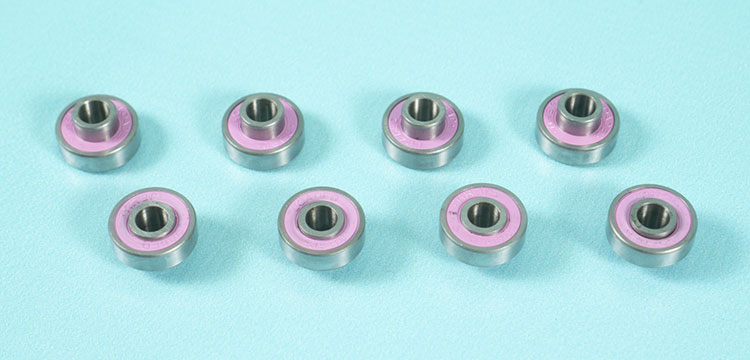 Surfskate Adapters
So, how does the Loaded Bolsa pair with other surfskate adapters?
Well, I put the YOW, Smoothstar, and Waterborne to the test.
Below are my thoughts.
Loaded Bolsa with YOW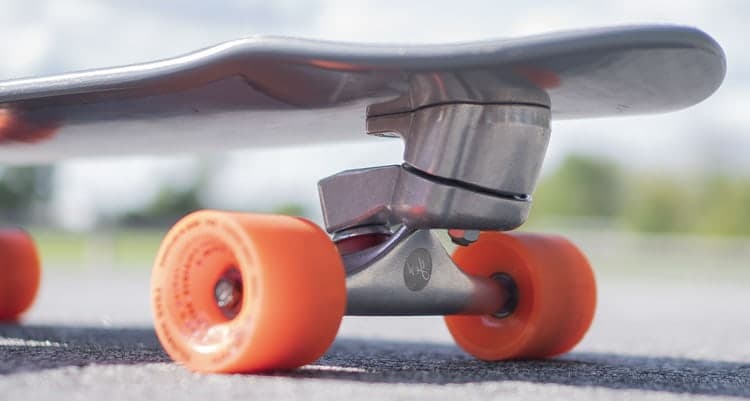 The YOW adapter works well with the Bolsa. However, you should be aware that the wheelbase options (16-17″) are relatively short compared to most setups.
Honestly, I didn't feel like it held this setup back. The energetic, springy feeling that YOW offers, paired with the concave of this deck, feels amazing.
Not to mention I ended up finding my favorite surfskate setup, which is…
Bolsa Deck
YOW Meraki Adapter
Carver C2.4 Back Truck
Orangatang Knuckles (Purple 90a)
Orangatang Love Handles 65mm 80a
Bottom Line: The Loaded Bolsa with YOW adapter makes for a fun, energetic surfskate setup. Although the wheelbase might be too small for some.
Loaded Bolsa with Smoothstar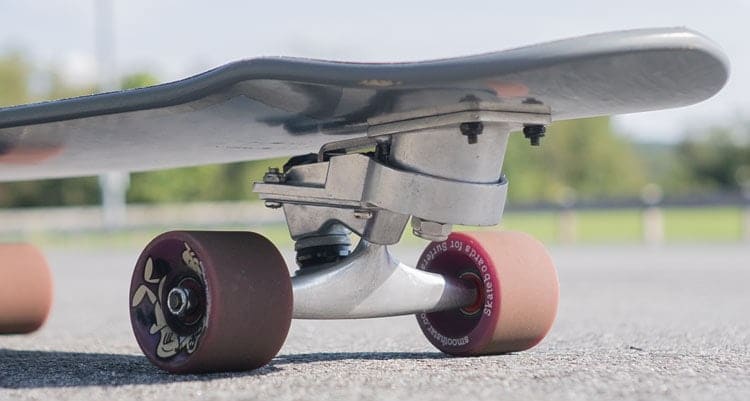 The Smoothstar adapter works okay(ish) with the Bolsa deck.
It's pumpable, you can ride it, but the wheelbase is too short for it to function properly, in my opinion. I would recommend a wider and longer deck with longer wheelbase options.
Bottom Line: The Loaded Bolsa with Smoothstar will work, but you won't feel its full potential.
Loaded Bolsa with Waterborne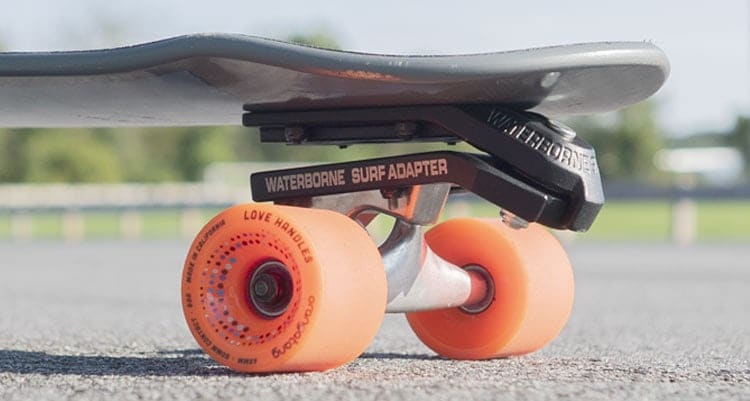 The Waterborne surf adapter is a solid pair with the Bolsa. Although, it wouldn't be my first choice.
The concave and wheel wells, paired with the deck's concave make for a fun, energetic ride.
But I would definitely pick the stock (CX) setup on the Bolsa over the Waterborne.
Bottom Line: The Loaded Bolsa with the Waterborne adapter makes for a fun ride, but wouldn't be my first choice for this deck.
I think your biggest concern should be the shorter wheelbase. If you're someone who already knows your ideal wheelbase preference, then it'll be an easy decision for you.
But if you're just getting started, I wouldn't worry about it too much. I think a 16-17″ wheelbase won't feel too short.
Deck Shape
For my riding style, I'm a big fan of the Loaded Bolsa's overall deck shape. It feels very comfortable with the Carver trucks. From the concave to the kicktail and nose, I think Loaded nailed it.
Aesthetic
The ocean-inspired bottom graphic to the subtle griptape makes for a solid aesthetic in my opinion. I especially love the look of the 4President 80a orange wheels contrasting against the blue deck. It's art.
Carver Collab
It just makes sense for larger longboard companies to partner with reputable surfskate companies. I'm stoked to see Loaded didn't try to go out of their range of expertise and work with Carver. It clearly shows that they did their research and took Carver's advice.
Width (Could be too small)
For some riding styles out there, the Bolsa's deck width could be too thin. In most cases, surfskating requires more width for that aggressive carving. I know a lot of people out there only like decks that are 10″ and above. So if 9.4″ wide is too thin for your liking, then it's definitely a con.
Wheel Wells (Could be too aggressive)
Another deck characteristic that could be a con for some riding styles is the lifted-up wheel wells. Personally, I love them for that extra grip when doing aggressive carving, but it could be too aggressive for some. Especially if you're someone that doesn't like aggressive concave.
Complete only?
And the last con I can think of is that they only are selling complete setups. With most Loaded Boards setups, you can customize it or order just the deck. There are so many people out there that love to mix and match different surfskate components. Let's hope they offer the option to buy just the deck in the future.
Hope this Loaded Carver Bolsa surfskate review helped you get a better idea of what it's all about.
What Other's Are Saying
Bolsa CX version.
"It is my first surfskate. I like the shape, good size for me, I really love the concave. CX are really good, for a beginner, very stable. I don't like that you have to wax every part of the trucks when new, at the price. The board is quite heavy. The paint is beautiful, seems thick but it is very fragile. With just a wheelbite, it can be removed. So you can imagine the mess after some crash. Wheelbite is also an issue, especially when you change the wheelbase. The wheelcuts are nice but in the wrong place. I love the board (because of the shape and the CX) but it is not perfect."
Bolsa CX version
"Pros: The deck is super well made and the concave and profile make for a great around town board. The CX trucks are a joy to use for cruising and park stuff, and the 16-17in wheelbase seems to be a sweet spot for most skaters
Cons: Feels way more like a really carvy cruiser than a surfskate to me, and the tail is a bit short. Also, I get wheelbite with the stock 70s."
Bolsa CX version
"Bolsa CX, favorite board. Little wheel bite and wish it had flex. Good outweighs the bad"