Picking the right surfskate brand is a challenge.
A board that doesn't fit your riding style will be frustrating. Not everyone is gonna like Carver, or YOW or Smoothstar, etc.
It's all subjective.
I wanted to put this list of the best surfskate brands together to make your life easier. If you're a complete noob, this will be a solid place to start your research.
Once you narrow down the brand that fits your riding style, check out how to choose a surfskate. I cover deck shape, wheelbase, and wheel characteristics. If you want to go deeper, I highly recommend going to the surfskate Reddit. Everyone over there is super helpful.
Summary
It's impossible to classify one surfskate brand as the "best" because everyone has their own riding style. I'd recommend looking into Carver, YOW, Smoothstar, SwellTech, Waterborne, Slide, or Hamboards. They each offer a unique feel that will cover most riding styles.
Let's go over each popular surfskate brand, starting with…
Slide Surfskates
The Sancheski company, based in Irún, Spain, makes Slide surfskates. They've been manufacturing skate products for almost 50 years. It's been trickier to get them if you're based in the USA, but they're finally distributing.
Slide's Adapter
Slide's adapter uses an adjustable spring, like Carver and Smoothstar. It pivots back and forth like most surfskate adapters, making it easy to pump from a standstill. You can adjust the spring by turning the nut.
Who Is Slide Best For?
Slide is a good option if you want a surfskate that won't break the bank and is beginner-friendly. It's more mellow compared to most of the other surf pivoting adapters.
Carver Skateboards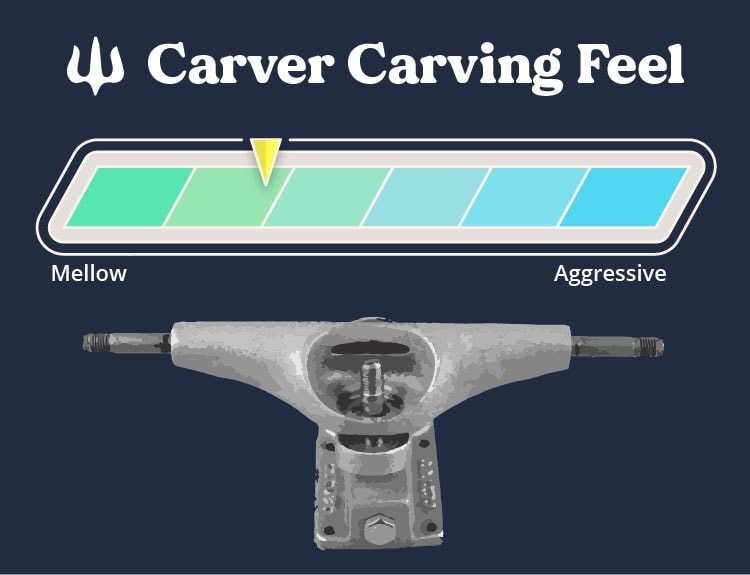 Carver Skateboards started in 1996 in Venice Beach, California. The founders, Neil and Greg set out to replicate the feeling of surfing on land.
They found their way through trial and error. Their first breakthrough was using a swing arm. The design allowed for sharp turns but was quite unstable.
They offer 3 truck setups, which are…
C7 Trucks
The C7 truck is a pivoting-arm spring adapter. It's their most loose, flowing surfskate truck. The spring is adjustable, allowing you to tighten/loosen the tension level.
CX Trucks
The CX truck is a bushing-based design. Don't let it fool you; the geometry and bushings still allow for a flowy carving experience. This is my favorite set by Carver because it is simple, yet effective.
C5 Trucks
The C5 truck is most like a traditional skateboard truck out of all three. It uses a reverse kingpin design like the CX but is lower and narrower.
Who Is Carver Best For?
If you want to get into surfskating but don't want something super aggressive, like SwellTech. I often recommend them to beginners. I'll ride my Carver if I want to get into surfy carves, but still feel comfortable taking it more than a few blocks. I own and tested all (C7, CX & C5), and I prefer riding the CX the most.
Curfboard
Curfboard's headquarters is in Munich, Germany. It's the brainchild of Stephan Augustin, a lifelong skater, surfer, and snowboarder. Over the years, Stephen created some wild skateboard designs. It was a passion project until his son came across his old boards in 2015. And in 2017, Stephen successfully launched the Curfboard Kickstarter project.
Curfboard's Adapter
Most surfskates make use of a spring or bushing, but not Curfboard. They created a swiveling design, which offers an insane amount of pivot. It swivels back and forth like handles on a bicycle. It has no spring making for a much more loose feel than others on the market.
Who Is Curfboard Best For?
If you want a surfskate, you can easily pump from a standstill. Keep in mind the Curfboard is a front-heavy rider. Your front foot does most of the wiggling. It almost reminds me of the motion of a ripstick/ripsurf.
Waterborne
Waterborne's headquarters is in Costa Mesa, California. Waterborne took a different approach and focused on reinventing the surf adapter. They figured out how to make it as universal and affordable as possible.
Waterborne's Adapter
Instead of going with a spring-based pivoting adapter, Waterborne uses a cube bushing. And although it might not offer the resistance a tension spring has, it works great. It's a more durable way of constructing a surfskate adapter. It reminds me of when skateboarding discovered the urethane wheel in the 70s. A simple but revolutionary breakthrough.
Their pivoting adapter has a built-in wheel bite limiter that stops it from pivoting more than 35 degrees. They've also developed a rail adapter for your back truck. Its purpose is to add more lean.
Who Is Waterborne Best For?
For the more experimental surfskater who wants to build and tinker with their set-up. Or if you already have a cruiser and want to convert it into a surfskate cheaply. They've focused on making it universal so you can slap it on almost any setup.
Smoothstar
Smoothstar is an Australian-based surfskate company that focuses on surf trainers. They don't sell their adapters separately because they're trying to protect their image as the "best surf trainer". Catch the vibe? They're only focused on creating surf trainers. But that doesn't mean you can't buy it and ride it with different intent.
Smoothstar's Adapter
Like Carver and Slide, Smoothstar uses an adjustable tension spring. As a result, riding feels consistent and smooth when carving. I've noticed that Smoothstar parts are more prone to breaking. Their adapter doesn't seem as durable as others on the market. But if you're only using it for flat-ground surf training, that's not a big deal.
Who Is Smoothstar Best For?
If you're looking to do technical surf training, Smoothstar is a solid option. It's not a surfskate you'll want to ride more than a few blocks because of the pivoting front adapter. I use mine in flat parking lots with cones to practice engaging my upper body.
YOW Surf
Standing for 'Your Own Wave', YOW's headquarters is in the Basque Country, Spain. It's a spinoff company under the HLC Distribution umbrella. They're uniquely positioned to make almost every part of their surfskates in-house.
YOW's Adapter
YOW currently sells its Meraki S5 adapter.
They used to sell another version with a thinner spring (S4). The S4 had a 4mm spring and the S5 a 5mm. The S4 offers a looser ride because of the thinner spring. This is better for people weighing under 110 lbs (50 kg). The S5 (most popular) offers more resistance because of the thicker spring. Better for riders over 110 lbs (50 kg). Both surf adapters feel incredibly surfy to ride.
Who Is YOW Best For?
I would recommend a YOW if you want something that you can do deep carves and pump from a standstill. I use my YOW the most since its adapter feels natural to pump, gain speed and perform cut-backs. It also helps that YOW has some of the coolest designs on the market. That's subjective, though.
Hamboards
Hamboards started in 2012 in Huntington Beach, California. They take a different approach than the rest, with a spring-based truck in the front and back.
Hamboard's Trucks
Their HST carving trucks use springs in both the front and back. As a result, their boards carve rail-to-rail aggressively. There's even lean on both the front and back, which is different than pivoting adapters. As a result, it's harder to generate speed from pumping.
Who Are Hamboards Best For?
Hamboards are best used on lowkey downhill slopes for consistent momentum. On pivoting arm surfskates, this isn't an issue since they're easy to pump. But because of the even rail-to-rail lean on HSTs, you need consistent momentum unless you want to push. This is why their land paddles are a solid addition.
SwellTech
SwellTech is a Florida-based surfskate company. They felt that single-spring or reverse kingpin designs didn't cut it. As a result, the SwellTech surf adapter was born. One of the most innovative designs we've seen.
SwellTech's Adapter
One of the most extreme approaches to the spring-surfskate adapter design. They use two springs attached to the truck's pivot rod and another two to the hanger. This design allows for their adapter to rotate a full 360 degrees. Making for one of the most aggressive adapters on the surfskate market.
Who Is SwellTech Best For?
A SwellTech isn't for beginners. It can jackknife if you don't have the right technique. With time you'll get the hang of it, and some claim it is the closest feeling to surfing on land. Remember that the learning curve to become confident on a SwellTech is steep.
What Is The Best Surfskate Brand?
This question isn't so simple because everyone prefers a different riding style. But if I could only pick five out of the ten on this list, I'd pick…
Carver
YOW
Waterborne
Smoothstar
Slide
Carver Skateboards
There's a reason that Carver has been around for a long time. They're high quality, and their trucks allow you to carve more aggressively than a traditional cruiser while offering enough stability to give you confidence. I use my Carver when I'm going for a longer cruise or just want something more stable.
YOW
Compared to Carver and Smoothstar, YOW is the newer brand. I use my YOW surfskates the most because they offer a deep, divey, and natural pumping feel. You'll have no issue pumping from a standstill on a YOW, and they're a blast to ride. The learning curve isn't as steep as a SwellTech but still does give you that free, flowing feeling you don't get from a traditional skateboard.
Smoothstar
Smoothstar is my other favorite surfskate because it has a natural pumping feeling. Their tension spring allows you to carry your pumping momentum more efficiently than the offerings from other brands. If I'm doing slower technical surf training in a parking lot, I'll use my Smoothstar because you can focus on your technique without losing momentum.
Can You Cruise On A Surfskate?
It's possible to cruise on a surfskate; however, it's not ideal for longer commutes. If you get a Carver, their trucks are much more mellow than a YOW or Smoothstar. Make sure to research the company you're thinking about getting because many of them have springs in their adapters, making it very hard to cruise for more than a few blocks. Better yet, go to your local surf or skate shop and see if they have models you can try before you buy.
It all depends on your riding experience level and expertise, but I recommend Carver only if you're going for long-distance cruises. Smoothstar and YOW are a lot more work, and you have to stay focused on the ride.
Are Surfskates Good For Beginners?
If you're just starting skateboarding/longboarding, I wouldn't suggest getting a surfskate since they carve so aggressively. But if you're set on getting one, I'd recommend picking one that doesn't have a spring in the adapter, so it's more mellow.
Something like the Carver CX truck is better suited for beginners rather than a YOW, Smoothstar, or SwellTech. I know people who haven't skated much and have been just fine starting with a surfskate. Wear protective gear when you start or don't feel comfortable.

Billy
I've been skateboarding for over twenty years. When I'm not skating, I'm most likely surfing my local break. The goal is to fuel the growth of all genres of skateboarding.